Let's preface this by saying that we love a classic pair of OG sneakers as much as the next sneakerhead. However, true sneakerheads aren't afraid to experiment with their kicks. Therefore, we decided to talk about colorways that are usually underrated or straight-up hated. Metallic sneakers have a debatable reputation in the industry. But today, we're gonna debunk the myths and show you why they're worth it! And in case you're looking for something else, our blog got you with the latest sneaker news. Now, let's dive right into this, shall we?
Metallic Sneakers – Debunking the Myth
So, metallic sneakers generally have a rep for being undesirable. For starters, many think that they're hard to style. But we're here to tell you that they aren't that hard to wear, especially if they're monochrome. Of course, you can wear metallic kicks as a statement piece with a tonal fit and they will pop. However, if you style them the way you would style a black or white pair of kicks, the fit can break their edge! We think that styling multicolor kicks is a bit harder honestly, but you do you.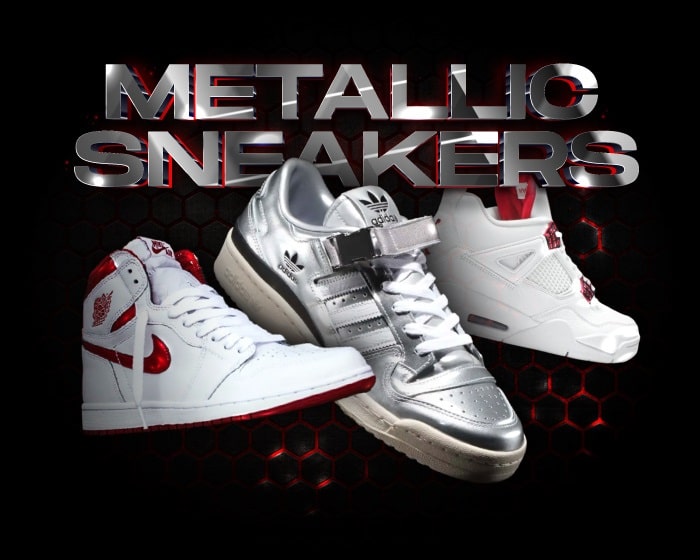 Metallic sneakers are ugly. Well, no, they're not, but we get why people would think that! You see, metallic colorways are imposing and they involuntarily catch your attention. However, if the execution is right, the kicks could go really hard! So, the next time you see metallic kicks ask yourself: are they really ugly or are we just hating on them because they look different? More often than not the answer will be the first option.
Sometimes a Hit of Metallic Does the Job
When we say metallic sneakers, it's not always the whole shoe that has to be metallic or chrome or gold. Sometimes, all it takes is one detail to make it pretty metallic. And you know who makes metallic details look fantastic and work with anything? Nike SB. You see, some of the coolest releases they gave us featured a metallic swoosh. And honestly, they look really cool! Some examples are the Sean Cliver SB Dunk, April Skateboards SB Dunk, and the St. Patrick's SB Dunk. But now, we're gonna check out some really cool kicks that can change your mind about metallic kicks!
Metallic Sneakers Every Sneakerhead Should Own
Jordan 4 Metallic Pack
If you're not big on shiny things, this pack is the perfect balance of basic and flashy. This pack dropped in 2020 as a tribute to the 1985 OGs. The color options are green, red, purple, and orange! But the coolest thing about these 4s is that they're basically white Jordans with hits of metallic colors.

Nike Air Max 97 Silver Bullet
Aka, AM97 Metallic Silver. What's not to love about these babies? They're the OG colorway of the Air Max 97, they're metallic, and they're pretty simple! So, if you want a pair of sneakers that go well with practically anything, this is the one for you. And if you missed the 2022 drop, you can cop the kicks on the aftermarket for about $150!

Adidas x Atmos Forum Metallic Pack
If you wanna go full-on metallic, then you will love this! In 2022, Adidas and Atmos came together for a very interesting collaboration. The result was a metallic take on the Forum High and Low. And today, you can cop both high and low pairs for around $125 each.

Wales Bonner x Adidas Samba
Adidas Samba is a classic silhouette that became one of the industry's front liners in the last couple of years. And Adidas is going for high-end fashion with many collabs, including Wales Bonner. Now this collab included many Samba colorways, but the one we're interested in is the Metallic Silver pair! The kicks dropped in June 2023, and it's worth about $342 on the aftermarket.

Jordan 1 Metallic Red – The Metallic Legacy Goes On?
Well, if the rumors are true, then the Jordan 1 Metallic Red will make a comeback in 2024. We previously witnessed the comeback of the 1985 colorway in 2017. It seems like the kicks will include all the same design details, and will drop sometime in Spring 2024. What we know for sure is that they'll be worth the $200 retail price. Why? Because the 2017 is worth $300+ on the resale market! And who doesn't wanna make some extra cash?

But to do that, you'll need to make sure you have the best odds. So let us introduce you to the world of sneaker botting! You see, a sneaker bot can boost your odds on drop day, especially when it comes to hype sneakers. That way, you'll have the chance to cop multiple pairs at the same time! This is especially helpful if you're looking to start a side hustle because you can get into sneaker reselling. Don't feel overwhelmed though, because we have a guide to support you every step of the way! All you have to do is check out our blog right here. Godspeed!