The New Jordan 5 Oregon Adds A Quack to The Ducks!
We just love it when Jordan Brand goes crazy with flashy colorways and silhouettes. And what's crazier than a green and yellow colorway that we all love? Maybe a pair of kicks made of space trash! So whatever it is, Air Jordan has it this fall. And if you missed it, Air Jordan 1 Biohack is dropping soon and you definitely should have it!
If you're new to the sneaker game, check out the full history of Air Jordan to stay ahead of your game.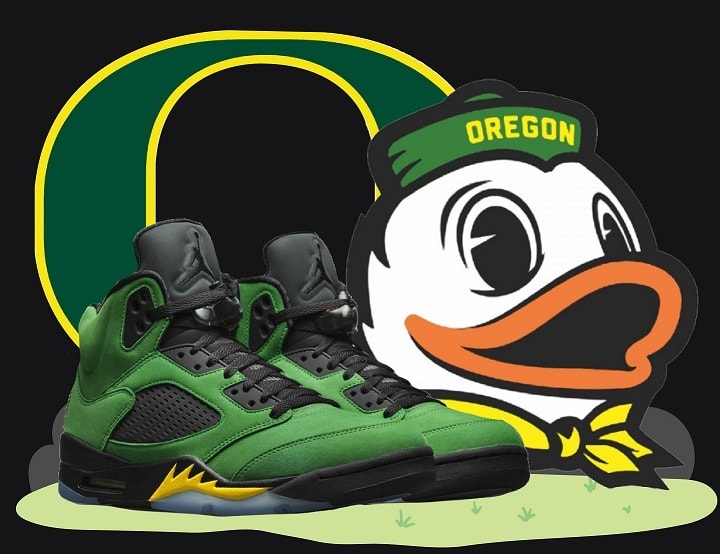 Get Ready For A Cop Battle!
If you want to own the new Jordan 5 Oregon, you're going to need a lot more than just luck! You're going to need a good bot like NSB and a great cooking guide that we have right here. So now that we got you covered, you'll definitely wanna see some of the hot releases. That's why you should keep checking our blog to stay up to date!
Jordan 5 Oregon Ducks PE
Long before 2020, there was a PE, and it happened to be the Jordan 5 Oregon Ducks. The pair featured a green suede upper with yellow shark teeth. But just like every PE, it has special markings all over it. First, the heel dons the Oregon mascot branding, who actually has his own interesting history! The Oregon mascot's name has been a source of debate for a long time. Is it The Duck? Puddles? Apparently, it's agreed that "The Duck" is the official name, while "Puddles" is the cute nickname! Second, the tongue swaps the Jumpman with a big fat "O" for Oregon!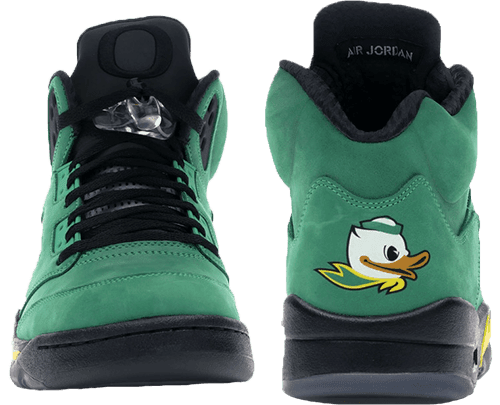 Although it made its appearance in 2013, Jordan 5 Oregon Ducks is a PE and it didn't make it to the public. However, it naturally made it to the resale market! And it resells for as much as $8,800! So if you're one of the lucky Jordan 5 Oregon PE owners, you're technically sitting on a small fortune.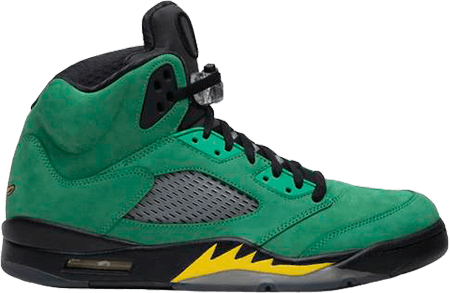 The 2020 Jordan 5 Oregon
Because we can't always get what we wish for, we might just settle for the closest alternative. Especially if they're worth our while. And if anything, the new Jordan 5 Oregon is definitely worth it! The 2020 installation kept the green suede and yellow shark teeth. However, all hints of Oregon Ducks disappeared with the Jumpman replacing them! In fact, the heel dons the Jordan team embroidery, which not everyone loved. But then again, to each their own!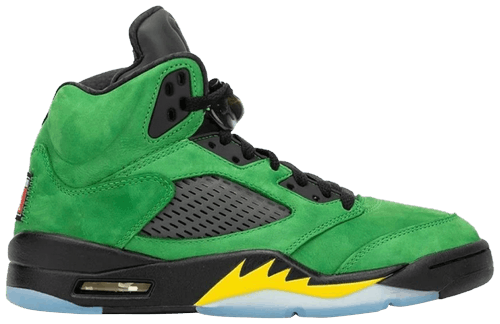 The upcoming Jordan 5 will drop on September 12, 2020, and will retail for $225. And if we take a look at the resale value, we can see that the kicks resell for $2,000. Now that's a bargain we're willing to take!
Green Jordans Are NSB's Veggies!
In 2020, we're getting our fair share of green Jordans that we'll list in a bit! But in order to own any of these, you need a successful and consistent bot, aka NSB! And now, we're giving you a heads up so you can get ready when the drop time comes. NSB has been doing very well on both Footsites and Shopify (even with the latest security update). So wherever them Jordans are dropping, we got you. And because we're all-in-one, we support Supreme and our users have been kicking ass every week. You can become one of our users too whenever you decide to cop since we're always in stock!
Now, here's every green Jordan we got (or will be getting) in 2020:
Tags: Air Jordan 5, Air Jordans, Jordan, Michael Jordan
Posted in Jordans, Sneakers 0 comments