Jordan Crater Launches With An Awesome Jordan 1 Zoom!
Nike and Jordan Brand are totally taking the space theme to a new level. What started with the Space Hippie pack, continued with new colorways. And now, we're getting a whole new collection: The Jordan Crater pack! And the starting lineup for this collection is a pretty sexy Jordan 1 Zoom Crater. So let's take a look at it and decide which one we're taking with us on our next space trip!
If you're interested in the history of the brand, reading this will be worth your time!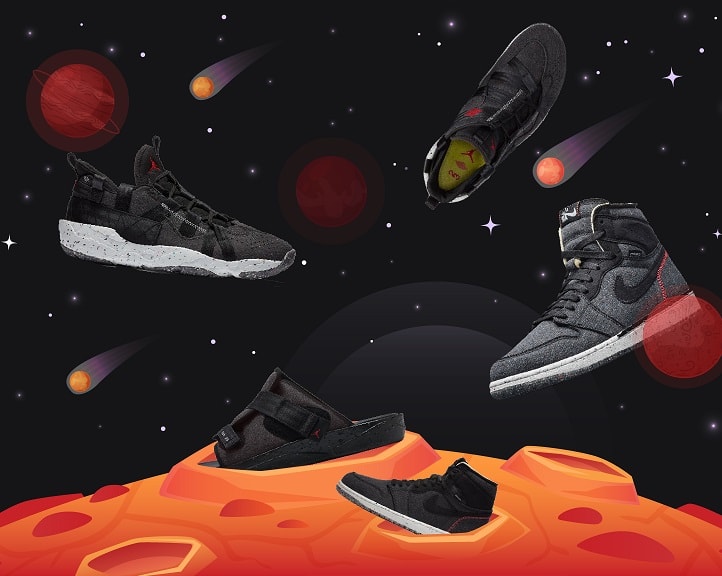 Jordan 1 Zoom Crater: To The Moon And Back!
A crater is a large cavity that an asteroid or meteorite causes on the surface of planets and moons. Our moon has its fair share of craters, and these craters have names too! You probably know where all of this is going, don't you? To the Jordan Crater pack! The kicks show what happens when amazing designs meet sustainability. Jordan Brand is expanding the space trash and Move to Zero territory with this collection! But they're not the only brand with creative names, because Yeezy names tell a whole other story.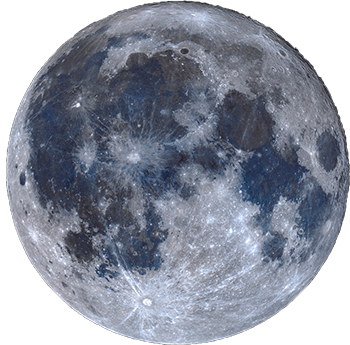 Air Jordan 1 Zoom Crater
This pair is everything we want from a pair of kicks. A vintage design that everybody loves meets innovative sustainable solutions! The new Jordan 1 Zoom features a synthetic suede upper with recycled plastic in it while the outsole contains recycled Grind! The colorway, maybe unintentionally, reflects a space-ish characteristic of a… crater. The full-length Zoom Air cushioning completes the look with a snug feeling.
Air Jordan 1 Zoom will drop on September 12, 2020, for $175! As for the resale value, we have no numbers yet, but we're pretty sure the kicks will be worth a lot, especially if the drop is exclusive!
Jordan Crater: The Kicks
It's true that the whole pack is called Jordan Pack, but maybe that's to tribute the new silhouette! The new Jordan Crater is a lifestyle sneaker joining the sustainability ranks. The kicks feature a black canvas upper made from recycled materials. The coolest bits are the asymmetrical laces and red branding that make the kicks very interesting. Finally, if you look closely, you'll find that the kicks hold a lot of colors!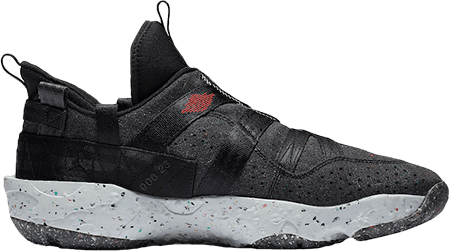 The kicks were Korea-exclusive back on July 10, 2020. But, we can expect them to drop soon. Jordan Crater retailed for $150 and currently resells for $207.
Jordan Crater Slides
After a long day of work, we all love rocking a pair of flip-flops or something comfy. Luckily, Jordan Brand didn't only get the Jordan 1 Zoom, they also brought Jordan Crater Slides from outer space! The slides don an all-black appearance with Crater Foam soles. However, the soles at first glance look like the night sky with all the Grind speckles!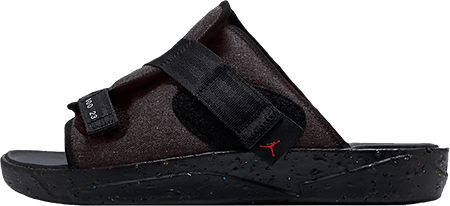 As for the release details, they're still not available. But make sure you keep an eye out on our blog for the latest updates.
NSB and The Jordan Crater!
Now that's a collision we can't wait for it happening. If you're a collector and wanna have a special space theme corner, you'll need all the help you can get. And what's better than a strong bot like NSB to get you through these waiting lines? And if you're buying just to flex, check out this cooking guide, you'll need it! Tags: Air Jordan 1, Air Jordans, AJ1, Jordan, Michael Jordan, Nike
Posted in Jordans, Sneakers 0 comments