Jordan 5 Doernbecher Low – Tastier Than Mac 'n' Cheese!
Every year, Nike and OHSU Doernbecher Children's Hospital join hands to give us a new edition of Doernbecher Freestyle. The project has been going on since 2004 and putting smiles on a lot of children's faces. Every year, the brand chooses some of the little patients to design their own kicks. The kicks then go public, and the revenues go to Doernbecher because every child has potential for great things. The 2022 collection is so colorful as usual, but one pair is making heads turn: Michael's Jordan 5 Doernbecher Low! Let's take a look at this yummy pair and why you need it in your life. And if you wanna check out the whole collection, check this out.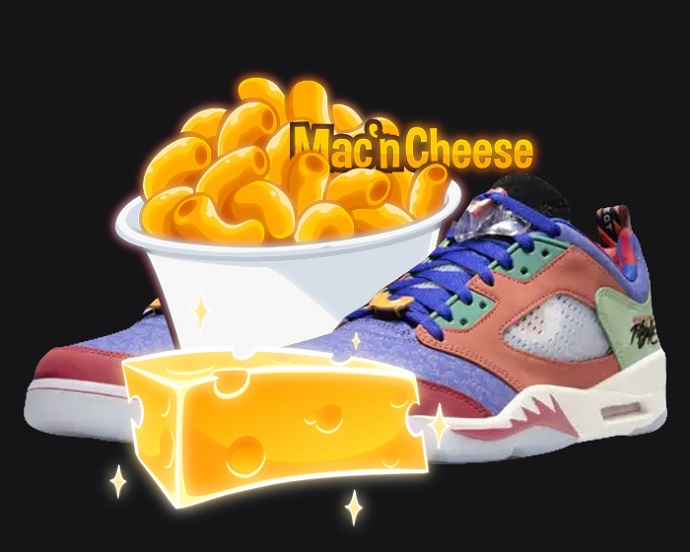 Meet Michael Wilson… and His Mac n Cheese!
Michael Wilson is an 11-year-old who has been diagnosed with Krabbe Disease since he was a newborn. The disease would've been fatal if it wasn't for his older brother Marshall. Marshall was born with the same disease, and because of him, they managed to save Michael early on. Michael thinks his brother is his guardian angel! Now, what makes Michael super cool is that he loves fighter jets and Mac 'n' Cheese. Same fam, same. Oh, and he has laser eyes, we just didn't get the honor of seeing them.
Michael's Jordan 5 Doernbecher Reflects His Personality
Lots of colors, fun, and strength. That's everything you should know about Michael Wilson. He handpicked the colors you see on the sneakers, and also got to design his own apparel line! But let's go back to the kicks and why they look pretty awesome. Besides the party of colors we have on there, there are some cool deets we should check out.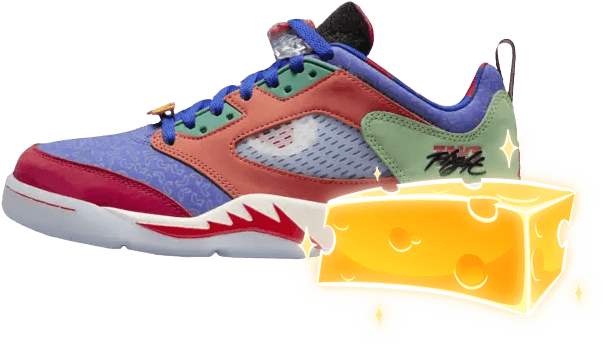 For starters, the blue part of the uppers features a mac n cheese print. But that's not the last we'll see of the macs, because it reappears in form of a dubrae! Add to that a hand-drawn 'Spitfire' logo on the insole (Michael's nickname). Finally, we have his initials under the Jumpman on the heels. So all in all, it's a pretty dope pair of kicks for collectors and colorful souls alike!
Release Info
The new Jordan 5 Doernbecher low will drop on April 30, 2022, and it will retail for $200. You'll definitely wanna get this for retail for multiple reasons. First, you'll be paying the money for a cause! Second, the kicks look really cool. And third, you can flip them for around $524! That way, you're contributing to a cause while making some profit on the side from resale. And in case you're looking for a new side hustle, check this out!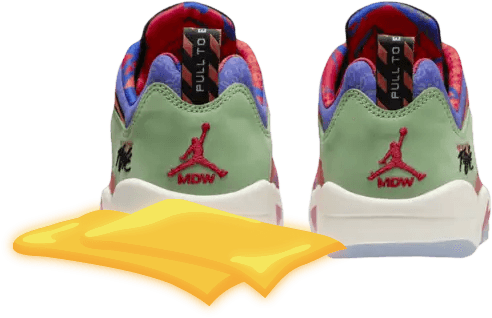 How to Get the New Jordan 5 Doernbecher Low
So these babies will drop on the Nike SNKRS app, and you know what that means! Everyone will be rushing to get the 'got 'em' but will end up with the L… unless they use a Nike bot. Nike SNKRS bots help you get as many entries as you need to score Ws. The more entries you can get, the more chances you have at actually checking out the sneakers. But that chance to cop multiples is only possible with Nike accounts and a bunch of fast and reliable proxies.
Normally though, hype drops end up on multiple retailer sites. So we recommend getting an all-in-one bot. These bots can help you buy from various retailers at the same time. Really taking down any obstacles standing between you and getting lots 'o' pairs! If you're convinced already, here's a list of the best sneaker bots you can get to ace your game. And check our A-game botting guide to get you started on your journey. Godspeed 🔥