October is right around the corner, and so is the cold weather and thunderstorms. Now, Jordan Brand seems to be liking them weather references. If you still don't know what we're talking about, check out the upcoming Jordan 5 Bluebird. Anyway, if you like a low-key pair of kicks that still looks super cool, read on! The holiday Jordans lineup isn't the only place heat will come from this winter. And while we're at it, if the Halloween deco is already out, make sure you look at these spooky babies. Anyway, let's get to business and check out the awesome Jordan 4 Red Thunder!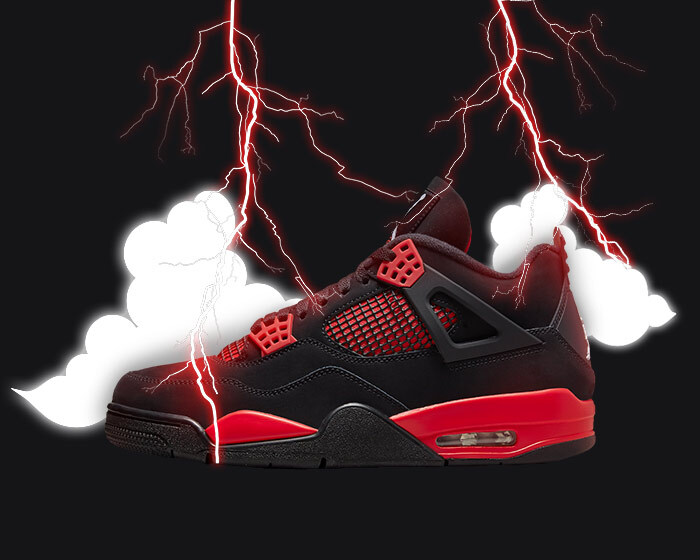 Jordan 4 Red Thunder – Rockable in Every Season!
There's nothing quite like a pair of black Jordans, with a dash of color. Don't get us wrong, we love us a pair of colorful sneakers every now and then! But when we go looking for our next everyday fit, we go for blacks n whites. Luckily, we always get plenty of those to choose from! And this time, we're getting the awesome Jordan 4 Red Thunder! These babies are a red-ish take on 2006's Jordan 4 Thunder. They feature the same black suede upper, with a red mesh and midsole instead of red!
The Original Thunders
Fun fact: Michael Jordan owned a superbike team. As bizarre as that sounds, we're not really surprised because we watched the Last Dance! Anyway, so MJ is a motorcycle enthusiast. And when you're a superstar, it's easy to have enough connections to start your own superbike team. Naturally, sneakerheads got some motorbike-inspired colorways. One of these kicks was the Jordan 4 Thunder. This colorway dropped in August 2006 and retailed for $500. Don't panic, the retail was so high because you got a matching jacket with these babies. Oh, and the release happened online only!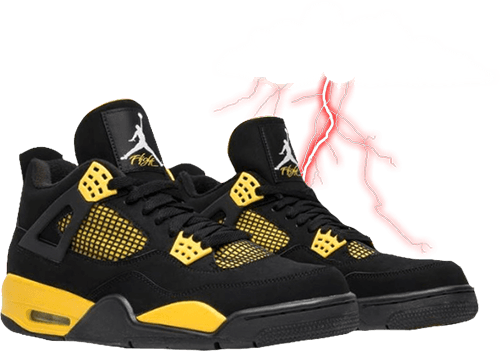 The yellow thunders restocked back in 2012, and that was the last we saw of them sadly. However, you can get the 2012 edition off the resale market for $560 on average! Or, you can buy the upcoming Jordan 4 Red Thunder for retail. Sounds like we have a winner option, doesn't it?
Jordan 4 Red Thunder Release Info
The upcoming Jordan 4 Red Thunder will drop on October 2, 2021, for the usual $190. What's interesting about these kicks though is that you can flip them for $450 on average! That's a pretty impressive number for a non-OG colorway. Usually, non-OGs pass without anyone paying them any attention. We understand what people see in these though, we really! Maybe you can start your sneaker reselling side hustle with this pair. But make sure you pass the reseller vibe check here first!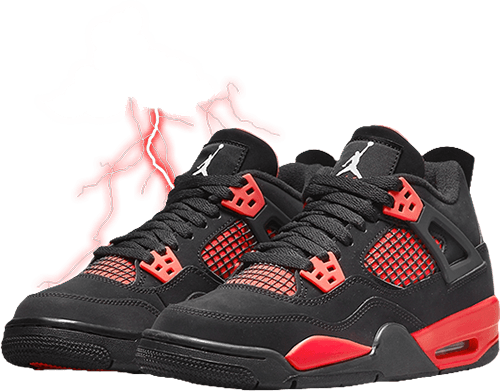 Gotta Cop 'Em All!
With a resale value like that, you can make some easy side cash. However, getting the pair for retail won't be that easy. That's why you gotta gear up with one of the best sneaker bots and the right setup. From the best proxies to sneaker servers, we got you covered. Just make sure you check out this guide to get to the best setup you can have!