Boo. That's practically what we're feeling this fall. The world is scary, but that doesn't mean your outfit should be too. That's why this year's Halloween shoes are bringing some spook to the table in style! From classic Superstars to mummy Dunks, we got a huge collection to choose from this October. So let's check out what treats sneaker brands are getting us this year! And speaking of awesome sneakers, the iconic Jordan 12 Taxi is making a comeback with a fancy twist. You can read all about it here.
Customizable Halloween Shoes Are Elite
First off, we just gotta say that Nike always outdoes everyone when it comes to holiday-themed sneakers. This year we're gonna have two Halloween Dunks that will make you miss trick or treating. But if you're a sneaker collector, then you're gonna have a field day when you get these babies! And, here's an idea: if you're not there yet, maybe it's time to start collecting kicks. Not a terrible idea right?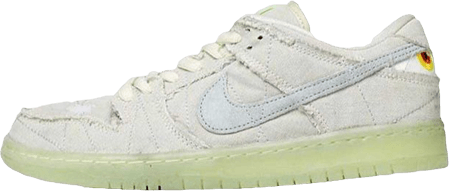 So first off, we have the Nike SB Dunk Low "Mummy". Not only are they mummified, but the upper is tear away with another layer underneath! Moreover, the tongue features the Eye of Horus, the ancient Egyptian god. Along with the glow-in-the-dark soles, the kicks are an awesome tribute to ancient Egypt.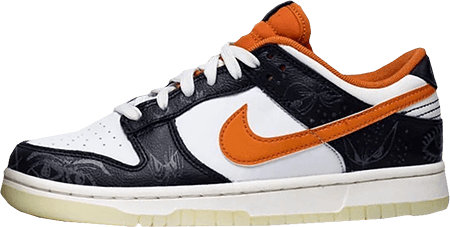 The second pair looks basic at first glance. But ho ho no! The kicks feature glow-in-the-dark details on the black leather upper. The scary eyes will star back at ya when the lighting is right, and so will the soles. Now, as far as we know, both Halloween shoes will drop in October 2021. And if we had to take a wild guess, we'd say that they'll be available on the 31st! We'll keep you up to date with more info once we have it.
Adidas Is Hopping Back on Track!
Apparently, Adidas finally realized that dropping sneakers on holidays is a great idea. And because it's Go Big or Go Home, the three stripes are going biiiig! However, they'll still look okay to wear on any other day. So these are for both Halloween fans and lifestyle peeps. Firstly, we have the awesome "Monster Pack" that includes the Superstars and the Forums. Both silhouettes rock a mix of black leather, suede, and faux fur uppers. The outsoles have a green goo print on them, and the look is complete with vampire teeth dubraes!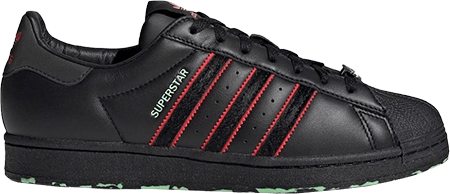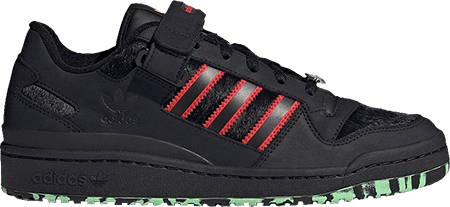 Another pair of Halloween shoes will come in the shape of the classic Superstar. This time, the kicks come in corduroy uppers with plaid overlays. The most interesting bits about these babies are the jack-o-lantern dubrae and green fuzzy sock liners. And if you're looking for something even more toned down, the "How to Kill a Werewolf" Campus 80s is it. This one will come in a grey werewolf faux fur upper, with 3 stripe claw marks on the tongue. Talk about low-key creepiness.


Wanna Go All Out with Your Halloween Shoes?
We have one last pair from Adidas, but this is for the brave and bold! The ZX 8000 will come in a mix of purple and yellow suede upper. However, the sneaker's best feature is the ghoulish orange patchwork! So if you're not ready to go all out with your celebrations, you should probably stick to the previous kicks. All of the kicks we mentioned will drop during October 2021. And naturally, once we know more, we'll get you up to speed!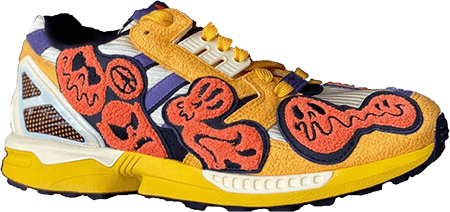 Vans Is Flat Out Horrifying Us!
So we don't really have a lot of leaks besides the brand's own Tweet. If you wanna spread some fear this is the collection for you. Like, you can't really miss the horror movie inspiration on these babies, especially that the main inspo is villains nonetheless! According to the teaser, the collection will be available to buy this October.
Coming this October, the Vans x Horror collection brings to life your favorite iconic horror films. pic.twitter.com/aeB6lbXlcB

— Vans (@VANS_66) September 21, 2021
Halloween Shoes Are More Than Holiday Tings
Your sneaker collecting journey has to start somewhere, right? Then why not start it with Halloween shoes? They're definitely worth showing off, especially if they look as good as the upcoming Nike kicks. But holiday kicks have lots of fans, not just you, and they might sell out real fast! So what should you do to avoid the L? Naturally, you set up the best sneaker bot you can get your hands on. Just make sure you check out this guide for the best results! Godspeed 🔥