Jordan 1 Colorways – The Most Profitable Always Look Better!
Jordan Brand is as good as an empire today. An empire of sneakers that is. The sneaker industry is not easy to succeed in, and everybody knows that! But when you're one of the foundations of that industry, success is a no-brainer. And that's exactly what happened with the Air Jordan franchise, especially early silhouettes. However, the most popular and famous silhouette is the Air Jordan 1. Even people who aren't really sneaker aficionados just know the kicks. Jordan 1 colorways come in a very diverse range, and some of them are extra profitable.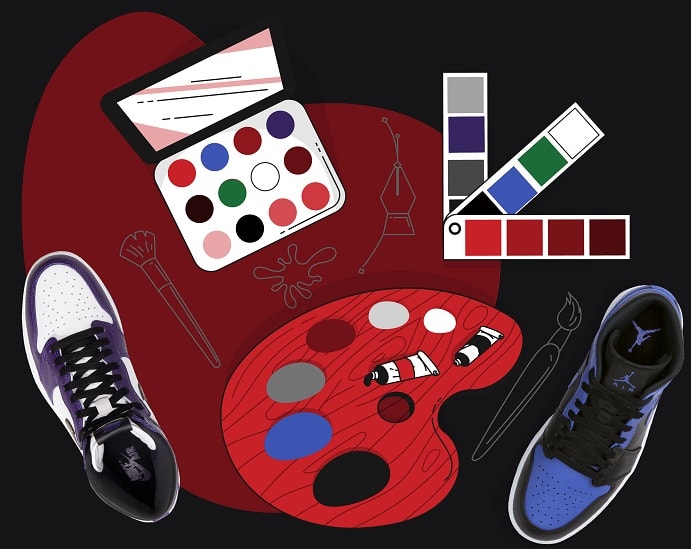 Most Profitable Jordan 1 Colorways
It all started back in 1985 when the Jordan 1s dropped and Michael Jordan made an impression on the court. But really, that's a piece of history that everyone knows. On the other hand, do you really know your Jordan 1 colorways? If you're not sure, here are the most profitable colorways you should have in your sneaker collection! Sometimes, it's not just about the hype, some pairs are actually worth a lot because of the history. So let's check out the colorways one by one!
Never Hurts to Have the Banned OG
If you're not familiar with the original story of the sneakers, listen up! Back in 1984, Nike managed to convince Michael Jordan to ink a deal with them. Little did both know that the kicks will end up being a brand of their own! Why though? Naturally, there's a good story there. And that's true because MJ showed up in black and red kicks that weren't up to NBA regulations. It had to have some white in it to be acceptable. So Jordan and Nike defied the league, and the NBA fined them $5,000 on each wear. Or so the story goes.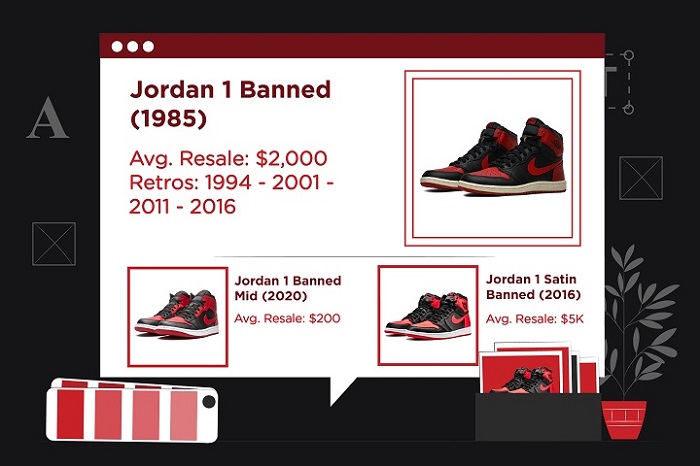 In reality? Michael Jordan initially wore a black and red Nike Air Ship! But the marketing department at Nike is obviously years ahead in the game. From then on, everybody wanted to be like Mike, so everybody got the kicks! Thanks to this same pair, the word "Bred" became a colorway among sneaker fanatics. Today, a pair of the OG Breds is worth at least $2,000! The colorway retroed in 1994, 2001, 2011, and 2016. This is hands down one of our favorite Jordan 1 colorways to date!
Jordan 1 Banned Dupes?
If you're just getting into the sneaker game, hard-luck fam. We've been waiting for several years now for a restock. However, in 2020 Jordan 1 Bred dropped in a mid version and you can get it for $200 on average. Another pair that we can put in the Bred category is Air Jordan 1 Satin Banned. This one currently resells for up to $7,500!
Black Toe Jordan 1 Colorways Are Winners
Here's another OG release we love and that's on our must-have lists around the world! This colorway also released back in 1985 and it's been a winner ever since. The pair retroed in 2013, and then in 2016. Although they're not worth a fortune, they're still some of the best Jordan 1 colorways. Why? Because you can bet your a$$ that everyone is buying when this colorway drops. A pair of Black Toes currently resells for $900 on average, not bad huh?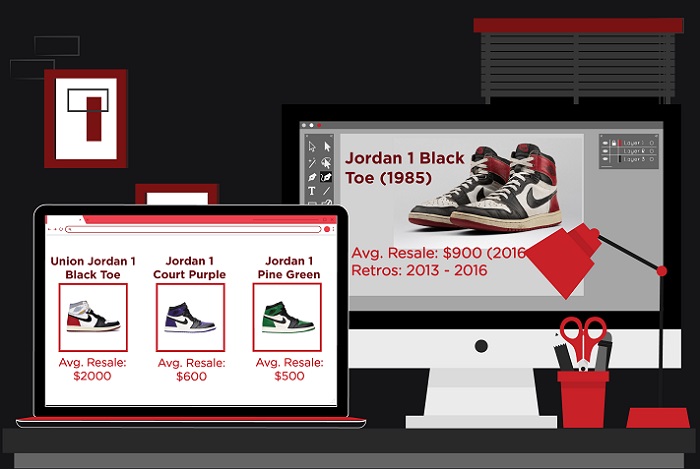 Similar Pairs
Today, we have so many iterations and different Jordan 1 colorways with the same black toe color blocking! One of the most interesting kicks that remind us of the Black Toes is the Union Jordan 1. It's also called the black toe, for a reason! The uppers look exactly like the OGs, except for the collar that came in grey and white. This pair today is worth around $2,000, quite a number if you ask me! Some other sneakers worth the mention are 2018's Jordan 1 Court Purple and Pine Green.
Jordan 1 Chicago: Double 3-Peats to Our Hearts
Now, this colorway is not only an OG, it became one of the most popular and famous Jordan 1 colorways. It's arguably the best Jordan pair to date. Moreover, it's one of the colorways that gets the most collabs because who doesn't wanna be part of history? Oh and fun fact: Sotheby's auctioned a pair that MJ wore back in the day. The kicks went for $560,000, making them the most expensive kicks ever until recently! Jordan 1 Chicago retroed in 1994, 2013, and 2015.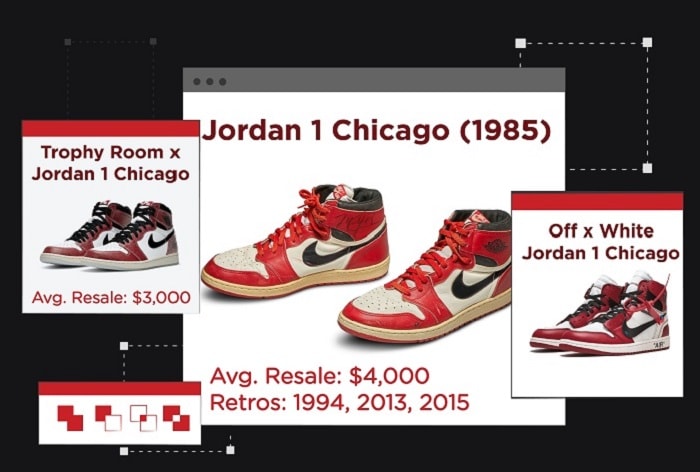 Jordan 1 Colorways Can't Hold A Candle to OGs!
As much as we love experimenting with new colorways, some feelings are hard to get rid of. As a real sneakerhead, it's very hard to not get the impulse of buying any Chicagos. It's also hard not to love them, don't you think? 
Our favorite iterations of the popular colorway are the following. Virgil Abloh's take on Jordan 1 Chicago is probably what set the pace for The Ten's popularity in 2017. The pair looks like a deconstructed version of the OG, and you'll be paying around $6,000 for it! Another more recent pair is Trophy Room's Jordan 1 Chicago, which is worth $3,000 on the aftermarket. But we also remember this pair thanks to the backdoor scandal that came with it!
Royal Blue Jordan 1s
Now that we're done with red Jordans, we still wanna discuss some of the best Jordan 1 colorways. Royal blue Jordan 1 is also an OG but Michael Jordan never really wore it in the NBA. However, the colorway managed to become extremely iconic since it's apparently MJ's favorite color combination! The full story is much longer than that, but you can check it out here. The OG pair is worth $2,500 today on average, not bad huh? The kicks retroed in 2001, 2013, and 2017.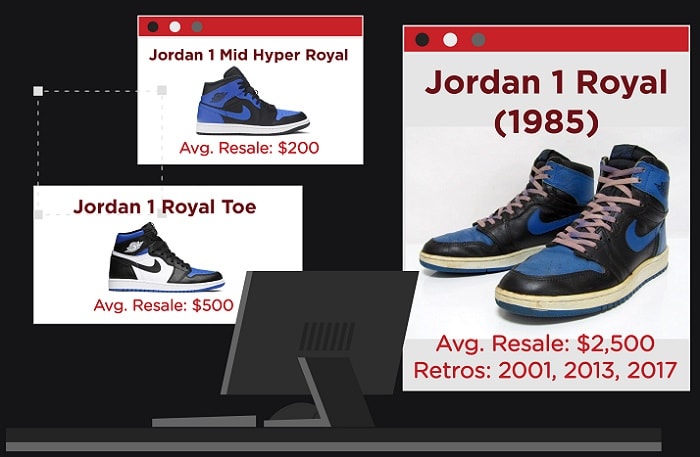 Royal Alternatives?
Although it's easy to get the kicks for resale, we understand the need for getting more! That's why you can get a pair of Royal mids for $200. The newest alternative you could get is 2020's Jordan 1 Royal toe for $500 on average! 
Jordan 1 Colorways Definitely Cast A Shadow!
Last but definitely not least, Jordan 1 Shadow is one of the best Jordan 1 colorways to own. Why? Because it's very easy to style, and it goes with everything! The pair actually dropped in 1985, so officially an OG. It also retroed in 2009, 2013, and 2018!
Anything Dropping Soon?
Well, if you're a fan of the colorway, we don't blame you! And if you are you must own the Aleali May x Jordan 1 Shadow! The model's take on the sneakers is worth up to $2,000 on the aftermarket. But that's all in the past, isn't it? You can have your chance at owning part of the Shadow gems this spring! The pair is a Jordan 1 Shadow 2.0, and it's dropping on May 15, 2021. It's currently worth an average of $600, not too bad for a new pair!
Choose Your Jordan 1 Colorways Well!
So all the Jordan 1 colorways we chose, are profitable if you know how to invest them. So you better know how and where to resell your kicks! You also gotta make sure you get yourself these kicks before thinking about flipping. So what do you do? It's simple! You get an all-in-one bot that can get you the sneakers you want. And that's why you need NSB in your life! Make sure you get your own copy before the next hype sneaker drops. Nobody likes an L, do you?
Tags: Air Jordan 1, Air Jordans, AJ1, Jordan, Michael Jordan
Posted in Jordans, Sneakers 0 comments