Kanye West, or just Ye, is one of the most influential figures in today's pop culture. He managed to leave a mark in the sneakers and music industries. And when we say Yeezy sneakers, people immediately know what  So many things, and drops, happened since the last time we heard the word Yeezy Boost 350 V3. But don't worry, we gotchu! Today, we're gonna discuss the Yeezy 380s and what went down post-name change.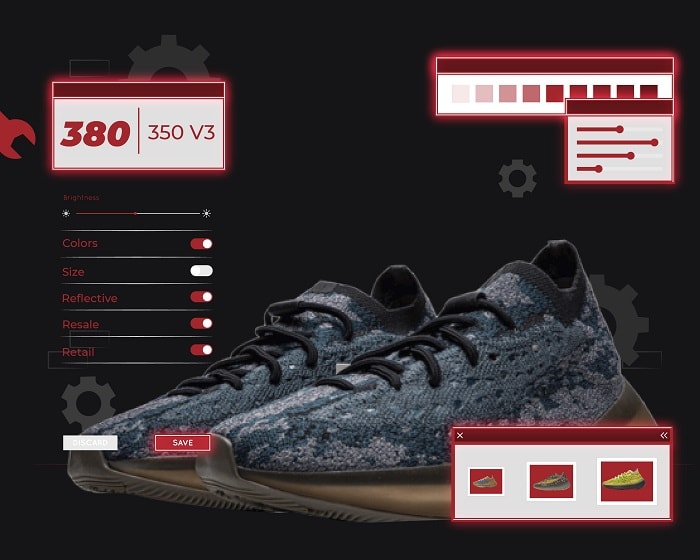 Yeezy Boost 350 V3 vs Yeezy 380
It's not really a secret that Yeezy 350s are the stars of the Yeezy line. And anything associated with this line is an instant success. So, when rumors of Yeezy 350 V3 surfaced, the sneaker industry and sneakerheads just lost it. And all the hype suggested that the kicks will be the next success! So what happened?
Well, the silhouette became Yeezy Boost 380. It still is the same pair of shoes, but the name had a big impact. The interest everyone had with the so-called "350s" because they became 380s. And we'll just say that if the 380s kept the name, maybe the hype would've stayed the same. Yep, we said it.
The Features
The Yeezy 380s features the same Primeknit upper as the 350s with a sock-like fit. The midfoot has holes on the wide stripe for ventilation too. All these changes were fresh, yet subtle. The most noticeable change was the midsole. Bye-bye ridge details, hello smooth semi-transparent shell showing the Boost cushioning! The outsole also rocks a herringbone traction pattern that lowkey looks sick.
Adidas Yeezy Boost 380 – What Went Down
After waiting for three years, we finally got the first Yeezy 380 in December 2019. The kicks retailed for $230, while the reflective versions were at $250. And after the first colorway, the Alien 380s, we got so many interesting (and outrageous) colorways. You can take a look at every release right here! And if you're looking for a pair of affordable Yeezys, why not consider these babies? The comfort really is next level, just like every Boost-soled pair of Yeezys!


Will We Ever Get a Yeezy Boost 350 V3?
Okay, now that the 380s are off the table, that leaves us with a very important question. Will there ever be an actual Yeezy Boost 350 V3? Well, we might, but why fix something if it ain't broken? But anyway, if there ever will be 350 V3s, we know for a fact that everyone will be down for that! That's why you're gonna need a powerful sneaker bot to buy them. And not only that but you should also know what the best proxies for Yeezys are. Just make sure you know how to set everything up correctly using this guide! Godspeed 🔥