Yeezy Blue Tint: A Pair That Shaped the Yeezy Line!
Yeezys are a part of the sneaker culture ever since they released for the first time. From the eccentric look to the interesting mind behind them, everything about Yeezys is cool. And today, our topic is about a pair that was a milestone in the history of Yeezy kicks. Yeezy Blue Tint is a pillar of the Yeezy line for many reasons that we're gonna check out right now!
A History of Yeezy Blue Tint
Back in 2017, Yeezys were in their prime. It was an era of awesome Yeezy 350 colorways and we got bold sneakers with super striking colors! But what was the most interesting about that time is that Yeezys were very exclusive. Copping a pair of Yeezy Boost 350 was a privilege, and flipping them made you a fortune! Although that's not impossible to do today, you gotta know where to sell your kicks.
The End of Yeezys?
So anyway, let's go spiritually back to 2017! We were still fresh off the Yeezy Frozen Yellow drama. If anything, backdoor kicks always manage to create drama, and Yebras went through big-time backdooring. But with the backdoor scandal, we got new release news! Yeezy Mafia announced that Yeezy Blue Tint will drop on December 16, 2017.
But the real bomb that YM dropped was that the Blue Tints will be the last 350s for a while. That made us all wanna seriously cop the kicks, especially that it could be our last chance. So drop day came, resellers and sneakerheads copped, and resale went up. Although rumor had it that these were the last 350s, resale didn't go over the top. Maybe we could blame that on the stock number. But then again, $400 isn't too bad if you're copping big numbers!
YEEZY BOOST 350 V2 "Blue Tint"
Last 350 V2 for a while. #MafiaSZN pic.twitter.com/YVeke9YzEz

— YEEZY MAFIA (@theyeezymafia) December 12, 2017
The Post Yeezy Blue Tint Era
Aka, when everything went to the drain! So Yeezy Mafia got us believing that there won't be any Yeezys soon, right? Everyone actually thought that this would be the last V2, especially that Kanye was working on a V3. That turned out to be the less hype Yeezy 380. The silhouette doesn't come anywhere near the demand people have for the V2s!
But well, 6 months isn't a very long time to wait honestly… We had sneaker rumors and teasers that got us waiting almost that long and sometimes more! And in June 2018, the new Yeezy 350 Butter dropped. The pair was a new chapter of the 350 legacy, especially that it came without the zebra pattern! It also discontinued the SPLY-350 on the lateral stripe. So all in all, the silhouette got a subtle revamp.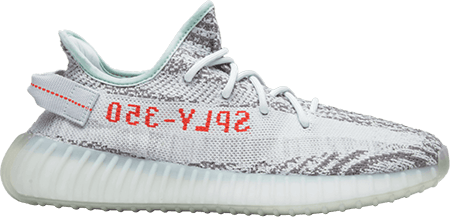 Downhill From There
Now 2017 was a pretty good year for Yeezys, but we can't say the same about 2018. That year had a Yeezy overload, and not just 350s! And seriously, the sh*tshow started right there. Stock numbers went up, resale prices went down. On the bright side though, Kanye was trying to be true to his word. After all, he promised that everyone will get a Yeezy if they want it!
2019: Yeezys Are Dead?
Fast forward to 2019, where it wasn't much better than the previous year. With more than 40 releases, the year was pretty busy. The hype was low though, and not everyone was a fan of all the neutral colors Kanye served us. Some people argued that Yeezys are dead by now and they're done with them. We all lowkey missed the colorful kicks and the exotic patterns. But oh well, you gotta do what you gotta do. However, standalone Yeezys aren't available in high numbers. But really, black, blue, or white doesn't matter, it's a Yeezy! Well, maybe except the foam runners, these are so different we're still not used to calling them Yeezys. So all in all, Yeezy Blue Tint was a serious turning point for the brand as you can see.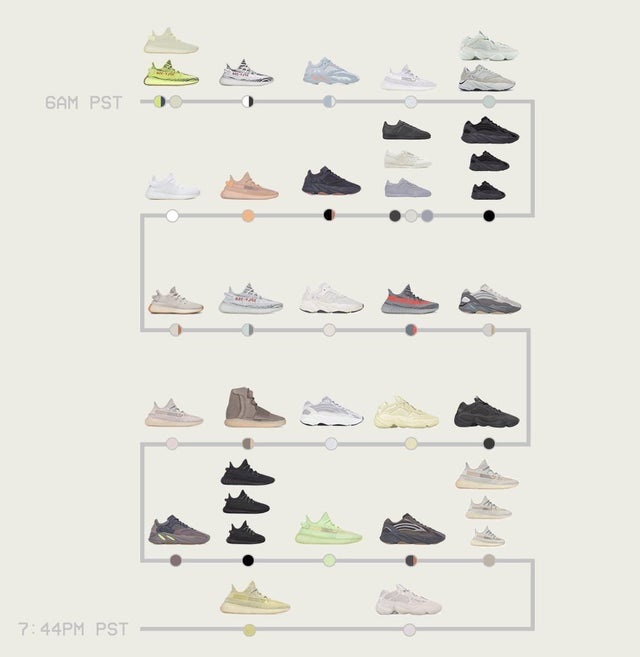 Yeezys Take a Hit in August!
Just when we thought that this couldn't get any worse, August 2019 came and with it a HUGE surprise. You know how it's a fact that resale value drops once you get a restock? Now imagine, multiple Yeezy restocks in ONE day! YeezySupply was on a roll there, and apparently, Kanye wanted to clear some storage space before new releases. And that was the first, and only, time that Yeezy Blue Tint restocks! So many kicks' values dropped on that day, but the resale value of Blue Tints didn't, and that's pretty interesting.
Yeezy Blue Tint Holds!
Let's take a look at another pair that took a hit on Yeezy Day. Yeezy 350 V2 Zebra's value dropped every time it restocked, including Yeezy day! But not Yeezy Blue Tint, in fact, the pair resells for around $600 as of today! And whether we like it or not, we gotta be truthful: Yeezy Blue Tint will always remain one of the most memorable Yeezy 350s!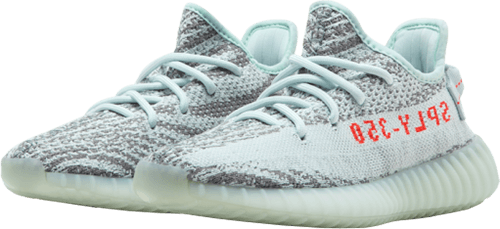 What Does the Future Look Like for Yeezys?
Well, after the presidential sh*t? We can barely tell what Kanye is up to. But what's obvious so far is that Kanye is suffering from the divorce blues. Why? Because blue Yeezys seem to be all the rage lately! Some of the latest ones are Yeezy Ash Blue, Yeezy 500 Frost Blue, Yeezy 500 Bright Blue, and more.
On the other hand, we've got Kanye experimenting with new upper material. Could this new Mono pack restore the industry's faith in Yeezys along with their resale value? And could the production move to the USA rumors affect stock numbers? Well nobody knows yet, but we sure hope that Yeezys bounce back just the way Dunks did!
One final question remains: Are YOU still on team Yeezus or you're over them and jumping back to the Jumpman?
Tags: Adidas, Kanye West, Yeezy, Yeezy Boost, Yeezy Boost 350 V2
Posted in Adidas, Yeezy 0 comments