The Undefeated Nike Dunk vs Air Force 1 Pack Returns!
So which side are you on? Both are 80s babies, and both are hoopin' kicks! It's pretty hard to decide. But usually, if you prefer a clean pair of Air Jordan 1, you'll be siding with the Dunks. Anyway, we're getting a pretty awesome pack to settle the debate. So let's check out the new Undefeated Nike Dunk vs AF1 "5 on It" pack! But if you're interested in some more heated debates, take a look at the Nike Dunk vs Jordan 1 discussion.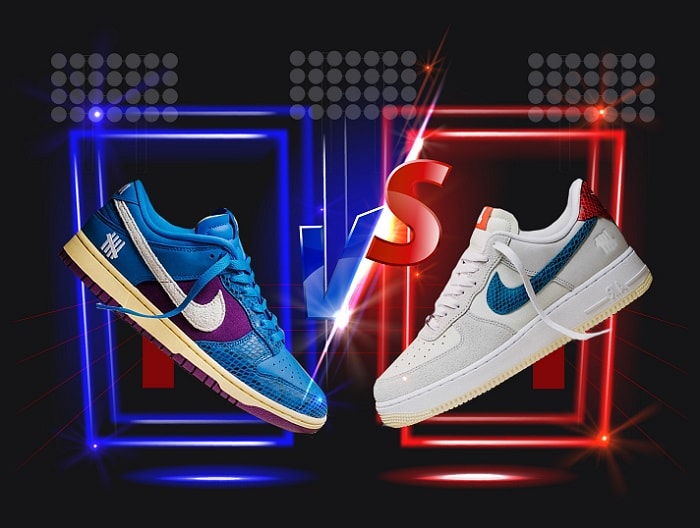 Undefeated Nike Dunk vs AF1 – Part 1
In June 2021, Undefeated dropped a really sick sneaker collaboration that stemmed from the team's own debate. They actually took two previous collabs and literally swapped the colorways! The original kicks were 2003's F&F Undefeated Nike Dunk Ballistic. According to the news back then, only 48 pairs were available! But luckily, the pair dropped again in 2013 for the public. The second colorway was 2006's Nike AF1 UNDFTD Canteen. The result was a pretty nice combo that people kinda underrated.
And for their marketing campaign, UNDFTD went on and asked famous sneakerheads which silhouette they prefer! Tough question to ask about to classics, amirite? Kinda leave you wondering what you would choose if somebody asks that question.
View this post on Instagram
5 On It – Undefeated Nike Dunk vs AF1 Part 2
Because one pack isn't enough, Nike and UNDFTD are dropping a second! This time, the colorways are super bold in comparison to the first pack. The first pack focused on colorways, but this time, it's all in the material baby! Instead of sticking to one or two, Nike and UNDFTD are taking it a step further with 5 different materials. The materials are faux snakeskin, leather, suede, nubuck, and canvas!
And if the mix isn't enough, the Undefeated Nike Dunk features an awesome blue and purple upper. The white swoosh and sail midsole also give a cool contrasting effect! On the other hand, the AF1 comes in a mainly white upper with a blue swoosh and red heel tab. The only other color is the sail outsole. So whether you're into colorful kicks or lowkey ones, UNDFTD and Nike got it for you!
Release Deets
If the new Undefeated Nike Dunk vs AF1 pack is what you're looking for, it's dropping on August 6, 2021. We don't know the retail price yet, but these are definitely worth it either way. On the other hand, you can flip the Dunks on the aftermarket for around $700, so there's that. As for the Air Force 1, we still don't know how much it'll be worth. But honestly, do we really need a reason to cop a classic?
How to Cop the Pack?
The kicks will be available in the Undefeated stores and online! So if you don't live near a store, it's gonna be the online cop for you. Luckily, UNDFTD is a Shopify-hosted website, and we have a round-up of the best Shopify bots right here! But why go for Shopify only when you can have a bot that supports all websites for you? We also gotchu here fam with our list of the best sneaker bots of 2021!
Last but not least, a sneaker bot does as well as the environment it's running in. This is why investing in sneaker proxies and servers is a power move. But always remember, the perfect setup will ensure you get the best chance at success, not guarantee it. So don't expect to hit every time, but if you do, well good on ya! Godspeed 🔥
Tags: Air Force 1, Nike, Nike Air Force 1, Nike Dunk, UNDFTD Nike
Posted in Nike, Sneakers 0 comments