Travis Scott Fragment Jordan 1 – 3 Reasons to Cop!
Have you ever heard of a mashup of brands and thought "that's not gonna end well"? Surprisingly, that doesn't apply to the upcoming Travis Scott Fragment Jordan 1 collab! The kicks are a combo of Fragment's streetwear feel, Cactus Jack's hype, and an iconic silhouette. So you could say the holy trinity of hype is coming in high and low versions! If that isn't enough for you, here are 3 reasons why you need to cop the kicks.
One – The Travis Scott Fragment Jordan 1 Looks Sick
Let's face it, the sneakers look pretty awesome. Let's discuss each pair alone, shall we? The Travis Scott Fragment Jordan 1's upper features a clean white-blue-black color-blocking. But along with the reverse swoosh, the sail midsole kinda automatically catches your attention! And we gotta admit, that white and blue toe box is really the bomb.
On the other hand, we have the lows. Although they usually go under the radar, Travis made sure he gives it the love it deserves. We remember the first Travis Scott collab on the Jordan 1 low. And the aftermarket does too! In fact, the pair still resells for $1,700 on average. And now, the new Travis Scott Fragment Jordan 1 low is just as cool. It comes in the same color-blocking as the highs with a different twist. However, the kicks rock a sail swoosh, and that makes all the difference in the world! Still awesome though.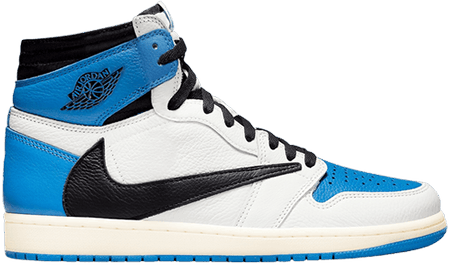 Two – Resale Is Definitely Worth That Cop
Whenever we talk hype sneakers, we can talk crazy high resale. So when three famous brands/names join hands, you know it's gonna be good. The Travis Scott Fragment Jordan 1 High will drop on July 29, 2021. It will retail for $200, but the resale is totally worth it! You can actually flip the kicks for $3,800 on average, and you can actually go up to $5,000.
Now, interestingly, the low-top kicks are even more valuable for a change. Maybe it's because its release deets are still a bit ambiguous? It also has to do with the fact that many people think it looks better than the highs. What we do know though, is that the kicks are dropping on August 13, 2021. We don't have a retail price, but the resale value is a whopping average of $4,500.
Three – Hype Sneakers Always Make Awesome Collectibles
Are you a sneaker collector? Wanna start your very own sneaker collection? Then this is a really good drop to start with! When we talk about a collector's kicks, we mean anything between PEs, one-time releases, and limited-quantity drops. If we know anything bout Travis Scott, Fragment, and Air Jordan, it's that they're definitely going for exclusivity. And when we say exclusivity then they're definitely sneaker collection-worthy!
Where Is the Travis Scott Fragment Jordan 1 Dropping?
So the kicks are dropping in multiple places, make sure you read on carefully. First of all, the kicks will naturally be available on Nike SNKRS. So if you wanna have a shot there, a powerful Nike bot is your best bet. And don't forget to have the right sneaker proxies on hand! But if you live near a Footlocker, then you might as well buy from the physical store while you run your bot.
And if you wanna push your luck to the maximum, participating in the raffles is the way to go. So far, we know that Kith, Concepts, and Wish are hosting raffles. Rumor has it that the Travis Scott website will also raffle the kicks, so better keep your eyes open! And a word from the wise, make sure you get a sneaker bot anyway, you can find out why you need it here. Godspeed 🔥
Tags: Air Jordan, Air Jordan 1, Air Jordans, AJ1, Fragment, Travis Scott
Posted in Jordans, Sneakers 0 comments