A legacy has to start somewhere, right? And nobody does sneaker milestones like Nike. From humble beginnings to being one of the most successful companies, they went through it all. And despite all the success, one line became a staple in every sneakerhead's closet. Nike also knows how to keep up with the latest tech and trends. The end product is a long Air Max history that spans over multiple decades! So let's check out what went down from day 1 till today. And if you're into that kinda thing, make sure you check out the Air Jordan and Yeezy stories too!
How Did Nike Air Max Become a Thing?
Let's start at the root. It all began with a retired aerospace engineer who found his calling in providing creative solutions for different industries. This guy's name is Marion Franklin Rudy! He got the very bold idea of putting little air bags in shoe soles to minimize impact. And well, that didn't go over well with many companies. However, the forever innovative Phil Knight gave it a shot and took the air-bagged kicks on a run. And that was the beginning of the Air Max history in 1978 with the Nike Tailwind.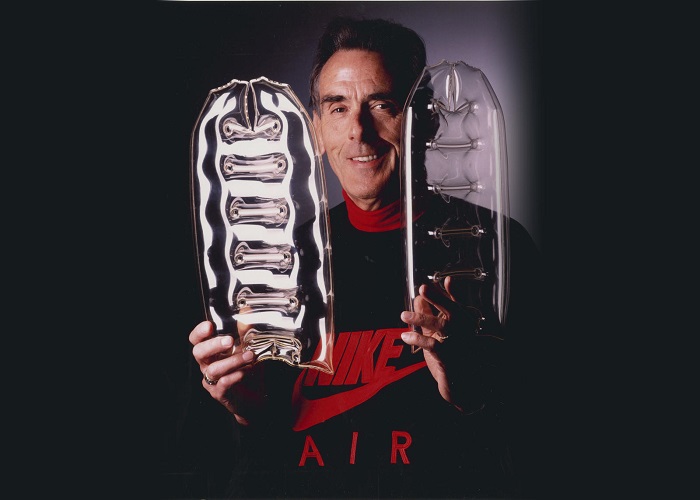 Sometimes It Takes a Burst of Courage… or Just Audacity to make Air Max History!
So legend has it that in the 1980s, Tinker Hatfield saw Centre Pompidou in Paris. The inside-out design was an inspiring experience for him, and he decided to put it into sneaker design! And that's exactly how the visible Air unit came to life. Interestingly enough, the first sketches/designs weren't even for the Air Max 1! In fact, the earlier design was for what we know today as the Air Max Zero. This silhouette didn't become reality until Air Max Day 2015. You can read more about that right here.
Nike Air Max History
Now that you know the basics, we'll check the list of Air Max shoes that we got throughout the years! So brace yourself, because it's gonna be a long ride. After all, Air Max history isn't the product of a couple of years.
Disclaimer: We might have skipped some silhouettes here and there. But the Air Max history is way too big to fit into one tiny list. That's why we decided to include the coolest silhouettes every sneakerhead should know about.
Air Max 1
It's 1987, and the world is changing. Music, fashion, art, and everything else was evolving, and sneakers had to keep up. That was when sneaker designer Tinker Hatfield got the genius idea of making the Air cushioning visible at the soles! This idea revolutionized the Air Max line and paved the way for decades to come. And that's how Air Max 1 became the first pair in the line. 2 years later, Nike introduced the Air Max Light, which is a lighter version of Air Max 1. However, that silhouette wasn't really it, and AM1 is still one of the favorites to this day!
Air Max 90
Hands down one of the most famous silhouettes ever. You can't see it and not know that this is the Air Max 90. These are classic sneakers that everyone fell in love with just as the industry was taking a dive into streetwear. Hip Hop, flashy fits, and bleached hair were all in, and sneakers had to find their place among these trends. That's how the AM 90s became a staple in the 90s for OG sneakerheads. And let's be real, the silhouette is still as popular as it was back then.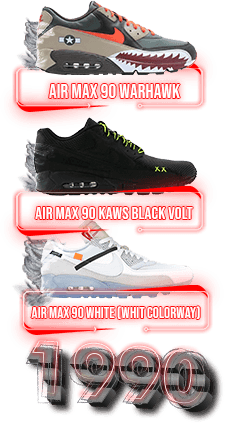 Air Classic BW
BW stands for "Big Window", no jokes. Why settle for a little opening when you can be extra? Sarcasm aside though, the Air Classic BW was a pretty neat silhouette. We'd totally rock these babies in 2022!
Air Max 180
This is the first pair in Air Max history to feature a 180 degrees view of the Air unit! You could literally see it in the outsole, unlike other silhouettes. The upper wasn't it design-wise, despite the innovative soles. However, the 180s had their moments during the 1992 Olympics on the feet of Michael Jordan. Another time these babies shone was when Nike custom-designed only 5 pairs for Kanye West. They celebrated his College Dropout album and became one of the rarest Nike kicks ever!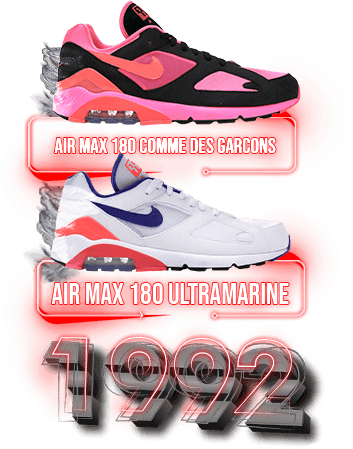 Air Max 93
Air Max 93 is definitely an underrated silhouette. From the introduction of colored Air units to the sock-like fit, these kicks were living in the future. If you're not familiar with them, the sneakers feature a bigger air unit than the previous silhouettes. And the colorways are just top-notch if you check them out, so win-win!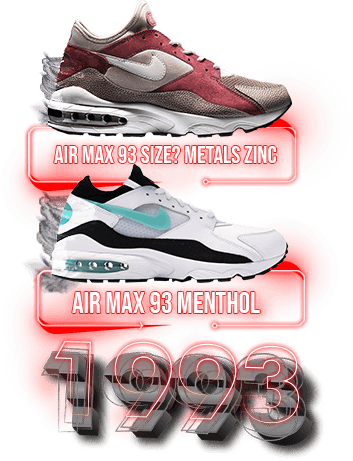 Air Max 94
Now we're getting into a pretty cool territory! The Air Max 94 is a hybrid of several previous silhouettes. It's also another underrated silhouette that will leave you wondering where it's been all your life! But if you're looking for a close alternative, it's definitely the Air Max 93. Make sure you check out our favorite colorways right here!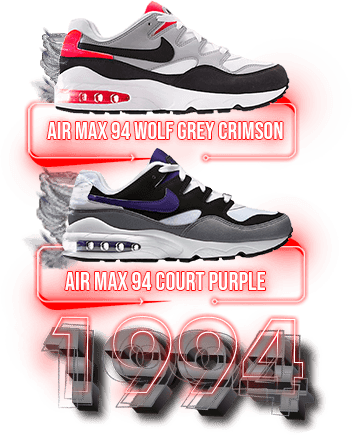 Air max 2 – 2 Light
If you thought the year '94 brought us just one silhouette, boy you wrong wrong! In 1994, we got the Air Max 2, and the lighter version of it, aka AM2 Light. The Air Max 2 was the last silhouette that Tinker Hatfield designed, and it still hasn't re-released yet. Ironically though, the AM2 Light is actually more popular than the OG silhouette!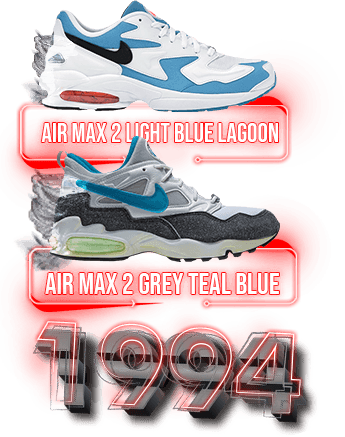 Air Max 95
One of the modern-day's most popular silhouettes. Are you really a Nike fan if you don't own at least one colorway of these babies? The Air cushioning on this one is kinda familiar because we already saw them on the Air Max 2. But the wavy upper made the 95s a much more successful silhouette. And let's not go into why we all love the Neon colorway alright?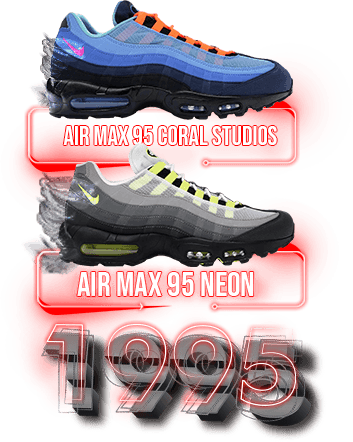 Air Max 96
Another underdog in the 90s series. If we could call it anything, it would definitely be "OG chunky sneaker". If that silhouette dropped in the prime of the hype, it would have been a banger! However, it had its moment in the limelight when Supreme added its branding on it in 2021!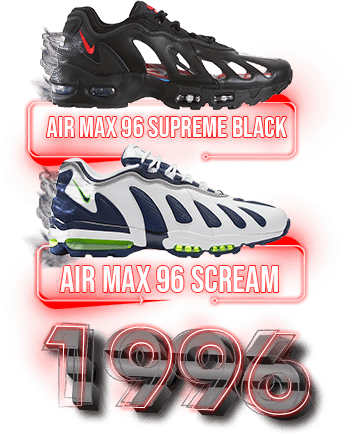 Air Max 97
Ahh, the full-length Air cushioning, does it get better than that? Well, it does when this silhouette goes into the limelight thanks to a controversy. It's actually the silhouette that Lil Nas X made the sneaker world buzz with, aka "Satan shoes". You can read more about that here, and check out the coolest normal colorways below.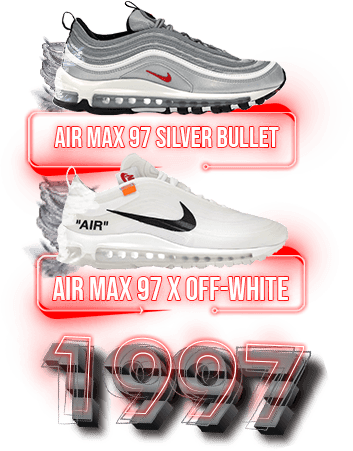 Air Max 98
A 90-er version of the 97s, but nobody really minds because it's cool as heck. Especially when the OG colorway is inspired by none other than Gundam! And let's not forget 2016's Supreme collab that really put the silhouette under a cool light. But then again, the silhouette is pretty awesome on its own, right?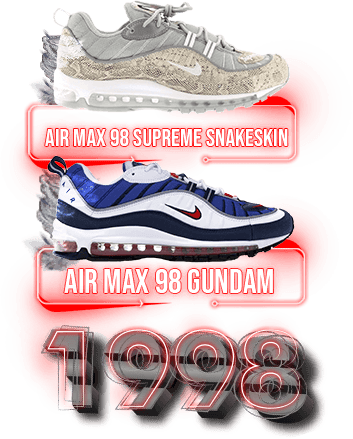 Air Max Plus
Another gem to end 1998 with is the Nike Air Max Plus. If you look at it long enough, you'll start thinking about the beach and waves. That's the exact place from which the designer Sean McDowell drew his inspiration for these kicks. This silhouette also made it to Supreme's long list of Nike collabs, but who's counting at this point?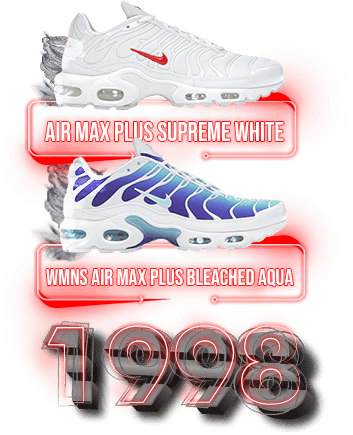 Air Max Deluxe
A piece of often-overlooked Air Max history. These sneakers were made to pop thanks to their trippy Neoprene upper design. The upside of it is also the full-length Air cushioning we all love! Here are our favorite colorways, but if we had to choose just one, it would definitely be the OG Photo Blue.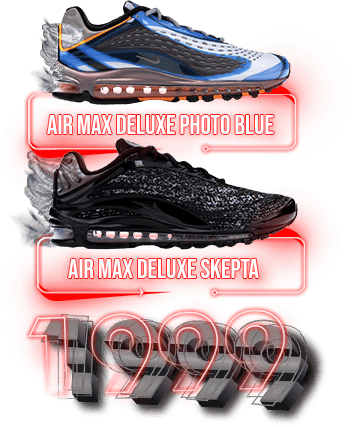 Air Max 2003
Welcome to the new millennium, where Air Max history becomes present! The awesome 2003 release is a more refined take on the line after all the crazy silhouettes of the 90s. It was simple, clean, and with fewer color mixes. In other words, that would make a pretty nice work sneaker if you're looking for a comfy yet stylish design!
Air Max 360
What's better than seeing the Air cushioning at 180 degrees? Having a full view, as you probably guessed from the name already. This silhouette meant business with its smooth upper. So if you're a performance junky, this pair is totally made for you!
Air Vapormax/Vapormax Flyknit
So this silhouette was first introduced in 2017, and this, according to Nike was the pinnacle of Nike Air. Instead of a full-length Air cushioning, we got a standalone Air sole! And that, ladies and gentlemen, took walking on air to another level! And when you add to it a Flyknit upper, you get the ultimate comfort, just the way we like it.
Air Max 270
Back to the future, literally. The inspiration behind our personal favorite is the 90s models and their cushioning! However, the end result was a much sleeker-looking pair of sneakers. You can rock these at the gym, with your friends, and really everything in between. And honestly, if we could pick one pair of everyday sneakers, the 270s would be it.
Air Max 720
A little bulkier pair that comes as a part two for the 270s. This silhouette rocks a humongous Air sole that makes the kicks look like they're from another world. When these babies dropped in 2019, the sneaker industry buzzed with excitement, for good reason!
Air Max 2090
A very modern take on the Air Max 90 that came exactly 30 years before this one. The design team wanted to take comfort to a whole new level. In fact, Air Max 2090 has 200% more air than the classic AM90. The upper design is also more lightweight, and you can read more about that here. So all in all the kicks are a successful futuristic take on the classic.
Air Max Pre-Day
Last but not least, we got 2021's Air Max Pre-Day. With the fashion and sneaker world going in a more sustainable direction, the Air Max line should keep up. And keep up is exactly what Nike did! This silhouette is actually the most sustainable pair ever produced in an effort to Move to Zero. If you wanna check out more technical details about the kicks, check this out.
Air Max History… Still On-going!
Now that we know how far back this line goes, it's no surprise that we all have a favorite. And from what we're seeing, the line isn't stopping anytime soon. So make sure you always keep your eyes peeled, because if Nike isn't slowing down, neither should you! But if the hype grows around these babies, you're gonna need a sneaker bot to catch them in no time. And maybe you can use it to cop some more exclusive pairs that will come in 2022! Check this out for a little sneak peek at what 2022 has in store for us. Godspeed