Just when we were getting hyped about the Yeezy Quantums they're taken away from us with one tweet. But also with just one tweet, we know exactly what to expect from May 2020. 4 new Yeezy sneakers lighting up the darkness of this pandemic and lockdown and adding to Kanye's long partnership with Adidas.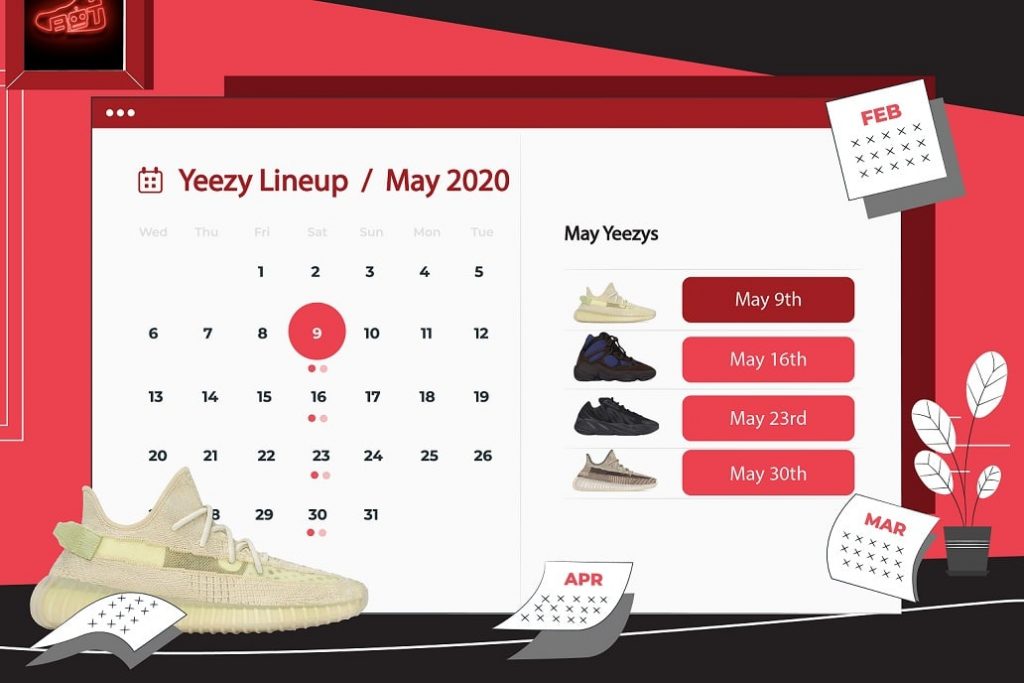 ICMYI: Yeezy Mafia updated us about the Yeezy Zyon release date on Twitter a few hours ago. Unfortunately, Zyon is dropping on June 13 instead of May 30.
YEEZY MAY 2020
GLOBAL LINE UP & RELEASE DATES
FULL DETAILS ON https://t.co/vpizmqzed1 pic.twitter.com/dWLc3Ovp1F

— YEEZY MAFIA (@theyeezymafia) April 28, 2020
But don't get too excited. Kanye's keeping matters to his own hands and keeping things a little limited.
Yeezy Boost 350 V2 Flax
It's not the first time we get to see the Yeezy Flax. These Yeezy sneakers, in particular, have dropped before on February 22nd, 2020. The first time they were part of a regional trio including the Yeezy Earth and Tail Light. Once again the Flax will release and in the same region (Asia Pacific). However, they're still nowhere near the Yeezy Zebras in terms of restock count. 
Featuring pastel Yellow tinted uppers, a mesh side stripe, and the overall looks of the Yeezy 350 V2s, the Flax will retail for $220. And you'll cop them again using NSB on May 9th, 2020.

Yeezy Boost 350 V2 Sulfur
We all know how Yeezy is telling us that he's a grounded person through the Yeezy colorways. And somebody was doing their homework because Sulfur is used in the making of fertilizers! The new Yeezy Sulfur featured a light olive green Primeknit upper and a darker side stripe. The midsole comes in the same light olive green color along with a gum outsole.
Yeezy Sulfur will, unfortunately, be a US exclusive on May 9, 2020. The kicks will retail for the usual $220, so if you live in the US, it's a must cop!
Yeezy Boost 350 V2 Cinder
The second restock on our list, also dropping in Asia. It seems that Kanye doesn't want sneakerheads in Asia to miss out on anything! The not-so-new Yeezy initially dropped on March 21, 2020, and featured an almost black Primeknit upper and midsole. The kicks are definitely great to style with cool outfits!
Keep your eyes open and bot running because Yeezy Cinder is dropping on May 9, 2020, retailing for $220.
Yeezy 500 High Tyrian
This one is a pretty surprising release. First, we haven't heard from the High 500s in so long. They first dropped in Slate colorway back in December 2019. And frankly, they belonged to December and those long cold days of Ski. So to have the Yeezy 500 High "Tyrian"  releasing in May seems very offseason. But who are we to complain?
Air Jordan 1s drop all year long, and they're the most loved sneakers since the birth of this industry. 
The "Tyrian" features a mix of brown suede uppers, black leather, and blue neoprene spots. These Yeezy sneakers will also showcase a new lacing system that's different from the first version.
The Tyrians are releasing on May 16th, 2020 and you'll be able to buy them for $220.
Yeezy MNVN Black
NOT REGIONAL, this time!
After the pain that many sneakers felt not being able to cop the Orange and Phosphor MNVNs, it's time to bounce back and cop the blacks!
The MNVNs are the latest addition to the Yeezy 700 line. A very controversial and unique addition in terms of its futuristic vibes and how they drop so randomly every time! 
But this time, everyone who wants a Yeezy MNVN will get one. And to our luck, it's gonna be a Black MNVN!
The new Yeezy sneakers feature a "700" 3M emblazoned on the midfoot, boost insoles, and the look and feel of a big Yeezy 700! The "Triple Black" MNVNs retail at $220 and will be available globally, in full family sizing on May 23rd, 2020
Yeezy Boost 350 V2 Zyon
The 350 V2 Zyon has to be one of our favorite picks from this list of new Yeezy sneakers!
Kanye's kept the best for last and the new Zyons are dropping on May 30th, 2020. So, we're technically fully booked for the next 4 weekends!
The new Yeezy Zyon features perfectly contrasting uppers showcasing dark and light hues of brown. Kinda resembling the Turtle doves. It also boasts the much-loved boost midsoles, the mesh side-stripe, and lacks the heel pull-tab which we've seen on and off so many Yeezy sneakers. The 350 V2 "Zyon" will retail at $220, and will also be a worldwide release.
Copping any new Yeezy sneakers isn't that difficult anymore, especially using a sneaker bot as successful and powerful as NSB. So granted that these dates don't end up pushed back due to the COVID19 outbreak, you barely have enough time to buy NSB, get it set, and start copping as of next Saturday.