Let's face it; the sneaker industry wouldn't be what it is today without Air Jordans. But even within the Air Jordan legacy, some silhouettes don't get as much attention as others. And that's exactly what happened to the second silhouette. So today, we're gonna take a dive into the history of the silhouette and its awesome comeback! We'll also check out the upcoming Jordan 2 Chicago and take a look at all the reasons you need it. But in case you wanna keep your options open, here's a list of Black Friday deals that'll come in handy!
Jordan 2 Chicago – A Brief History of the Silhouette
How about we go all the way back to where it all started? Jordan Brand wasn't officially a thing yet, and Michael Jordan was just a Nike endorsement deal. But little did the swoosh know that this rookie would change the industry with his kicks! The first installation in 1985 was the Air Jordan 1, and it exceeded everyone's expectations in sales. So when 1986 rolled around, Bruce Kilgore wanted to design something memorable! And that's how the Air Jordan 2 was born, but something went wrong along the way.
Why Did It Flop?
So we're not gonna blame the design, although it's not really the brightest silhouette out there. However, many other factors contributed to everyone dismissing the 2s. First off, Jordan 1s success kinda overshadowed the 2s. Secondly, Michael Jordan himself didn't wear them a lot due to his foot injury. Fun fact: Did you know that MJ only missed 7 games in his 12-season run with the Bulls? Of course, we're not counting the injury season here.
And third, the kicks were expensive for their time hitting the $100 threshold. But of course, that was because they were made in Italy with premium leather! And last but not least, the tragedy of lost molds hit, which led to retros not surfacing until 1994 and then 2004!
And Now, Jordan 2 Chicago Is Back Again!
There's nothing like a pair of OGs to end our year on a high note. And Jordan 2 Chicago will be coming back for the first time ever since 1994! Mind you, the colorway made a reappearance in 2016 in its low cut. So if you're thinking about completing your sneaker collection, here's your chance. The kicks will feature a white leather upper with red and black details just like the OGs. Not only that, but they will come in OG form and OG packaging! Yay for the sneakerheads!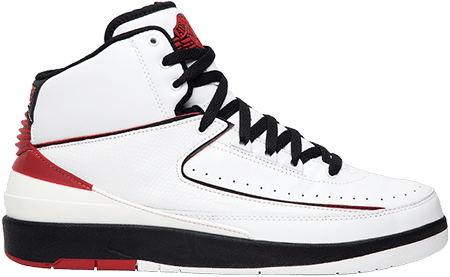 Release Info
Jordan 2 Chicago will drop on December 30, 2022, literally ending the year with style. So if you want these babies, they'll cost you $200 in retail. But don't worry, for a $400 average resale value, you can make that money right back and more if you cop in bulk. So, if you want a piece of advice, try to go for multiples, one for the flex, and others for the flip!
Wanna Score the Long-Awaited Jordan 2 Chicago?
Since Nike and Jordan Brand is finally blessing us with the OGs, everyone will want in on the action. So, you wouldn't mind having a leg up on drop day, would you? And that boost is either a Nike bot, a sneaker bot, or both, depending on where you're trying to hit. But whichever type you choose, make sure you know how to set your bot up with this guide!
And speaking of awesome sneaker bots, NSB has a lot of updates coming your way very soon! So go on ahead and get your copy today by clicking the button below. Who knows? That might be your ticket to starting a sneaker reselling business and making a great profit! Godspeed