Is Supreme Dead? The Question Everyone Is Asking in 2021
27 years later, the Supreme empire is still there. Reigning over the streetwear kingdom. However, is the brand that went from NY to the world losing some of its magic? And what would make anyone ask a question like that about one of the biggest streetwear brands? Well, we're gonna find that out and more with today's discussion. We'll also take a look at Week 5's lineup and some of the leaks we have! So let's settle this once and for all: Is Supreme dead?
FW21 Week 5 – The Lineup
Before we get into all the hot and saucy material, we wanna check out what's coming our way this week! Although we wouldn't say it's one of the hottest weeks, we still think there are some nice pick-ups. Well, mainly, the big a$$ mat is a must-have because it definitely won't be the weirdest Supreme accessory.
We also have a couple of tees and hoodies that we recommend that you cop them. The first is the S logo split hoodie, and the second is the Arabic logo tee. The Arabic logo which reads "Subhan" is pretty popular, especially that we didn't get lots of it throughout the years. Now is your chance to get that logo despite not being in the classic red box.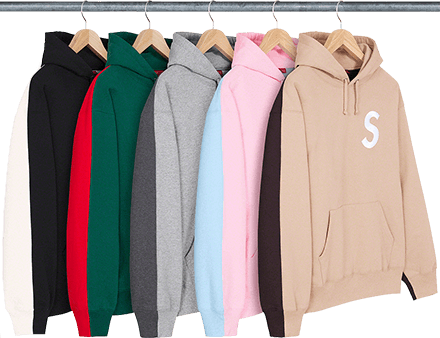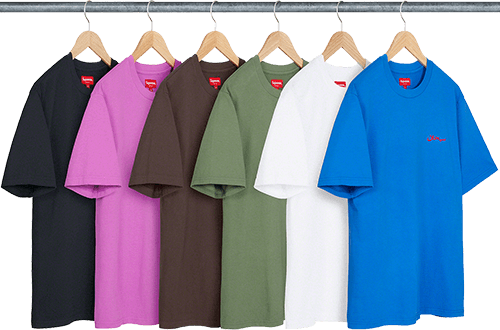 Last but not least, we've got a pretty interesting Supreme x Thrasher collab on the way. For the rookies who don't know what Thrasher is, it's a skateboarding magazine. So a collab of this kind is no surprise since Supreme is a skateboarding brand. The collab will include tees, sweaters, hoodies, and more!


Supreme x Tiffany in the Works?
Rumor has it that Supreme will collaborate with Tiffany on several items! I mean, knowing Supreme, we're pretty sure that we're gonna get some pretty interesting pieces. However, there is no confirmation on either side about a collab like that. We sure hope we get it though, it definitely won't be the most peculiar partnership Supreme would pull off! And Supreme is obviously trying to include the ladies in their drops. Remember the Supreme x Pat McGrath lipstick?
Anyway, we can totally still remember the Supreme x Jacob & Co necklace. It was actually one of the most expensive items of FW20. You can check out the rest of the list here! Moral of the story? Supreme is no stranger to jewelry and high-end items. And we'd buy a Tiffany & Co. x Supreme Lock chain in a heartbeat 
Is Supreme Dead, Though?
Some people are definitely asking: Is Supreme dead? So many people today think that Supreme is only dropping bricks lately, and a lot actually agree with that statement. Given that last season, we've only had the Supreme TNF collab and some accessories worth the time & effort. However, the people who are making these statements are resellers who only rely on Supreme hype. What they need to know is that Supreme is beyond the hype (although it does capitalize on it). The brand is a niche for all skateboarding fans out there, and probably always will be.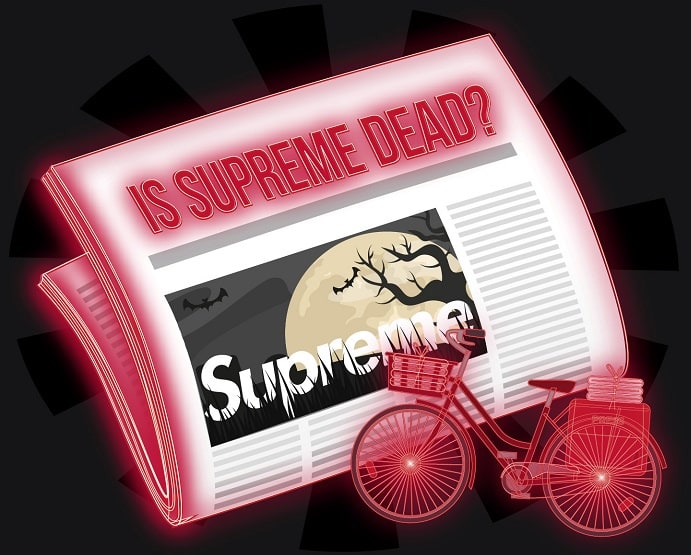 So, in our opinion, is Supreme dead? We don't think so. It might be losing some of the hypebeast-worthy status, but people will always want in on the action. And people will always run a Supreme bot to get that item. Why? Because believe it or not, Supreme puts out some really nice items to the world!
Is Supreme Dead – The Final Ruling
No, Supreme isn't dead, and probably won't be for a long long time. Unless those 3-way collabs keep dominating the game, and every hypebeast's mind and wallet.
But until that happens, you gotta know for a fact that you cannot cop Supreme, any Supreme item, without a Supreme bot.
Not only that but the right proxies and servers can play a major role in your odds. After all, everyone knows how hard it is to get one, let alone many Supreme drops. Always make sure you keep checking our blog for the latest sneaker and industry updates! Godspeed 🔥