Yeezy Day is imminent, and that's a fact. And we're not trying to put pressure on you, but with all of these hot restocks, you surely will need help. In other words, you're gonna need a sneaker bot that supports Demandware sites to push your chances. A sneaker bot like NSB will definitely ensure you get the highest chance at copping the kicks you want. But we're not gonna get all technical now because that's what this guide is for. For the time being, we're gonna check out this really cool black Foam Runner MX Carbon!
Who Doesn't Like a Black Foam Runner?
Before we get into the new Yeezy Foam Runner, we'd like to take a look at another black drop! Yeezy Foam Runner Onyx dropped in June 2022 and retailed for $80. Today, these babies are worth $184 on the resale market. So if you flip on pair, you can make $100+ in profit! So why not invest in some Runners?
Now, off to the new deal. Kanye is stepping it up with a new black Foam Runner. Mind you; it's not your usual pair of Foam Runners. The new colorway features the same onyx/dark grey colorway. However, the kicks are stepping it up with pink and yellow paint streaks all over the upper. So if that's your kinda thing, make sure you get your sneaker bot ready!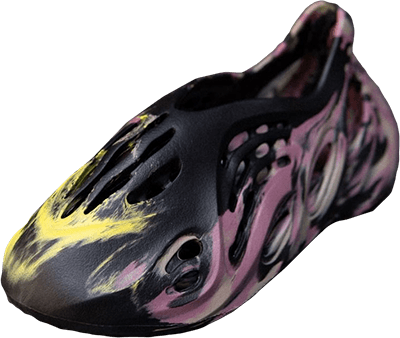 Release Info
Dun-dun-dun! The new black Foam Runner MX Carbon will come on Yeezy Day, aka August 1. So make sure you have your bot ready to cop. In terms of retail, these babies will go for the usual $80. If it's as popular as the other runners, you'll definitely want to get more than one pair. And if you plan on keeping one of the pairs, make sure you know how it fits so you can rock it comfortably. 
How to Cop the New Black Foam Runner MX Carbon
If you're looking to cop these babies and more on Yeezy Day, hear us out. Each and every Yeezy fan is prepping for this day. So make sure you have a headstart on everybody by getting a sneaker bot like NSB. If you pair them up with the right proxies, you'll considerably boost your success chances. And if you don't live in the US, here's how to cop Yeezys internationally!
Finally, we always like to remind you that having a sneaker bot doesn't guarantee a successful cookout. What it actually does is make your chances at copping one pair (or more) much higher. So if you wanna learn more about the basics of sneaker botting, here's an easy guide for beginners. But if you're ready to start working on your setup, click the button below to make the leap! Godspeed 🔥