Edison Chen CLOT Jordan 1 mid SE: The Big Finale
Who said man was not meant to fly? Well, Michael Jordan certainly proved to everyone wrong that he indeed can fly! And now, 35 years after his collaboration with Nike started, Jordan Brand is releasing the Fearless Ones collection. This collection is a tribute to Jordan's long career that inspired many many people around the world. The stars of this pack are the Air Jordan 1 mid collabs. The most interesting one though is CLOT's Jordan 1 mid collaboration.
CLOT is a streetwear brand founded by Edison Chen and Kevin Poon. Its aim is to create a bridge between the eastern and western cultures through clothes and shoes, and what's a better option to do that other than the American Nike? This collab is not their first and hopefully won't be the last!
Edison Chen CLOT Jordan 1 Mid SE
This collaboration will be out on December 7th, 2019 and it's actually the last to release among the Fearless pack. The kicks will retail for $140. More expensive than your average Air Jordan 1 mid huh? Well, this price is not really random.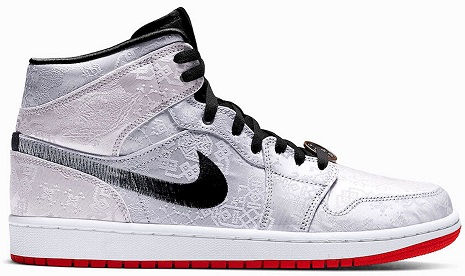 Edison Chen's take on the Air Jordan 1 Mid resembles the one we've seen on the previous Clot x Nike collabs. The sneakers' upper is a white silk with eastern iconographic embroidery. The new elements in these kicks are the dubrae, which features a chinese token that spells out "Jordan", and the swoosh embroidery that changes in density to create an optical illusion!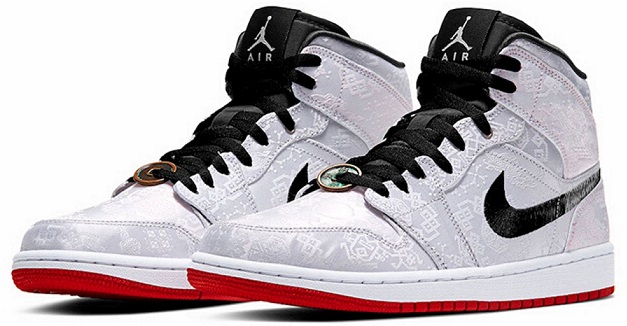 Now, to the part we're all excited about! The upper can actually be burnt or cut to reveal another leather design underneath to add a nice touch of customization.
This type of design is not uncommon with the Edison Chen x Nike collabs. Before the Air Jordan 1 mid there were very nice designs that went under the radar for some! Let's take a look at all of them.
CLOT x Nike Collabs: A History
A lot of collabs happened between these two, but we are going to highlight the best collabs to date!
Air Force 1 Low "1World" CLOT
Let's go back a decade and remember! Back in January 2009, Nike and Edison Chen's CLOT to release the 1World Air Force1 collab. The kicks featured a red silk tearable upper that reveals another color underneath.
The special box release came in a very cool red hexagonal box and SIX extra pairs of laces. The kicks retailed for $350, but the average resale prices are $5,375 and $3,567 for the special and regular versions respectively.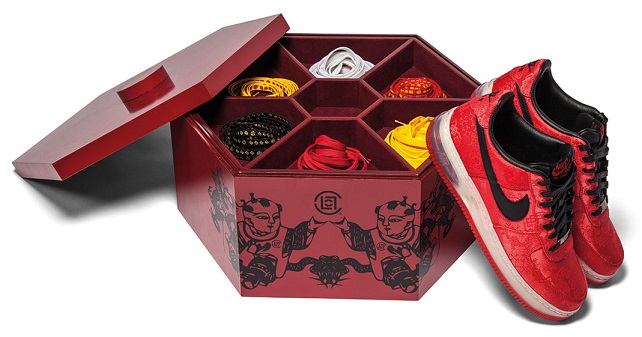 CLOT x Air Force 1 low "1World" White
Nine years and a month later, the second edition of the 1World CLOT collab saw the light. This time, an all white pair of Air Force 1s featured a white silk upper and cream white midsoles and swoosh logo. The upper is also customizable, and once you burn or tear the all-white silk top, you'll get a white and gold leather one!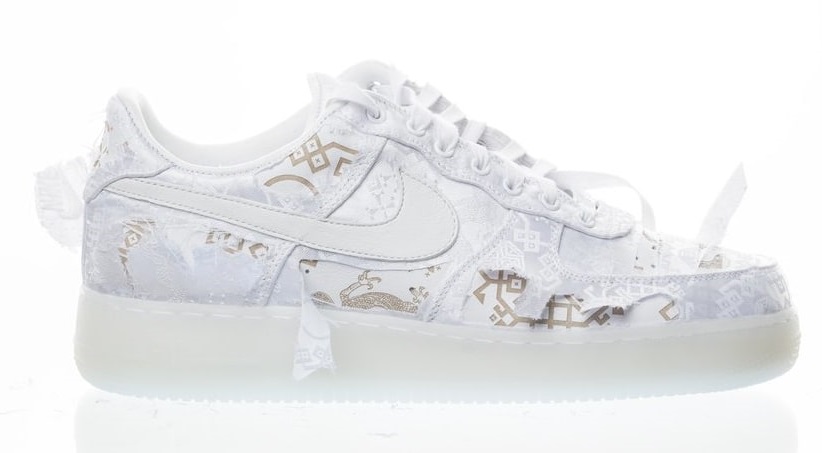 The kicks released on February 2nd, 2018 for $200. But today, it sells for and average of $1,200
CLOT x Air Force 1 low  "Blue Silk"
The latest collaboration between Nike, Edison Chen and Kevin Poon aka CLOT gave us the third rendition of the Air Force 1. The blue silk upper just gives a royal feeling to the kicks. However, the best thing is that you can also customize this pair by burning or tearing the blue silk. That will reveal a very interesting grey layer that will and cool to your royalty! 

The Blue Silk Air Forces released on November 11, 2019. That's just a few days ago! It retailed for $250, but is actually reselling for an average of $550 but can reach as high as $1300. It will probably go higher up as time goes by because who doesn't love limited-edition kicks?
How To Get The Latest Air Jordan 1 x Edison Chen?
Naturally, Jordan Brand is leaving the best for last. That's why the Edison Chen x Air Jordan 1 collab is the last to release out of the Fearless collection. It certainly leaves a lot of room for the imagination. 
Wait.. Are you worried you might not be fast enough to buy them? No problem. You just need to have your bot ready to increase your chances at a successful cop! What's better than NSB for that? It proved time and time again that it's one of the best and you can even check for yourself! 
we cooked @GrailGateway @NSB_Bot pic.twitter.com/Tiei2hvCub

— qwerty__ (@ywywywyet) November 16, 2019
Thanks @NSB_Bot @JoeHomieProxies @Leafproxies @OculusProxies @CoreSoleutions @GG_Chefs @IncognitoFNF pic.twitter.com/to1MlPfXj2

— Matthew Cooks (@MatthewCooks_) November 15, 2019
However, a bot alone can't do all the work. If you're a reseller or want to be one, you need several pairs, and that won't be possible unless you have proxies! Each proxy will guarantee an extra shot at getting the sneaker you need. And in case you need a step by step guide on buying sneakers and what you need to complete the process successfully, read this.
Conclusion
The latest Edison Chen x Air Jordan 1 collab is lit! It's definitely one of the must-haves of the Fearless Ones pack. So, if you're new to the game, and whether you wanna flip or flex your kicks, it's definitely worth investing in a bot. 
And if you're into everything Adidas, you should definitely check the upcoming Yeezy releases.