September! The beginning of the end of 2019. And it has been one hell of a year for sneakerheads; with the release of the Adidas Yeezy Boost 350 V2 "Black Reflective" in June, and insane "Yeezy Restock Day" in August with the massive restock of 30 different Yeezy sneakers in just 14 hours! Talk about out-of-your-mind insane!
2019 is going out with a BANG with the rumored release of 11 NEW September Yeezys.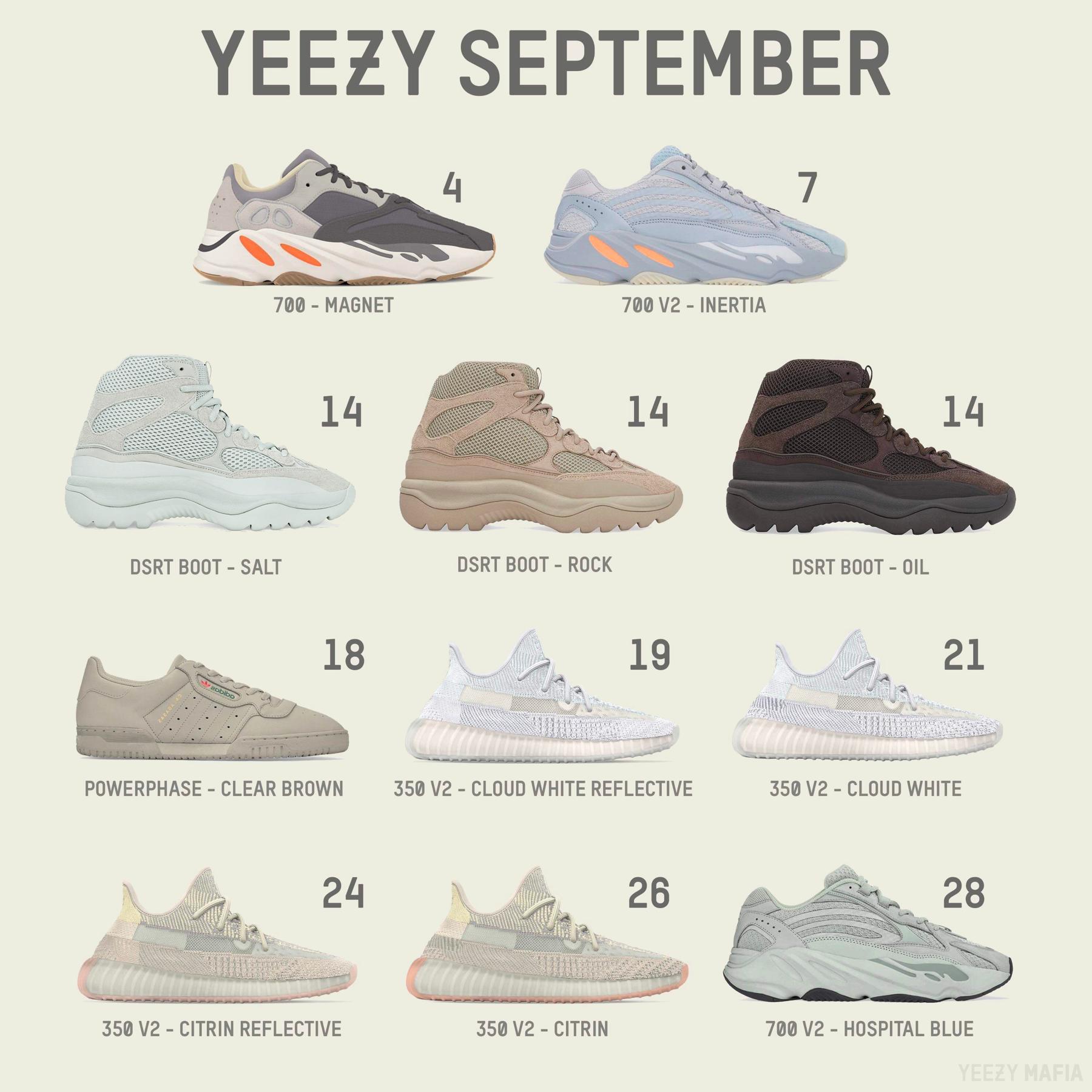 A Glorious Line-up of 11 Adidas Yeezy Sneakers is Coming SOON!
These Yeezys are set to drop on 9 days during the month of September, from the 4th of September until the 28th. 
"Magnet" Yeezy 700
"Inertia" Yeezy 700 V2
"Salt" Desert Boot
"Rock" Desert Boot
"Oil" Desert Boot
"Clear Brown" Powerphase
"Cloud Reflective" Yeezy 350 V2
"Cloud" Yeezy 350 V2
"Citrin Reflective" Yeezy 350 V2
"Citrin" Yeezy 350 V2
"Teal Blue" aka "Hospital Blue" Yeezy 700
The Adidas Yeezy Boost 700 Magnet, set to release on the 4th of September 2019.
Twinning with the OG "Wave Runner", this new Yeezy sneaker's retail price will be $300 USD.
Adidas and Kanye West announced the release of the Yeezy Boost 700 V2 'Inertia' continuing the lineup after the Adidas Yeezy Boost 700 'Inertia' releasing on the 7th of September, retailing at $300 USD. This pair, in particular, is not very unique or different. Actually we've only just seen the Yeezy 700 V1 inertias in March. But despite this being, not a very clever move, the shoes are dropping.
And on the 14th of September, Mr. Kanye West will release his iconic Desert Boots in 'Salt', 'Rock' and 'Oil' which is supposed to retail at about $280 USD. As you know these boots are Yeezy exclusive which means you won't find them on Adidas.com. But if you're passionate about looking and feeling rich, you can find them on yeezysupply.com.
New Yeezy, Old Yeezy!
The, not so Yeezy, Adidas Yeezy Powerphase in Clear Brown colorway on September 18! We know most of you aren't very much into calling these "Yeezys". But they are one of Kanye West's co-creations with Adidas. In case you're new in the game, the Adidas Yeezy Powerphase has dropped before in Black, Grey, and White.
Well, to be fair, there might be a slight chance you actually like these. Especially since the colorway is new and more aligned with Kanye's sense of colors. If that were true, please step away from the bot and let go of the proxies. The Adidas Yeezy Powerphase will be available for you to buy off reselling platforms for retail price. Sometimes even lower!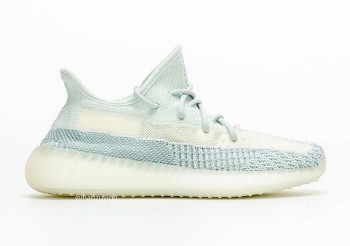 Just a DAY after the drop of the Powerphase Adidas Yeezy sneakers, they're rumored to hit the very next day on the 19th, with the all new Yeezy Cloud Reflective and its non -reflective counterpart the Cloud Yeezy 350 V2 just TWO days later on the 21st.
This crazy pair of sneakers will come in Light Blue and Cream White uppers with The unique large translucent side stripe, and reflective elements in the primeknit portions.
We still have no idea though if they're going to be regional or not. Such was the case of the new Yeezy 350 V2 Lundmarks and Synths which dropped not too long ago. But if so, brace yourselves for a powerful possible spike in resale value.
Adidas Yeezy Boost 350 V2 Citrin + More 700s!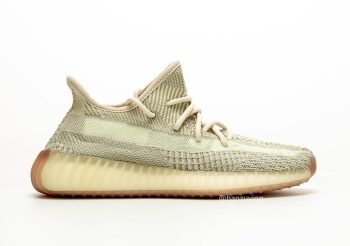 Even more, to set sneakerheads at the edge of their seats, the new Adidas Yeezy sneakers line will introduce the Citrin Reflective 350 V2 with its non-reflective version which drops just two days apart! The reflective Yeezy kicks drop on the 24th of September. While the other more matte version will make a debut on the 26th, leaving virtually no recovery time for sneakerheads.
Finally, a name fit for the state of mind of sneakerheads by the end of September is Hospital Blue Yeezy 700.
While early renderings showed a deep teal blue finish, new "official images" show a colorway very similar to the 700 salts. Which I personally think is a big disappointment. For a moment we all thought we're getting a new exciting and fresh colorway. But it seems we're getting the same old looks.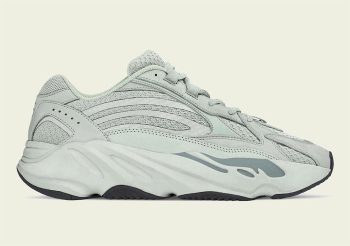 So rev up your bots and stock up on proxies just to set your foot in the race.
If you haven't already purchased a bot, you still got time! And you must know by now that NSB gives you the best chance to cop Yeezys or any exclusive sneakers you wish to own.