Adidas Yeezy Throwback
Yeezys are everywhere. Really everywhere! Sneaker Cons, resellers market, Big music event and concerts, Influencers' Instagram accounts. It's as if no day passes without us seeing hearing or reading about Yeezys. However, those hyped kicks go long before any Adidas Yeezy pair appeared. In fact, Adidas Yeezy silhouettes are fairly new to the game. The first pair showed up in 2015, and the sneaker game hasn't been the same ever since.
The first Adidas Yeezy creation was the infamous, and much-loved Yeezy 750 light brown. It's no shock that the first release made quite an impression among sneakerheads. In fact, it's still a fan favorite reselling at a high average of $1800.
Nike Air Yeezys
When Kanye left Nike, everyone was wondering if the rapper would be able to create kicks that would meet up to his previous genius releases. Not only with Nike, Kanye also experimented in collaborations with Bape, and Louis Vuitton, both of which were as Kanye's music, an instant hit.
At first, you would think that such a shift from Nike to Adidas would jeopardize the rapper's fan base. However, with every new release Kanye got more hyped, and so did his sneakers. And the very-much crazy resale prices of his first Adidas Yeezy pairs, until now, prove just that.
Well, some might argue that Kanye's Nike Air Yeezys made and still make more profit than any Adidas Yeezy drop, but there are reasons behind that. Low stock levels and controversial events such as Kanye leaving Nike, contributed to a major spike in Nike Air Yeezy resale values. The biggest proof to that, are the Red Octobers, Kanye's last collaborative piece with Nike. The Red Octobers are now up for sale for a whopping $5000 on StockX.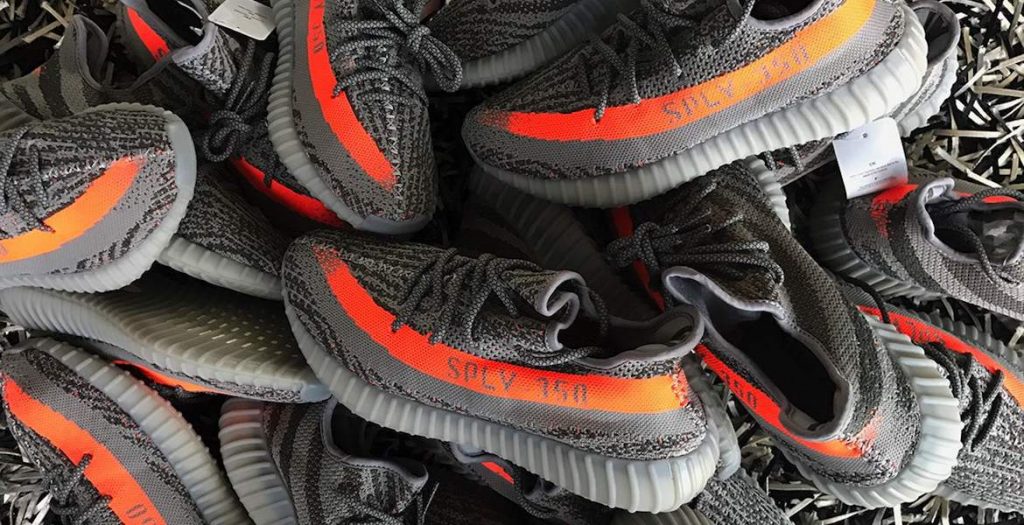 Adidas Yeezy
Ever since he joined Adidas, Kanye has experimented with different silhouettes, colorways and even types of releases. Kicking it off with the high Yeezy Boost 750 in Light Brown and then moving on to a low and more simple design. The Adidas Yeezy Boost 350 was quite a shift from the previous boot-like shoes. Featuring a more casual and easy going silhouette, Primeknit and BOOST material, the Yeezy Boost 350 was always a big success in no matter colorway it released.
Of course, not all pairs are welcomed with the same level of enthusiasm. There's always a colorway that is more appreciated, accepted or loved by fans. That's just how things are in this industry.
The first Adidas Yeezy Boost 350, Turtledove, was and still is the most valuable among all version of this line. Maybe it's the colorway itself, maybe the pattern across the uppers or it can just be that fact that people were craving more of the Adidas Yeezy collab. Regardless of the reasons, sneakerheads embraced the 350 silhouette with much love and gratitude. The first successful trial with the 350, was followed by 2 other releases, the pirate black and moonrock, both of which were just as loved and valuable.
Time for a change again
On December 19th, 2015, and after 3 similar and consecutive drops it was time for a change. Adidas and Kanye once again released a Yeezy 750, this time it came dressed in triple black, followed by the final release of an Adidas Yeezy 350, the Oxford Tan.
Now, we don't know what was the inspiration behind this design in specific, but it's safe to say it didn't belong in Kanye's "Great Ideas" list. The Adidas Yeezy 950, released in 4 different colorways on October 29th, 2015 and retailed for $585. Although they're still as boot-sy as the 750s, the 950s featured a more military look. They released in chocolate, black, moonrock and peyote colorways. You can tell that Kanye is a fast learner since after this drop, he never again tried to release any new iteration of the Yeezy 950.
After the 950s, Kanye had to make it up for his fans, and himself, so he and Adidas released 2 new colorways of the Yeezy 750, in Grey and chocolate. And then it was the end of a good era; an era where Adidas Yeezy designs were first introduced to the world.
Adidas Yeezy Boost 350 V2
One would believe that after such success, Kanye would never be able to come up with a new design that can get so much attention and hype. But one thought wrong.
On September 24th, 2016, Adidas and Kanye debuted an all-new silhouette, the Yeezy Boost 350 v2. And from that day, up until mid-2017, it was all about V2s. 8 different colors and patterns were introduced in less than a year, and well, no one complained. Adidas and Kanye offered the most subtle, simple and eccentric colorways during this short period of time. And sneakerheads loved and tried to cop every single one of them.
The Adidas Yeezy Waverunners
So, after a long series of 350 V2s, people were ready for something new and exciting and fresh. But what they got was not quite that!
The world was shocked by a new silhouette that made people talk. Talk bad things. The Yeezy 700 Waverunner, being a chunky bulky sneaker, was met with all the negativity and hate you can imagine. But by the time it was supposed to release to the public, it seemed as if people had gotten more used to it, and were more tolerant and forgiving.
The waverunners retailed for $300 and are now still being sold for around $500. So it's only fair enough to say that they have officially joined the Yeezy family.
After the waverunners and the controversy they sparked, things had to be brought back to normal, the 350 V2 norms. So 3 new colorways, among which 2 can be called extraordinary, released in about a one month period.
More V2s
The Yeezy Boost 350 V2 semi-frozen yellow was a major release. It dropped on November 18th, 2017, and in very low quantities. This exclusivity leads to a high resale value which soon enough dropped so low when the Beluga 2.0 dropped with a very high stock level. And then it seemed that sneakerheads weren't very much attached to a colorway, as much as they dug the idea of owning a pair of Adidas Yeezy. So the Beluga 2.0 was a consolation prize to all those who copped an L on the Yebra's release.
And to end 2017 in style, the Adidas Yeezy Boost 350 V2 Blue tint was released on December 16th, 2017.
The Powerphase
Not that these are not real Yeezys, but they just lack that a WOW factor other silhouettes have. The Yeezy Powerphase is merely a Yeezy-fied version of Adidas' classic PowerPhase. Except for that shiny Calabasas logo on the lateral sides of the shoe.
Dropped twice in 2017, in March and then in December In grey and White. And one more time in 2018 in black. However, the Adidas Yeezy Powerphase makes a very shy profit on the resellers' market, compared to other more fortunate Yeezys.
2018 Yeezys
Adidas and Kanye kicked off 2018 with a brand new, also very big, daddy-shoe, the Yeezy 500. Having dropped before on Yeezy's official website as part of a 3-piece set, the Yeezy 500 was the first of Kanye's designs to see such a release.
On February 16th, 2018 the latest Adidas Yeezy 500 released as a preorder, in a plain and subtle Blush colorway. What's new in this design is the absence of BOOST material, which many people consider as a selling point for Yeezys.
Again, the Super Moon Iteration of the 500s dropped, however SOLO this second time.
As for 350 V2s, well we didn't get any until the end of June 2018. Talk about 6 long and miserable months. But the Wait was quite worth it. A new clean-looking Adidas Yeezy 350 V2 named, after a long story, Butter made its debut on June 30th, 2018. And while we were anxiously waiting for another V2 to release right after, it seems that Kanye and Adidas had different plans.
Adidas Yeezy Cream Whites
As we speak, millions of pairs of Cream Whites are being manufactured and are set to drop sometime in September. This release day which was due in July 2018, is going to be, according to the YeezyMafia, a very long day.
Kanye West and adidas just took the #YEEZYBOOST production to another level. We confirm that there will be Millions pairs of YEEZY BOOST 350 V2 "Cream White" available in an long online release next July.
Are you happy that Kanye is holding his 2016 promise ? #YEEZY4Everyone pic.twitter.com/6vatUFhuX9

— YEEZY MAFIA (@theyeezymafia) May 29, 2018
 Apparently, this mass production was the reason behind delaying the release, as factories are not used to handle such a load. This delay also got to the Yeezy Sesame and Waverunners which are also releasing later on this Fall.
Now, you might think that higher Yeezy production may equate low resale value. Allow me to beg to differ. Kanye promised Yeezys for everyone, therefore Yeezy Supply warehouses might be opening in Europe and Asia.
https://t.co/m0w4Icysd2https://t.co/RTOSY4rsuc

— YEEZY MAFIA (@theyeezymafia) June 18, 2018
So now you have more people competing for the same product on release day. Even people who weren't able to join the sneaker game before (unless they had bots and forwarding addresses and so on), now get to have a chance.
So yeah sure, Adidas is manufacturing more Yeezys, but will you even be eligible to cop them? There are roughly 700 million people living in Europe and 4 billion living in Asia. And let's just assume half of this number wants to cop, that's still a lot more than you had to deal with before.
Stock level vs. Resale Value
The main problem facing Yeezys these days are the increased stock levels. These high stock levels are shaking the whole reselling industry since Yeezys were a big, if not the biggest, players in it.
Now, even if Kanye hates to admit it, most of his fans and customers are in fact resellers. Making a living out of reselling his kicks, while occasionally flaunting a personal. Those resellers are in for the money, and when they manage to find other sneakers that can make them more money than Yeezys, they won't hesitate.
During the final Adidas Yeezy releases in 2017, this problem out shun everything else. Stock level of the Frozen Yellow was really low, and it was doing well on the resellers' market. until the Belugas dropped in huge numbers.
It seemed as if everyone who wanted to buy the Frozen Yellows, had a change of heart, or money. Suddenly, sneakerheads decided to get the cheaper more easy-on-the-eyes Belugas. I mean, why not? After all, they're still Kanye's Yeezys, and they're grey!
And now the upcoming releases in Fall 2018 might face the same issue. Not like this problem worries Kanye or Adidas, and it's not like we haven't been warned. But having to face the reality of Yeezys becoming available for everyone is daunting.
Marketing Makes Magic
Other than designs, colorways, and stock levels, Yeezy's marketing strategy has changed tremendously during these last 3 years. Going from Zines to billboards, to the latest and most creative Yeezy season 6 fake paparazzi photos.
Fans were impatiently waiting for news on the latest Yeezy season 6 collection. But it was right there in front of us all along. Shots of Kim Kardashian flaunting some never before seen pieces of clothing were taken, and they seemed like legit paparazzi photos of Kim K.
It appeared later on that Kim was showcasing the latest Yeezy collection. These photos took over the internet. And even if you hated the outfits and the shoes, you'd get used to them when you see them everywhere online.
Kim was not the only big name taking part in this campaign, it actually included influencers, bloggers, and fashionistas, rocking the same outfits and taking the same poses as Kim.
To be honest we were all confused and wowed when this campaign was launched. The least we could say about that campaign was that it was pure genius; marketing the apparel items as well as the sneakers in an effortless, and a rather inexpensive way. But that's just how Kanye is, a genius.
Where is it headed?
We can say that Yeezys are on their way to becoming more accessible, that's for sure.
For now, however, it isn't clear whether or not we will be able to go and pick up a pair of Adidas Yeezy whenever we feel like it, but we can assure you that copping online is getting somewhat easier. Especially if you have a powerful and reliable sneaker bot!
As for other Kanye projects, other than returning to Twitter, and his super hit new album, work seems to be ongoing on the Yeezy Season 7 Collection.
And we've already seen a bunch of new Adidas Yeezy colorways and designs being revealed online.
News has also been around that Kanye intends to trademark the name "Red October". And word is that he's finalized all the necessary paperwork. The reason behind this action is still not clear, but we're taking a wild guess. Not too long ago, Kim Kardashian posted a photo of herself wearing some unseen "Yeezy" jewelry before. One of the necklaces held the name, Pablo, referring to Kanye's song. So could the "Red October" be the brand name of a new Yeezy Jewelry line? Nothing is confirmed yet, but we're hoping this fancy line of jewels becomes a reality soon.
In addition to these rumors, Kanye who always showed interest in real estate and architecture may be working on a project in that domain. He took to Twitter, as usual, to announce his upcoming plans. "We're starting a Yeezy architecture arm called Yeezy home. We're looking for architects and industrial designers who want to make the world better,". West first revealed this interest back in 2013, and as we all know, he's a man of his words. 5 years later looks like Kanye found the right environment to turn this dream of his into a reality.
Adidas Yeezys Is Stronger than Ever
One cannot disregard the fact that Kanye and Adidas Yeezy kicks are still a big deal in the sneaker game. If not the biggest deal out there. Whether they can make you a fortune or not, and no matter their exclusivity level, Yeezys are here to stay. They're still so hyped because they're your easiest way to resemble the world's most renowned celebrities.
If Kanye was looking for more creative freedom and more space to spread his designer wings, or if he was seeking more endorsement money, he achieved them both With Adidas. This bond is growing stronger and more successful with time, and we can't wait to see what more they have for us.
Sell Your Adidas Yeezy Boost – 9 Awesome Reselling Platforms