Adidas Simpsons Just Brought Ned Flanders on Board!
Kids, did anybody pray for giant shoes!? Well, as devout sneakerheads, we're always praying for sneakers. From athletic shoes only to lifestyle items, sneakers sure made a huge impact on everyone! Next up, the sneaker industry merged with music as if they belonged to each other. And finally, it left a mark on pop culture through sneakers in movies. Well today, we're gonna check out the new Adidas Simpsons collab with Ned Flanders written all over it! Figuratively, of course. Let's check it out, along with our favorite TV show-inspired kicks.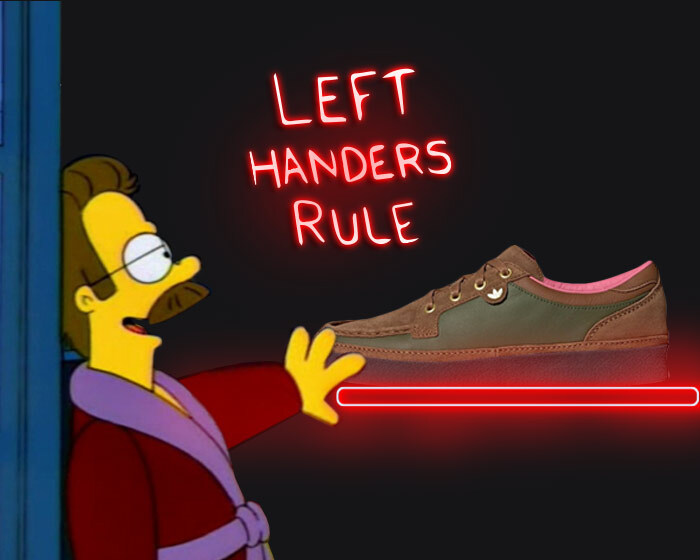 Adidas Simpsons – Time for Re-Neducation!
Who doesn't know the Simpsons? The sitcom aired back in 1989 and has been going strong ever since! Naturally, it made its way to pop culture like no other, from memes to quotes, The Simpsons has it all. And now, Adidas is throwing a tribute to the world's favorite left-hander: Ned Flanders! And honestly, the shoes kinda look like Ned… in a good way?
Hi-Diddly-Ho 
The upcoming Adidas Simpsons McCarten definitely looks like something Ned Flanders would rock. He would also wear the Supreme Clarks without a second thought. From the green/brown upper to the pink sock liners, the colorway is a perfect depiction of Ned's wardrobe. Who knows, maybe the grandpa vibe is the new chic? But that's not really everything we have to say. The kicks will come in a pretty special box. It has Ned Flanders on it holding a sign that says "Left-Handers Rule!".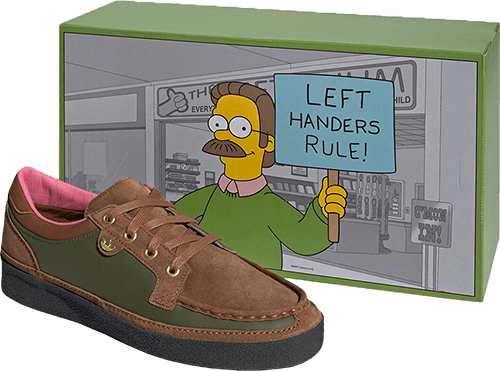 Release Info
The coolest bit about the Adidas Simpsons McCartens is that they're dropping on October 3, 2021. They'll retail for $120, and they're worth every penny! You can actually flip these kicks for $266 on average. In other words, one pair will bring in $100+ in profits, which is pretty awesome if you ask us. So if you're looking for a chance to run your sneaker bot, this is it! And if you're still looking for one, here's a list of the best sneaker bots in 2021 fam.
The Adidas Simpsons Collab Isn't the Only TV Show Collab… 
Although this pair is pretty exciting, the Adidas Simpsons isn't the only exciting TV show collab. That's why we're gonna share with you some of our favorite TV-inspired kicks! Check them out, maybe you'll find your calling here.
Game of Thrones x Adidas Ultraboost 4.0 "White Walkers"
Although we have the other house tributes, we can't help but be drawn to the icy design of these babies! Apparently, many sneakerheads share the sentiment with us, because the kicks are worth $306 on the resale market. We still don't know whether their value dropped after that sad excuse of season 8 ending. Sorry, still a bit salty about that!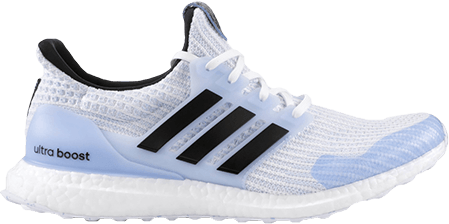 Spongebob x Nike Kyrie – Adidas Simpsons Who?
Let's be fair man, the whole collection was lit. However, our top 2 were Squidward and Spongebob Kyrie 5s. But if we had to pick one to rock, we'd go for the Kyrie 5 Squidward. You can get it and the rest of the collection off the aftermarket though. This one will cost you about $250, almost double its original retail of $130!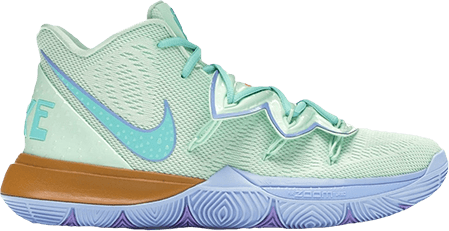 Adidas x Dragon Ball Z
Okay so, if you were a kid and grew up watching Goku, then you're an OG. Imagine our excitement when we heard about this collab! Do we really need to tell you which pair was our favorite? The popping orange Goku ZX 500 hands down fam! And if you like it too, you can buy it for $386 on average off the aftermarket now.