We're usually all about the facts, and worst case, the trustworthy rumors. But today, we're getting all subjective and giving you a piece of our mind! You see, 2023 was a pretty calm year with Nike dominating on most fronts. Well, calm wouldn't be the first word many would think of to describe the year… And then, Adidas made a decision that rippled across the industry: they're bringing Yeezys back for a drop. So today, we're gonna discuss how this all went down, who gained what, and more.
Disclaimer: This is an opinion piece where we're giving a piece of our mind. So, what you will read is fairly subjective and reflects the opinion of the writer and no one else. If you're looking for facts and news of upcoming events and releases, our blog is here for you!
What Happened With Kanye and Adidas – Controversy Recap
If you've been around for a while, then you know that the sneaker industry dramatically changed in 2022. Many controversies and amazing drops made the year pretty wild. However, one series of events became one of the most memorable milestones of the year. You see, Kanye was going down a slippery slope of controversy and backlashes. The last straw was when he made antisemitic comments, and the media went wild.
Brand after brand, they started cutting ties with Ye like GAP, CAA, Foot Locker, and more. Even Balenciaga cut ties with him, which is rich coming from them, considering their own controversy. But the icing on the cake was the Adidas Kanye breakup that reverberated through the whole sneaker industry! Love him or hate him, nobody could deny the fact that Ye influenced fashion generally, and sneakers specifically. And if you wanna get into the history of Yeezys, you'll wanna check this out.
What Will Adidas Do with Yeezys? The Question We All Asked
After the breakup between Ye and Adidas, the industry went into shambles with all the questions everyone had! The main question out there was "What will Adidas do with the remaining Yeezys?" And well, that question alone was very important for a very important reason: there was a huge stock of unreleased Yeezys in Adidas storage. This stock was enough to cause huge losses for Adidas.
The first rumor we got was that Adidas was gonna sell the Yeezys without Yeezy branding. But let's be real here; who'd buy the sneakers without Kanye's signature on them? So that theory definitely faded out. Anyway, a little later on, rumors were buzzing with the news of Yeezy Mafia's comeback. In turn, this brought up the possibility of the return of Adidas x Yeezy and people forgiving Kanye.
Is Kanye Back with Adidas?
Finally, we got the official news from none other than Yeezy Mafia and then the three-stripes brand itself! Adidas decided to sell the remaining Yeezys and reached an agreement with Ye. It'll also donate part of the profit to organizations that fight against discrimination, hate, racism, and antisemitism. That was a great way for the sneaker industry to get the Yeezys it was waiting for. In addition for a way for Adidas to save face, and save itself for all the losses.
May 31 came, Yeezys dropped on the Confirmed app, and NSB users copped. But what does this mean in regard to the industry? Is Kanye's impact still here even after all the backlash and blacklisting? Read on to find out what we think about that.
Hot Take: The Industry and Adidas Need Kanye
Don't come at us for saying it, but the sneaker industry wasn't the same as it was before Kanye dropped. You see, the industry valued the hype behind Yeezys, despite having repetitive releases. Although he's a very controversial celebrity, Kanye certainly had a special flair when it comes to sneakers. Whether you're a sneakerhead or a fan of his music, a Yeezy should be in your sneaker rotation. And Adidas knows that.
In addition to the impact Yeezys have on the industry, the Yeezy line was one of the Adidas pillars in the modern-day. The decline in Adidas sales and revenues is proof enough that the brand heavily relied on Yeezy drops for revenue. Moreover, Adidas didn't immediately terminate the partnership. That's because it lowkey hoped that the world would forget about this just like it did with previous controversies. But what does it mean now that Adidas brought back Yeezys?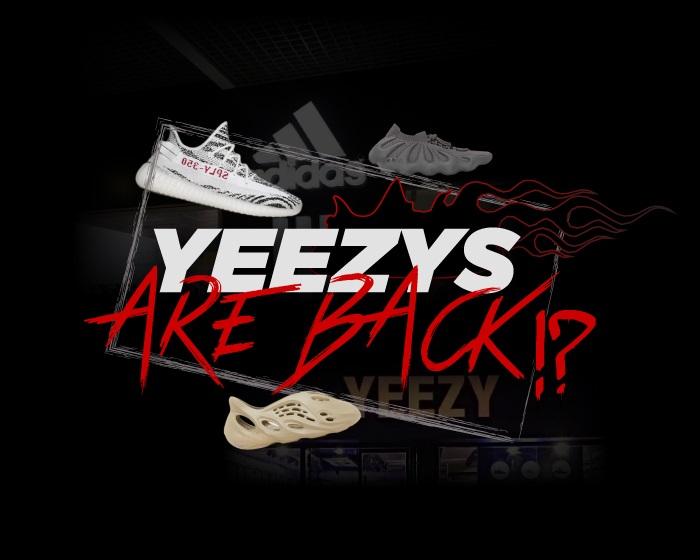 Was This the Last Yeezy Dance?
When we heard that Adidas is bringing back Yeezys through the Confirmed app, the industry went wild. People started looking Yeezys up again, some were selling, and others were buying. It actually brought a breath of fresh air to today's mostly Nike-dominated industry. But what does this mean to Adidas? Are they working behind closed doors on getting Kanye back? That would imply that the brand assumed that people will forgive Kanye after all… and maybe they are.
You see, despite all the backlash, Ye still had many supporters. And today, that fanbase is not dropping anymore with people mostly forgetting about the whole drama. Although what he said was unacceptable, the fashion industry was never the place to have a moral compass.
Finally, this could all be a way for Adidas to resign Adidas with a smaller royalty check! Who knows? Maybe the brand is playing the long game with this whole dramatic breakup and makeup. And now, the three-stripes brand is testing the waters for a potential Yeezy comeback. But all of this is conjecture unless we get more news. So stay tuned to our blog for more news on the industry and all the drama… and sneaker releases!