The world of fame is like a rabbit hole; once you're in, it's hard to get out. And when you're a huge celebrity like Kanye West (or just Ye), you'll always have people scrutinizing you. The rapper time and time again got people angry one way or another. However, it seemed like his luck and people's forgiveness ran out in October 2022 following his antisemitic comment. But did it really? Or will people forgive Kanye eventually?
Kanye West – A Musical Genius
Ye rose to fame in the early 2000s, and the music industry hasn't been the same ever since. His big break was producing Jay Z's The Blueprint album, which is arguably one of his best albums. From there on, the only way was up for Kanye with hit after hit albums and tracks. We can't argue about his musical prowess and that he was ahead of his time when it comes to music production.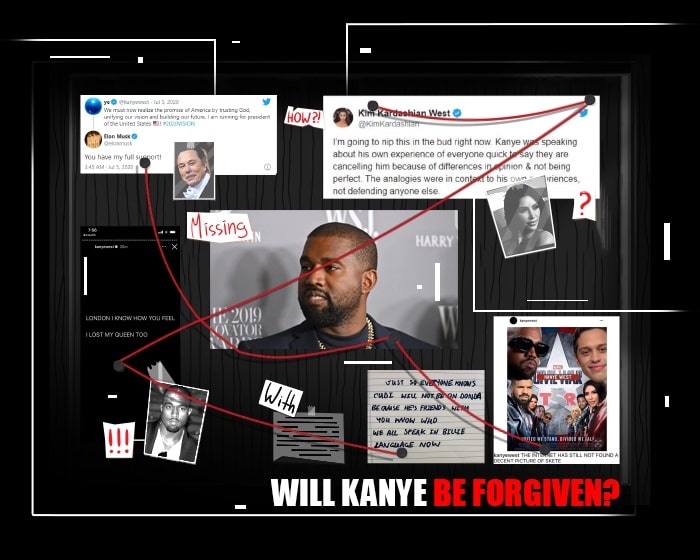 From making autotune a musical style to borrowing other styles and mixing them with hip-hop, was there anything Ye couldn't do in music? And as far as everyone knows, it all worked with all of his albums topping charts and going platinum. Yes, even the very controversial Donda album topped the charts. But what about everything beyond his music? 
Kontroversy Loves Kanye
When it comes to his personality, many in the industry think he's a narcissist with a huge ego. And well, he didn't really care to fix that image, especially with all the stunts he pulled throughout the years. It's really not new to Kanye to make statements that leave people around him speechless or embarrassed. From interrupting Taylor Swift's VMA acceptance speech (2009) to attacking the then-US president on live TV (2005) and comparing himself to Jesus (2006) he certainly attracted mass criticism. (Mind you, he isn't the only artist to do that depiction as you can see here.)
Now, we wish the controversies ended with the 2000s, but they didn't. There are a lot of instances in which the rapper attracted huge backlashes, and you can see them all here. However, we're gonna fast forward to the last couple of years. Following his marriage to Kim Kardashian, Kanye has a lot to say on many occasions, and Kim had to defend him. But s**t hit the fan after Kim filed for divorce in February 2021. You see, he attacked the Kardashian Klan on multiple occasions, and accused them of a whole lot of things.
2022 Was the Last Straw
People forgave and kinda forgot many of Ye's previous missteps. But in 2022, he didn't even give people a break to process all his outbursts. From his Instagram story following Queen Elizabeth II's death to attacking Pete Davidson, these were the least of his offenses. He finally hit the last straw with his White Lives Matter campaign and his antisemitic comments. The public finally decided to cancel Kanye West, who thought he was uncancellable.
Where Does Mental Health Play Into All of This?
So mental health is a huge topic that everyone encourages you to discuss, and we love to see that. However, it seems like lately that only applies to mild cases. Meanwhile, people rarely discuss severe cases like Kanye West's bipolar disorder. Of course, a manic episode does not excuse hate speech, but it certainly explains some of his previous actions. So while he should be held accountable for things he says, it's not easy to have a full-on manic episode with the whole world waiting for you to slip. You can read more about that here.
Cancel Culture and Forgiveness Are Potentially Selective
In this impressive piece, the author discusses instances where public figures and celebrities were immediately canceled. On the other hand, he also discusses other celebrities that got out of their scandals relatively unscathed. And that left us thinking, did this selectiveness apply to Kanye for a long time? Surely, he could've been canceled way before 2022's snowball of unfortunate comments. And at which point did the public stop being so forgiving? It's hard to pinpoint, but the end result was one: Kanye West is canceled. But is he really?
Will the Sneaker Industry Forgive Kanye?
Numbers Can Tell A Lot…
Before we discuss that, let's take a look at some numbers (that we based on StockX resale). If we take a look at the last 6 months, the resale values of Adidas Yeezys dropped in October 2022. That's when Kanye made his antisemitic comments that led to a huge public backlash. However, a little time later, these values started to go up slowly but surely. For example, Yeezy Slide Onyx's resale value was about $130 on average in October 2022. Now, fast forward to 2023, and the slides are worth an average of $200! You'll notice that this slow climb in resale applies to most Yeezy sneakers if you have a sharp eye.
What Do People Think?
The public is split, to say the least. While the majority of people canceled Kanye, many still support his music. In fact, he still has more the 51 million monthly listeners on Spotify. So whether or not they disagree with his controversial opinions seems to be irrelevant when it comes to music. And let's face it, if he drops a song tomorrow, people will listen.
Now, when it comes to sneakers and fashion, we know how influential he was. In fact, after terminating his contract, Adidas has been struggling with huge potential losses. So whatever he brought to the partnership isn't there anymore. The other Adidas collabs aren't doing that well either, which kinda leaves us questioning the three stripes' marketing strategies. Another question will be whether they'll make amends with Ye and rebuild. Guess we'll see how everything unfolds!
To Conclude…
America and the industry may never forgive Kanye anytime soon, even if some numbers are going up. So, if your livelihood depended on Adidas Yeezys for a while, it might be time to move on. And we can help you with just that. The attention shifted to Nike when the breakup happened, just as we're launching NSB3!
NSB3 features the most advanced Nike SNKRS solution out there. That, combined with NSB's iconic performance on Shopify, you can make up for your Yeezy losses in no time. Add to that an AI Captcha solver, and your sneaker botting experience just got a whole lot better! So what are you waiting for? It's probably time to get your copy of NSB and start making money! Godspeed