The Adidas Yeezy saga seems to finally be coming to an end that will please everyone! From lots of financial losses to negative environmental impact, Adidas chose between two evils. However, the final decision ended up being a middle ground for everyone. That decision is that Adidas will sell the remaining Yeezys, and donate part of the profits to charity. So let's take a look at everything that went down, and what we think about it all! But just in case you want a recap on the Adidas Ye breakup, check this out.
How Did Adidas Decide to Sell the Yeezys?
Let's go through the thought process for a bit. Before making up its mind, Adidas was facing some serious losses. From a drop in revenues to $1.3B worth of Yeezys remaining in Adidas' stock, there was a lot at stake. So, keeping all these assets cold is definitely not cost-effective. Meanwhile, the second option, which was to get rid of them, wasn't much better. You see, in addition to the losses that Adidas will sustain, the negative environmental impact is not a joke.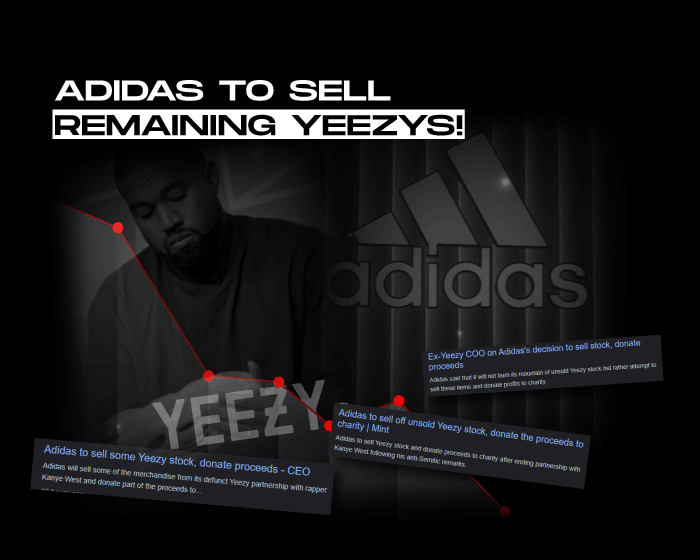 The lesser of these two evils was the third option that started out as a rumor. People speculated whether Ye's return to Adidas was in the works to sell these Yeezys. And that kinda made sense, especially since everyone knows that Adidas wasn't gonna drop Ye but all the backlash made them do it. That mentality is what got the three stripes into a pickle with investors who are suing them for that reason. You can read more about the legal drama right here!
So What's Gonna Happen Now?
The latest news included a partial answer and left the rest for everyone to theorize about. You see, Adidas will sell the remaining Yeezy stock. However, the brand will donate a chunk of the profit to international organizations that support the groups that Ye offended. This is a pretty smart move on the part of the German sportswear company. You see, in the US (which is the biggest ground for Yeezy sales), you can deduct donations from your taxes.
In other words, by donating part of the revenues to organizations, Adidas can lower its tax expenses. Which kinda helps when it comes to minimizing losses. At least, that's what many people are saying. Another opinion is that Adidas already made up its mind a while ago, but acted as if it was weighing its options. That way, it feels to the public that they "helped" with the decision because they want them Yeezys. And it could simply be true and most people are happy with the turn of events. But how does Ye fall into this decision?
Will Adidas Pay Ye His Royalties?
Per the original contract, Ye should earn 15% of the profit in royalties. But will Adidas actually pay him since they're gonna sell co-branded products? Or will these Yeezys change and become Yeezyless kicks? Or, maybe these donations are actually Ye's share of the profit? While Adidas remains silent about this, everyone has a different answer! But what do you think about all of this? If you wanna read more about sneaker drama, botting, and sneakers in general, our blog is here for you.