Supreme Shrek – Week 8 of FW21 Is a Little Ogre-ish!
Week 8 is imminent, and so is more Shrek merch! Let's be honest, Shrek became a core component of the meme culture. And we totally dig some ogre-ly merch. So if you missed out on FW21 week 1's Supreme Shrek tee, the NY brand gotchu. But that's not all we're getting this week, because we also like flexing a bogo, even if it's tiny! So let's check out what's kicking this Thursday and what you're adding to your cop list.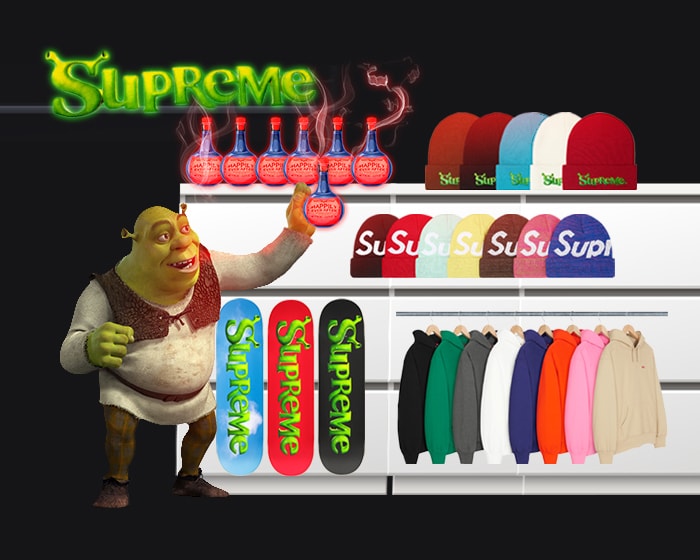 Supreme Shrek – Where Memes Come to Life
If you never caught the meme train, let us catch you up on what you missed. So Shrek was just another animation movie. However, when we got multiple parts of the ogre and his really interesting friends' adventures, memes happened. And whether we like it or not, memes are part of pop culture in our modern days! And who else is better at killing it with pop culture references other than Supreme?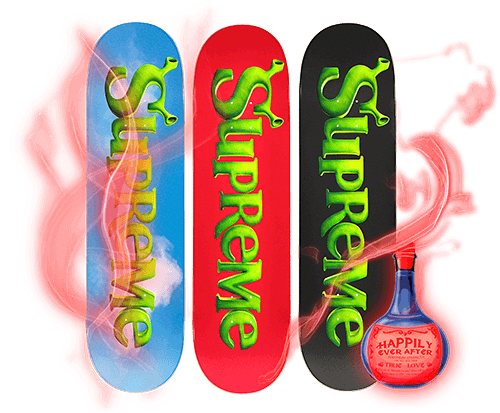 So naturally, a Supreme Shrek collaboration would seal the deal for fans of memes and animation alike. This week we'll get the skateboard decks we waited for since week 1! They'll be available in red, black, and sky blue with clouds. But that ain't all, because your fit should be lit as always. And what's better than a Supreme Shrek beanie to add a touch of crazy to your fit? The beanies will come in brown, black, blue, white, and red!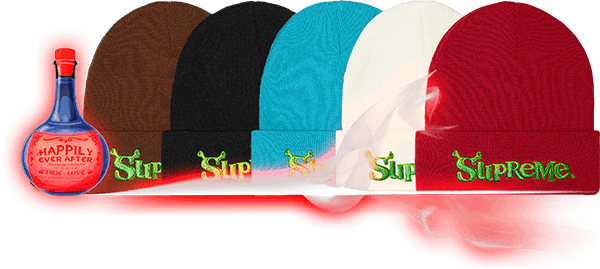 Mo' Beanies, Mo' Beanies!
If animation isn't your cup of tea, it's totally okay, you're totally not a killjoy. And we got just the thing for you! If you wanna flex your love for Supreme, this beanie is definitely down your alley. It features the Supreme logo in big letters so people from across the street can see it. It'll be available in black, red, light blue, yellow, brown, pink, and blue! That's an item we'd go for if you ask us.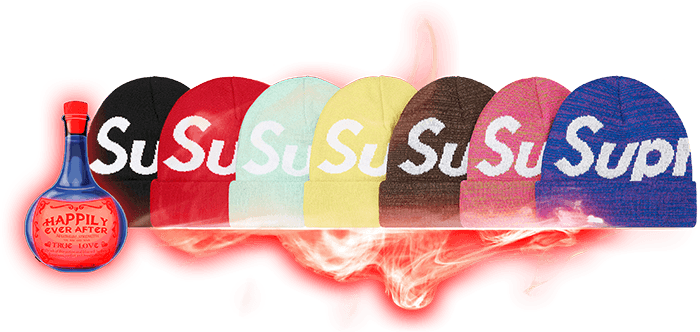 Small Bogo Hoodie
Okay so, you missed the regular bogo, no biggie! This week you'll get the chance to buy the little sibling. The small bogo is still a bogo, in a way. So owning this for everyday outings is a pretty good idea. And if you got the regular bogo, why not add this to the collection? Having more than one Supreme hoodie is never a bad idea, especially if you're a streetwear geek.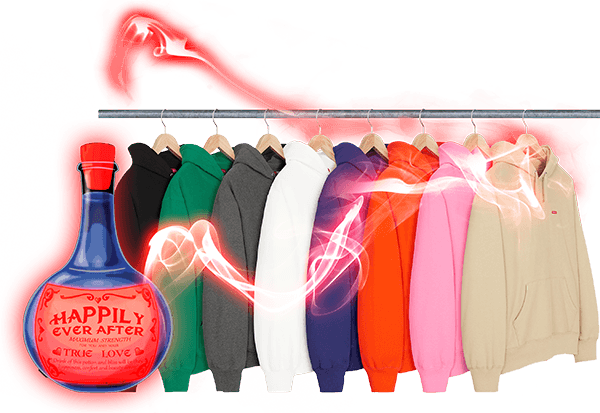 Supreme x Nike Cross Trainer Low
Another season, another Nike Supreme collab. Although these aren't fan favorites like the kicks we ranked here, we'd still cop. And let's be honest for a sec here, the colorways aren't ugly at all. And if you don't wanna wear these, it's okay to get them for your sneaker collection. A Supreme x Nike collection is never a waste of time!
How to Cop Supreme Shrek and Everything Else?
So Supreme always had that unreachable aura around it, especially if you're going in manually. You'll practically have no chance of copping with everyone running bots on drop day. Your best shot at a successful cook is by getting yourself a Supreme bot! But a clean setup needs more than a bot. You'll need the proxies that work best for Supreme to get you in and out quickly! And finally, the last ingredient is a sneaker server that won't let you down… literally. When you have these, you'll have the best chance to successfully cop. Godspeed 🔥
Posted in Supreme 0 comments