When we talk about streetwear, we talk about Supreme. And when we talk about awesome Nike SB Dunk collabs, we also talk about Supreme. You see, Supreme and the Nike SB division go a long way back. In fact, the brand was there when Nike SB became meaningful to the average skater, and then the world. So naturally, whenever we hear about new Supreme Dunks in the works, you can almost touch the excitement! And well, the Supreme FW23 will bring along a very artistic version of the kicks featuring Rammellzee. Let's take a look at it, shall we?
A Three-way Collab Made in Heaven
We're familiar with the Nike x Supreme pairing, and we're also familiar with Supreme x Rammellzee. But the three of them together? It's a must-have with our eyes closed! If you're not familiar with the long Nike Supreme history, we got you. We ranked the collabs from most to least favorite right here. Of course, it's a lil biased, but you can still get a general idea about the coolest collabs!
Now, off to Rammellzee! The gothic futuristic graffiti artist certainly left a huge footprint in art, especially when it comes to New York. In addition to his innovative work, he's the perfect choice for a Supreme collaboration. Why? Because his work perfectly fits into the artistic niche that Supreme features in its products. Although Rammellzee passed in 2010, Supreme brought his artistic legacy to life in some of the SS20 items.
The New Supreme Dunks Are the Perfect Mashup!
Now that we got the introductions out, let's bring the news in. We love Supreme Dunks, and they've been very relevant in the story of the sneaker industry. So, the new Supreme Dunks shouldn't be any different! And the way the leaks look, the collab is definitely gonna be a bomb in the best way. The Nike SB Dunks will have a canvas base and back area that feature Rammellzee's work. Meanwhile, the front part and swoosh will come in black suede. The Supreme dubrae and co-branding on the hangtag are the cherries on top if you ask us! Now, take that look and make it white and a high-top Nike SB Dunk, and you now have the second pair.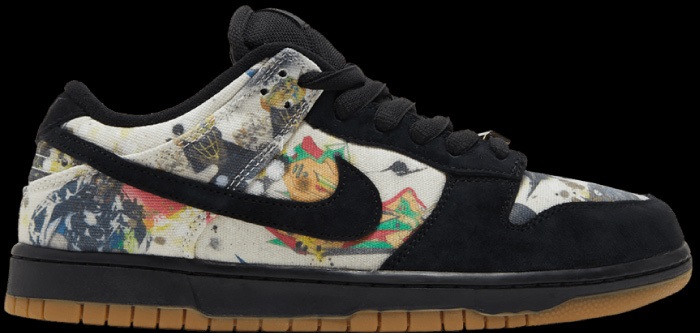 Both kicks will drop on August 31, 2023, during Week 2 of FW23. The black lows will retail for $130, and it's currently worth an impressive $687 on average in resale! Meanwhile, the white high-top new Supreme Dunks x Rammellzee will retail for $140. Now, these are worth an average of $481 on the resale market. Although that's less than the lows, it's much more than many kicks could usually score, right? What we mean is that you'll want to cop both of these babies!
Wanna Catch the New Supreme Dunks?
It never hurts to be ready at any point on your quest to hunt down Supreme items. And it does help when you have an all-in-one bot that will do that for you! But don't worry, you don't have to go too far, because NSB3 is here and it already kicks a$$ on Shopify… And you know, since Supreme switched to Shopify, you can do the rest of the math. You can grab your copy here and start practicing to start copping like crazy! And if you're kinda new to the whole botting world, no worries! We have all the guides that you could ever need on our blog, so head there and knock yourself out. Godspeed!