Thanks guys, you got a lot of…well, whatever it is, you got a lot of it. We can quote Michael Jordans on a lot of inspirational stuff, but this one takes the cake. If you're not familiar with it, this quote is from 1996's Space Jam starring MJ and the Looney Tunes! If you were a kid back then, this movie would've been your guilty pleasure. However, if you weren't there, you probably saw it before Space Jam 2 dropped, and we get it. Anyway, we're saying all this because this is the inspiration behind the upcoming Jordan 1 Space Jam Mid! So let's check it out together, shall we?
The OG Space Jam Kicks Were 11s!
If you're not familiar with the original story, you'll wanna read on. You see, the 90s and 90s fashion were seriously on another level. And in 1996, Warner Brothers and MJ gave us a pop culture movie: Space Jam. Critically speaking, it's a bad movie, but nostalgia says it's the best movie for sneakerheads! And when Michael Jordan showed up to the final game wearing a never-seen-before Jordan 11 colorway, everyone went wild.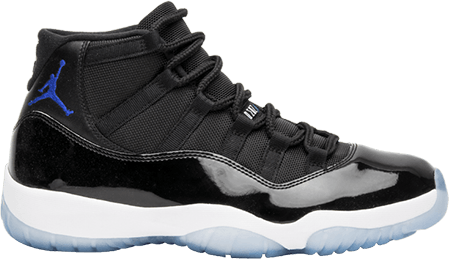 The colorways earned its name: Jordan 11 Space Jam, and it was just that, a movie sneaker. However, the new millennium rolled in, and Jordan Brand publicly dropped the kicks! And then two retros followed in 2009 and 2016. And well, the 2000 release is probably the reason we have holiday Jordan 11 drops. Sadly, we've been waiting for a retro, and we still didn't get it! But well, we just got the Jordan 1 Space Jam Mid.
Jordan 1 Space Jam Mid – Giving Mids Well-Deserved Love!
Everyone usually overlooks the Mids, but they seem to be claiming the love they deserve back. And well, the Jordan 1 Space Jam Mid is certainly doing just that. The kicks will come in the same color blocking as the 11s. Patent and normal black leather cover the whole upper, and a white midsole sits on top of the ice outsole! Simple yet luxurious if you ask us.
Release Info
We can expect the Jordan 1 Space Jam Mid to drop on February 11, 2023, and retail for $135. Now, whether you're looking to flip or flex these babies, you'll wanna cop. In fact, you can flip them for $395 on average, which is a lot of profit! So make sure when the time comes that you're ready to cop these babies!
How to Catch the Jordan 1 Space Jam Mid?
Whether you want one or multiple pairs of the Jordan 1 Space Jam Mid, you'll wanna have a sneaker bot with you. You could opt for a Nike bot only, or open more doors for you with an all-in-one bot. If you wanna take that leap, here's a list of the best sneaker bots on the market today! And if you don't wanna go through the hassle of looking for a bot, we got you with NSB.
NSB is an all-in-one bot that will get a major upgrade with NSB3 soon. Not only will you be able to cop the usual retail sites, but the Nike module will help you on Nike SNKRS! But before you do any of that, make sure you know what you're doing with this botting guide. Godspeed