Call us paranoid, or even delusional, but the whole Yeezy Adilette drama is making us anxious! This might make absolutely no sense to you but we don't like it when a successful partnership feels strained. And that's exactly what's happening between Kanye and Adidas! So, will the "fake Yeezy Slides" be the straw that breaks the camel's back? Let's take a look at everything that's going down, along with some past controversial releases!
So, a few days ago, the whole industry was buzzing with news about the new Adilette that Adidas dropped. The problem is, those weren't Yeezy Slides, nor were they your usual Adilettes. These were, the biggest controversy the industry had to deal with since Nike sued StockX over their NFTs.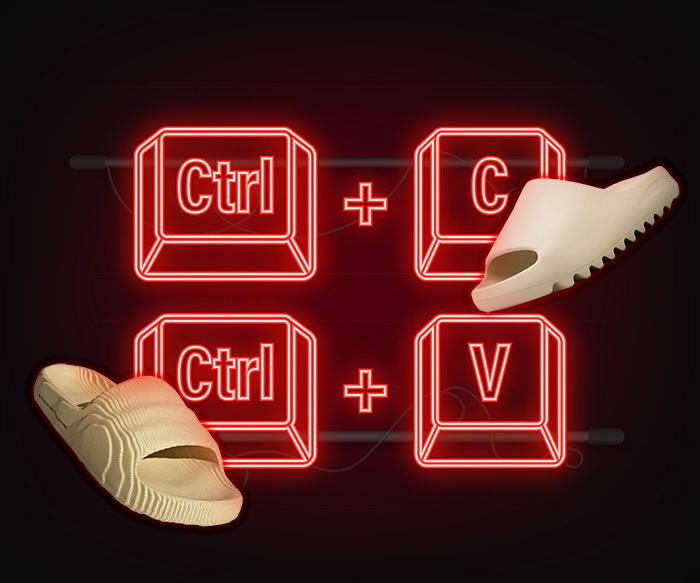 Yeezy Adilette – Fake Yeezys Are Back in the Spotlight!
This isn't Kanye's first run-in with fake Yeezys, and it definitely won't be his last. But this incident is especially significant for many reasons we'll discuss later. But first, let's go over some of the most memorable fake Yeezys. Honestly, these attempts kinda make the Yeezy Adilette look so innocent.
Skechers Yeezy 350 V2 Beluga
Let's start with one of the most popular Yeezy colorways: The Beluga. Obviously, Skechers didn't miss a beat with that one, because they dropped three silhouettes with the same colorway in 2017. But the catch is that one of these silhouettes is actually a dress shoe! Who knows? Maybe somebody somewhere liked the streetwear/chic mashup! But anyway, Skechers got so much heat because of this obvious copycat move.

Zara Yeezy Rip-Off
So Zara isn't really a surprising one. After all, they basically ripped off Balenciaga's kicks in addition to Kanye's own Yeezy apparel line in 2016. So it wasn't really groundbreaking news when Zara got inspired by Yeezy 700 and dropped their own take on the design. However, ripoffs are always a topic of controversy and are certainly worth the mention! Although the kicks didn't copy the same OG Waverunner colorway, we can still see very similar elements right there.

Walmart Yeezy Foam Runner
Just when you thought the previous incidents would be the end of it, Walmart strikes! The retail giant listed exact replicas of the Yeezy Foam Runners, also calling them Foam Runners. That caused a lawsuit to make its way to Walmart. However, the retailer said that this was the work of a third-party seller. But well, who wouldn't want a pair of Foam Runners for $24? Oh, and things just kept getting wilder from then on. Walmart went on and started a legal battle over Yeezy's patent for the new sun-like logo. Check out what went down here, and make sure you don't miss the roast that Yeezy served.

Why's Everyone Leaving?! Fake Yeezy Slides Triggered Ye!
And finally, we reached the reason that made us discuss this whole thing! Adidas just launched their new Adilette that eerily looks like the Yeezy Slide. And that kinda got us concerned, especially that Kanye didn't take that jab lightly. He called out Adidas' CEO and had a lot to say about it:
"To Kasper, I'm not standing for this blatant copying no more. To all sneaker culture, to every ball player, rapper or even if you work at the store. This is for everyone who wants to express themselves but feels they can't cause they'll lose their contract or be called crazy. Bravery is not being afraid. Bravery is overcoming your fear for your truth. This Ye with the blue paint on my face. These shoes represent the disrespect that people in power have to the talent. This shoe is a fake Yeezy made by adidas themselves I'm not talking to DC about this either, Kasper come talk to me Happy Monday."

But the Story Doesn't End There…
Apparently, the Yeezy x Adidas relationship isn't as good as it was back when Jon Wexler was there. And maybe Adidas is sending some subliminal messages with their Fake Yeezy Slides. But it's not ending there, because now we've got some juicy rumors! Adidas might be working on its very own Adidas Foam Runner… without the Yeezy in the name.
Does that mean that the almost-decade-long partnership is coming to an end? There's always the resale factor that we should factor in. And Adilettes are basically… not worth it. Meanwhile, the Yeezy Slides are some of the best footwear in 2022 on the aftermarket! So only time will tell…