History of the CNCPTS Nike SB Dunks Collab + Release Info
Nike SB Dunks
The Nike SB Dunks were introduced in 2002. Innovative in a time when many footwear brands were still creating retros and looking proudly through their history books, the Nike SB Dunks brought inspiration from other places. Since then, the Dunks drew inspiration from unexpected things like jewelry boxes, as was done with the Diamond Dunks. Some of the most memorable releases were inspired from NYC pigeons, like Jeff Staple's exclusive 150 pairs of Dunks which resale for an average of $12,000 USD. However, CNCPTS wanted to bring something completely new to the table. So if you're sick of eating chicken all the time, why not try the lobster?
CNCPTS Nike SB Lobster Dunks
Ah, lobster dinner. What a great experience to try at a New England restaurant. That experience is what the Boston retailer, Concepts, wanted to deliver to you with its Lobster Nike SB Dunks. In 2008, the detailed and much thought out collaboration between CNCPTS and Nike began with the Red Lobster.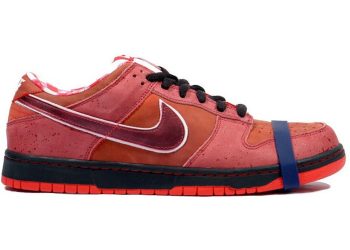 The CNCPTS x Nike SB Dunk Red Lobster dropped on May 31, 2008, for a retail price of $125 USD. The first 50 pairs came in a wooden box with a poster, lobster claw rubber band, a tee shirt, and a box with a shell cracker, fork, bib, wet nap, and butter-colored shoelaces, everything with "Concepts Fishing Company" stamped on it. Talk about detail! Today, you can find the sneakers themselves on the aftermarket for an average of $400 USD.
Following shortly, is CNCPTS next drop, the Blue Lobster. This time, they decided to go with a huge marketing campaign teasing the Blue Lobster release. They created a buzz around the Blue Lobster, warning people of a dangerous blue lobster on their shores, only to create a six-minute video revealing the sneaker and the release date at the end.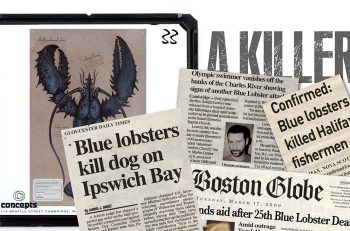 On June 20, 2009, the Blue Lobster released. There was premium packaging for the first 200 pairs to release. The sneaker was vacuum sealed and placed in a HAZMAT foam container. It retailed for $250 USD and included a Nike SB tee shirt, hang tag, lace lock, and a skate deck. Today the Blue Lobster with special packaging can be bought on the aftermarket for an average of $1,000 USD.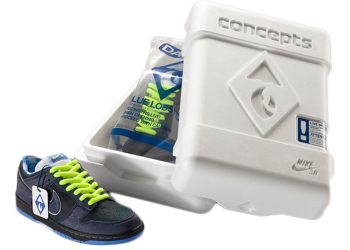 During the time when the Blue Lobster was in the works, a man found a yellow lobster which is said to be the rarest species of lobsters. So on the eve of the Blue Lobster release, the Nike folks unveiled 36 pairs of the Yellow Lobster as a gift for those working on the CNCPTS Nike collab. It was just an F&F release. However, one pair has sold on StockX for $6,500 USD.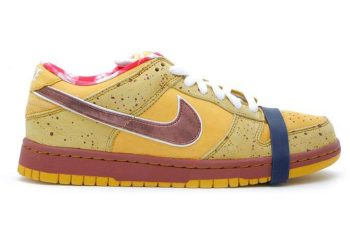 Ten years after the first CNCPTS Nike SB Dunks released, we're getting a purple iteration. This drop is only shortly after CNCPTS collab-ed on a surprise raffle of the Kyrie 4 Concepts Green Lobster, which came in a special edition box. It released on August 31, 2018, for $150 USD. Today you can head over to StockX to cop it for an average of $1,015 (if you've got that kind of money).
https://www.instagram.com/p/BnI5wXlhbwQ/?taken-by=cncpts
CNCPTS x Nike SB Dunks "Purple Lobster"
The Nike SB Lobster Dunks are highly collectible, meaning there are good folks out there willing to go to great lengths to get the Purple Lobster! For now, the word from teasers is that they release on December 14, 2018. Check out the Purple Lobster in Kyrie Irving's locker room stall thanks to a video by Boston's NBC Sports Instagram. In other news, if you're planning to get into sneaker reselling, read this.
Tags: cncpts, concepts lobster dunk, nike sb, nike sb dunks
Posted in Nike 0 comments