Nike's SB Dunks saw the light of day back in 2002. The early 2000s were a pivotal time for the SB Dunk line. In fact, some of the most popular Supreme kicks are actually the SB Dunks! And let's not forget 2005's Pigeon Dunks which became one of the industry's grails. And then, in 2008, came the Cncpts Nike SB Dunk partnership. This collab was a game-changer, and we're gonna get into the whole history of Lobster SB Dunks. But that's not all, because the industry got wind of a new collab cooking (pun intended)! Let's take a look at it all right now.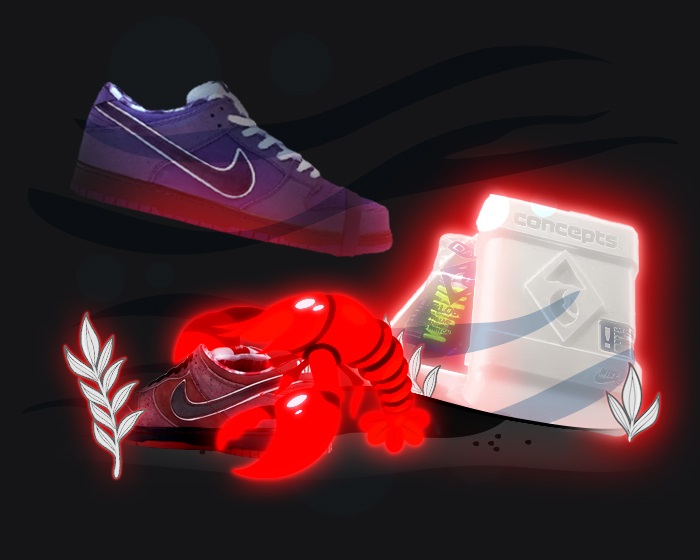 CNCPTS Nike SB Lobster Dunks – A History
Red Lobster (2008)
In 2008, Concepts store wanted to pay homage to West Coast cuisine. And what's better than a great Lobster meal to satisfy sneakerheads' appetites? So in Cncpts Nike fashion, the two brands gave us the iconic Red Lobster with all the lobster-ish details! The upper came in a cool speckled red upper, just like a lobster shell would look. In addition to that, the front came with a rubber band like the ones used to secure lobster claws!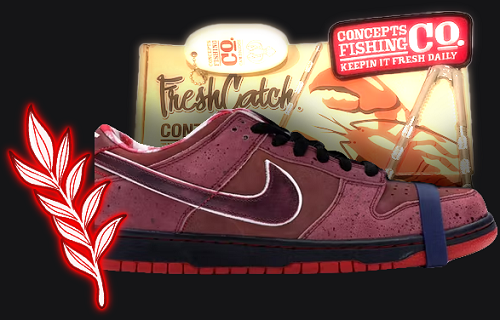 The Cncpts Nike SB Dunk Red Lobster dropped on May 31, 2008, and retailed for $125. But catch this: 50 pairs came in a special wooden box that included a whole set of accessories. It included a fork, shell cracker, bib, wet nap, tee, and extra shoelaces. And all these items had the branding "Concepts Fishing Company" on them. If you wanna get yourself a pair today, you're gonna have to pay a lot! $2,578 for the regular box and $10k+ for the special box to be specific.
Blue Lobster (2009)
Obviously, the Red Lobster was a huge success! That's probably why a year later, the "rare" Blue Lobster made an appearance. The coolest thing about this drop was the buzz that came with it. Cncpts Nike went above and beyond with their marketing campaign! It went like this: for a while, we got news of a dangerous blue lobster on their shores. Finally, they dropped a 6-minute video in which they revealed the kicks!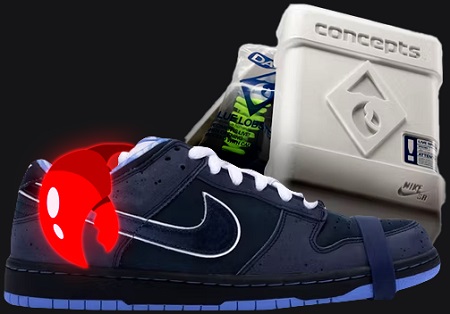 On June 20, 2009, the Blue Lobster dropped and retailed for $250. The lucky peeps who got the first 200 pairs got the premium Hazmat packaging. That box included a tee-shirt, hang tag, lace lock, and skate deck! Today, the special box goes for $3,364 on average, while the regular pair is worth $2,360 in resale.
An F&F Pair Worthy of the Rare Yellow Lobster!
While the Cncpts Nike Blue Lobster Dunks were in the works, a man found a yellow lobster. And just for reference, yellow lobsters are a super rare species (1 in 30 million). So of course, the brands went on and dropped 36 pairs of the yellow lobster Dunks. They were all gifted to those working on the Cncpts Nike collab! Although it was an F&F release, the kicks sold on the resale market for $42,634 in 2021.
Purple and Green Lobster (2018)
Fast forward almost a decade, and we got wind of another installation of the lobsters! However, this time, we were gonna get two colorways: blue and green. As usual, both kicks came in regular and special boxes with the same lobster design. They dropped on December 14, 2018, and retailed for $130.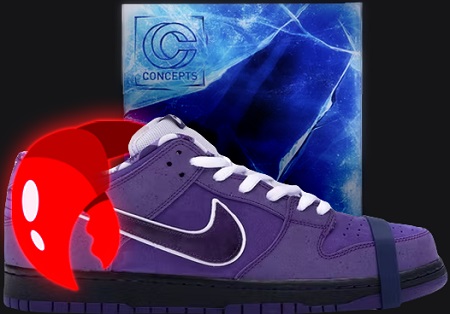 If you're on the hunt for both of these babies, be ready to pay some big numbers. For the green pair, you'll pay $1,307 for regular packaging and $1,212 for the special box. Meanwhile, if you wanna go purple, it's $1,055 for regular boxes and $1,202 for the specials!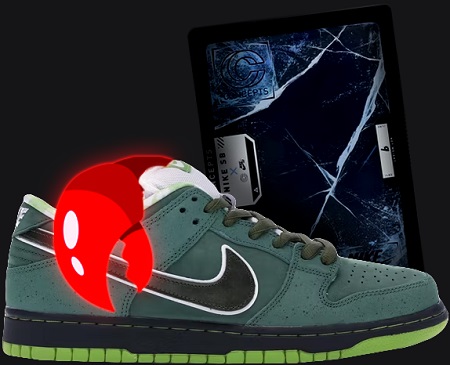 CNCPTS Nike Hits Again with Orange Lobsters!
Another type of 1-in-30-million lobster will come in orange! The same color blocking still applies, but in orange, which would be a great addition to your sneaker collection. Although we still don't have exact release info, we know that these babies will drop before the end of 2022. According to Hypebeast, the Orange pair will drop during Black Friday, but we gotta wait and see! If you wanna read more about the release, check this out.
And if you're planning on trying your luck with the new Cncpts Nike Lobster SB Dunks, it's gonna be hard. Imagine having an extremely low stock number with thousands of people trying to get them. That's why you'll need a Nike bot before drop day! But we also got your back here because we have a list of the best Nike bots right here! Take a look at your options and get go get copping. And make sure you check out this botting guide to learn your botting ABCs! Godspeed 🔥