Another CLOT Air Max 1 Collab Steals Our Hearts in 2021
Flashy seems to be all the rage in 2021, and we're not complaining about this! After all, one of the most iconic sneakers in the industry is the most popping of 'em all. Kanye West made history when he gave us the Red Octobers. And now, Nike is striking again with another sneaker collab! So let's check out the upcoming CLOT Air Max 1 Solar Red and why we all need it.
Previously, on CLOT Air Max 1 Kicks…
It all started back in 2006, that's literally as old as some sneakerheads today. But even they know how important 2006's CLOT Air Max 1 is. It's actually a grail to a lot of sneaker collectors and enthusiasts! The pair is worth $850 on the aftermarket today. Next up, we got a pair the people sleep on sometimes despite how cool it is! The neutral grey Kiss of Death Air Max 1 dropped in 2013, and it resells for $800 on average.

After 2013, the CLOT Air Max 1 collab went radio-silent for 7 years. In the meantime we got the different Jordan and Air Force 1 pairs, so we're not really mad about it. However, 2021 came and brought with it a re-issue of the original CLOT Air Max 1! It wasn't 100% true to the original, but it was better than nothing. You can get it today off the resale market for $160 on average. And last but not least, the last colorway takes inspiration from tea, a necessity in China! The tan and brown colorway wasn't a hit honestly, and it resells for under retail for certain sizes.

The Best Clot Air Max 1 of the Year?
Well, finally, we're breaking the boring rules and going into some serious drip! The upcoming Air Max 1 collab features a solar red and grey upper, giving the kicks a flashy vibe. But that's not why we're very excited about it. So back in 2006, Kanye West wore a pair of custom solar red CLOT Air Max 1 during his "Touch the Sky" tour. And we all know that everything Kanye West touches becomes a fashion statement!
Fun fact: When NikeID had the same color options, all sneakerheads designed a similar colorway to the Solar Reds. Nike ended up stopping production of the custom Air Max 1 because of that apparently!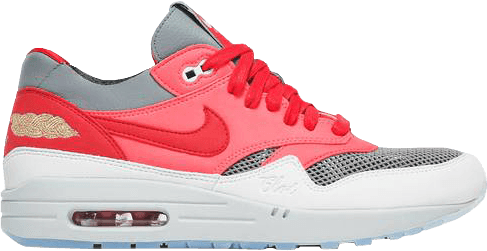 Release Deets
If you're one of the CLOT Air Max 1 stans, you'll be ecstatic to know that the kicks will drop on July 20, 2021. They will retail for $150 in-store and at the JUICE online store. And you really don't wanna miss the drop for several reasons! First, the kicks are seriously sick, and wearing them is an immediate flex. Second, you can flip them for around $500 and make some sweet profit!
Where to Buy the Solar Red Air Max 1 CLOT
So JUICE Store is a Shopify-hosted website. And with a hype pair of kicks like that, you'll definitely need a sneaker bot to cop! But don't worry, you can check out the best sneaker bots of 2021 right here. Just make sure you always cop according to this sneaker bot guide for the best result, hopefully! Godspeed 🔥
Tags: Nike CLOT, sneaker collabs
Posted in Nike, Sneakers 0 comments