August Jordans 2022 – Hot Kicks for Hot Summer Days!
So far in 2022, we've had our fair share of crazy kicks, classics, hype kicks, and more! And this month will obviously feature a mix of so many kicks. However, our focus today is all on August Jordans, and we can't wait to show you what's coming! Who knows? If you're lucky, you might add a couple of pairs to your collection of black Jordans and maybe more! So, brace yourself for the ride, and let's go!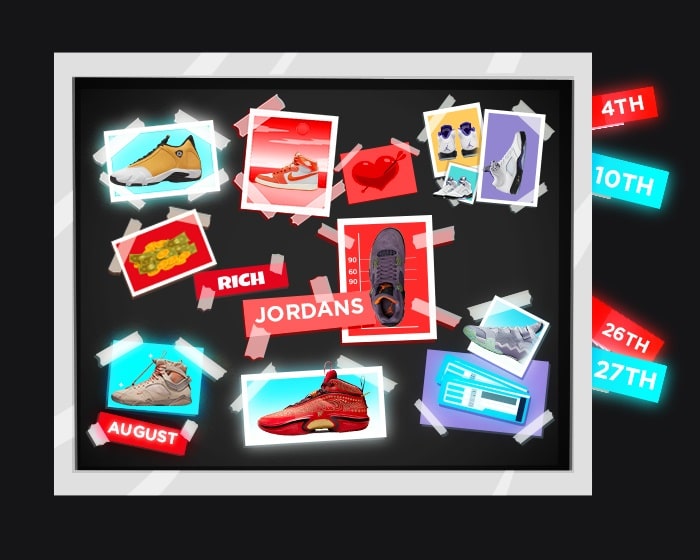 August Jordans 2022 – A Very Versatile Lineup!
This month's Jordan lineup is a very versatile one. Why? Because there's a little something for everyone! So whether you're looking for men's, women's, or even kids' kicks, you can probably find them on this list.
August 2022 Air Jordan 1s – Wanna Cop Them All!
Jordan 1s are must-haves for every sneakerhead. After all, the Air Jordan legacy is a pivotal point in the sneaker industry's ascent to culture status! So naturally, we can't have a lineup without the OG of OGs. And August Jordans have an exciting mix of new colorways and cool designs.
First off, we have the sail Jordan 1 Low Inside Out that took its inspiration from Virgil Abloh's deconstructed designs. And while this pair will kickstart the releases on August 4, another black take on the Inside Out lineup will drop on August 26!

Now, moving on, we can't imagine a lineup without the highs, right? That's why, on August 5, we're gonna get the AJKO Syracuse. That's like a mashup of Nike dunk Syracuse and AJ1, and we're here for it. Finally, a brand new "Stealth" black and grey colorway will drop on August 27! However, if you ask us, the highlight of the Jordan 1 lineup will be the very cool Jordan 1 Zoom CMFT Hare. It's a Jordan 1, and it borrows the cool Jordan 7 Hare colorway, so win-win! We can expect these babies on August 10.
And A Three, A Four, A 3,4,5!
Although we're missing the second silhouette, we'll survive because we got so many AJ2s throughout the summer! But let's focus on what's coming, and that's a lot of cool kicks that revolve around the color purple. We'll kick it off with the sleek Jordan 3 Dark Iris with its nice purple details, which drops on August 24.

That's not all though, because the new Canyon Purple Jordan 4 drops on August 11. And this women's pair certainly looks like it took inspiration from Travis Scott's 2018 F&F AJ4 pair. Well, the green details are a new addition to these babies, but why not? But if these aren't kicks you'd cop, Jordan 5 Concord is hard to say no to. And you don't have to wait long because it's gonna drop on August 6!
Two Sevens Make the Party Cooler!
We definitely expected a Jordan 7, we did not expect two cool ones! The first pair, which drops on August 13, is a 2006 Jordan 7 Citrus revival. If you wanna know more about it all, check this out. But the next one is a pretty interesting take on AJ7! Bephie's Beauty Supply Jordan 7 is a pretty cool collab with BBS, the brand owned by Beth Gibbs.

Do you want a really cool anecdote? Beth Gibbs' husband is Chris Gibbs! He's the owner of Union LA, so talk about coming full circle! Anyhow, we can expect the sneakers to drop on August 25, and they definitely will be flex-worthy. Oh, and if you wanna know more about the Union x Nike collab history, check this out.
Post-10 Swag
We're near the end of our August Jordans lineup, and it sure was an interesting trip. But we're not exactly done yet! Why? Because we've got some cute kicks coming our way from the after-Jordan 10 silhouettes. Sadly though, we don't have any 11s in sight, but JB usually saves that for the holiday season.
Another favorite silhouette for many is the Jordan 12, and we're getting two of them! The first is the low-top AJ12 "25 Years in China" to celebrate the brand's eastern presence and success. Meanwhile, the second colorway is AJ12 High Stealth with its white and grey color palette. So if you're copping the AJ1 Stealth, this should be second in line! Make sure you catch it on August 20.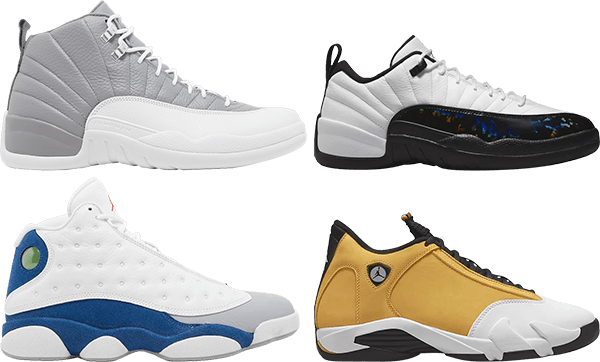 Last but not least, we have the last two drops that will surely add some extra bling to your collection. The Air Jordan 13 French Blue is a hot addition to the list of cool blue Jordans with its Flint-like vibe. The pair drops on August 20 along with the 12s. And finally, Jordan 14 Ginger ends the lineup with a little yellow. And we gotta admit, these babies are looking good! If you wanna add some color to your wardrobe, try to cop it on August 17!
Sooo… We're Done for the Month?
Oh, far from it. Knowing what kicks you wanna cop is much different than actually doing it. So if you like several pairs out of the August Jordans list, read on. First, you need to get yourself a good sneaker bot to have a decent chance at successfully copping all that. A sneaker bot like NSB can boost your chances considerably on different sites. But to get the full experience, you'll need to get the right proxies for these sites.
If you wanna know more about sneaker botting, here's a guide that can help you out. But if you're ready to take on the next chapter of your botting journey, we got you! For $349/year, you can get NSB and maybe save money to get the proxies we talked about. And since NSB supports Footsites, Shopify, YeezySupply, and more, you won't be putting all your eggs in one basket. So click the button below to get started! Godspeed 🔥

Posted in Jordans 0 comments