Food, streetwear, kicks… Is that the holy trinity? If you ask Action Bronson, he'll probably say yes. And well, the new Action Bronson New Balance collab certainly draws inspiration from food! We already were happy to see the latest installation of the 990 line, but this collab is taking it to a whole new level. Read on to learn more about the upcoming Baklava NB 990v6! And just in case that's not your jam (get it?) you can catch Jordan 1 Skyline pretty soon.
Bam Bam! An Interesting Choice of Collaborators!
When we said that New Balance made serious improvements when it came to collabs, we meant it. The brand upped its hype game by miles since the start of 2020. And it actually landed some pretty hype drops with collaborators like Salehe Bembury and Casablanca. In 2023, Action Bronson seems like he's gonna join the list of successful collaborators, but who is he?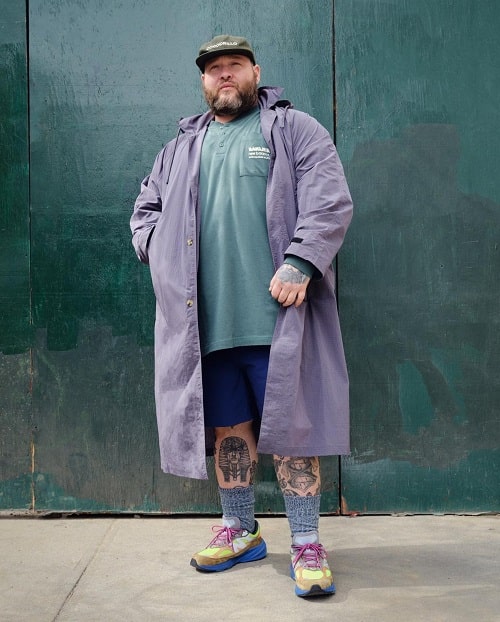 To those unfamiliar with him, Action Bronson, or Bam Bam, or Bronsolino, or Mr. Baklava is a jack-of-all-trades. He's a rapper, a TV presenter, a songwriter, and a chef, can you imagine that? In addition to his musical career, Bronson presents the famous Youtube series F**k That's Delicious. So, it's kinda safe to say that the man is pretty relevant in today's world.
Action Bronson New Balance 990v6 Baklava
The upcoming collaborative pair is really everything you could imagine with a name life that. You see, although we'd like to think the inspiration is actual Baklava, it's not. The new Action Bronson New Balance 990v6 is a reference to his digital marketplace: Baklava Flea Market. Well, the inspiration behind the marketplace's name is obviously the food, so there's that.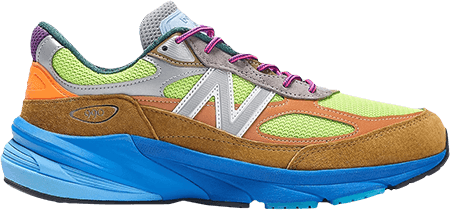 Anyway, the kicks feature a mishmash of colors that's very unlike New Balance, and we love it! The upper features a mix of neon green mesh, brown suede, grey, orange and pink details. And all of this sits on top of a blue midsole! Don't ask us how, but it just works, and you don't wanna miss that.
Release Info – Action Bronson New Balance 990v6
The upcoming collaboration will drop exclusively on the joint new site specializinginlife.com on March 17, 2023. However, a global release will take place on the New Balance site a week later on March 24, 2023. Although we don't have a retail price, the kicks will definitely be worth it. In fact, they're currently worth $822 on average in resale!
So, if you're looking for a way to cop these babies or any other kicks for that matter, we got you. Hype kicks are not easy to come by, and when you do, you need a sneaker bot for them! And don't worry, we got you covered because NSB is right here for you. It'll give you the best odds of catching the coolest kicks. And make sure you check out the upcoming NSB3 here; it will take your botting game to the next level! Godspeed