One of the latest Yeezys to drop in 2017 was the Yeezy Desert Rat 500. The process of releasing it was quite interesting, however. The retail price of the sneaker itself was $200, which is very reasonable for a Yeezy. But getting your hands on those Yeezys was not that cheap my dears. The Yeezy Desert Rat 500 'Super Moon Yellow' was available as part of a three-piece bundle on Yeezy Supply. It was a harsh hit towards sneaker resellers who had no choice but to fork up $760 for the shoes.
The bundle was apparently done to attract only those who intended on buying that full outfit from Yeezy Supply. Moreover, it was definitely meant to ward off pesky resellers. Surprisingly, all three items sold out! Resellers are in luck though, because the Yeezy Desert Rat 500 will release the classic way in March – according to the Yeezy Mafia – for the retail price of $200. However, it will be very limited. But how limited is very limited? Is it level Yebra limited?
Which Yeezy Desert Rat 500 colorway?
The 'Super Moon Yellow' will apparently not be the Yeezy Desert Rat 500 colorway releasing in March, as per the Yeezy Mafia.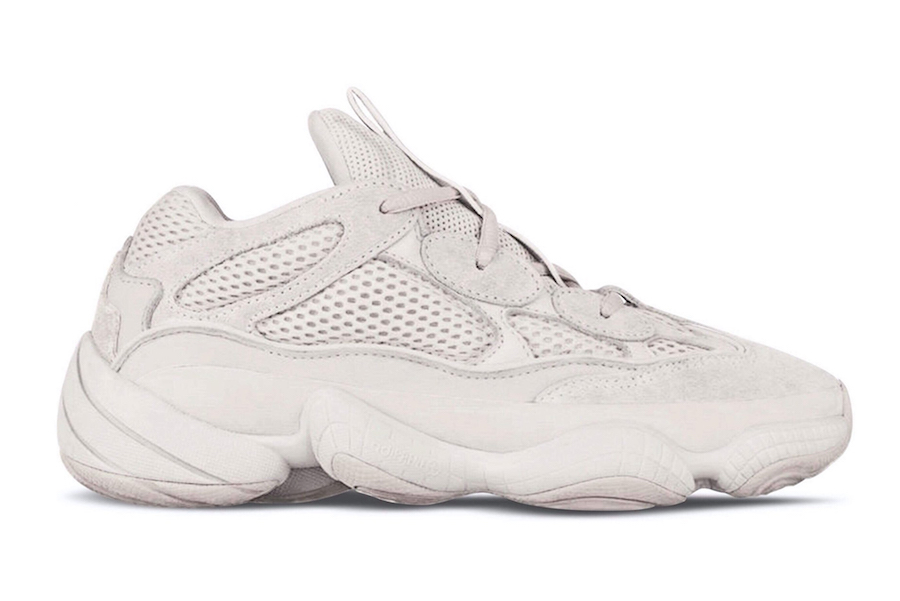 So that leaves us with one of the two other colorways, one that is apparently dubbed Blush and the other Pirate Black. So which one is it? Well, that is still not clear, but we think it'll be the same one in their original tweet about the Desert Rats. Let's go back in time to October when the Desert Rat was first introduced:
The shoe, made of cow leather, suede, and mesh, had already been scheduled for Spring 2018.  Let's suppose that Yeezy Mafia literally meant when Spring starts. And now that we know it'll drop in March so that makes it easier to guess the drop date. Spring 2018 starts on Tuesday, March 20th, so that leaves us with two choices for the drop date:
Option 1: Saturday, March 24, 2018
Option 2: Saturday, March 31, 2018
YEEZY DESERT RAT 500
SUPPLIER COLOR / SUPPLIER COLOR
F36640
JUNE 2018

— YEEZY MAFIA (@theyeezymafia) January 9, 2018
And in the very recent news, the Yeezymafia also revealed that there will also be a Desert Rat 500 releasing in June 2018. So now things are unclear in the sneaker community. Is the March release delayed? Or is it a third colorway dropping in June? Although this is a controversy now, we still have some time before March and June for that matter. What is clear so far is that Yeezy Fans will get their Yeezy Desert Rat 500, in a new colorway without having to pay $760.
Major Case of Déja Vu!
Something about these kicks feels, or in fact, looks so fishy. They look so familiar we can't help but feel like we've seen them before. So many times. Maybe because we have!
The Yeezy Desert Rat 500 "Super Moon Yellow" looks exactly like Adidas Raf Simons Ozweego Bunny. The resemblance is so obvious it can get confusing. This new Yeezy also looks very much like the white Balenciaga Triple S. But to be fair, it costs a lot less. Unless of course, you had to buy 2 other Yeezy apparel pieces to get it.
It is so hard to believe that Kanye is running out ideas. I mean, the genius who came up with the Yeezy boost 750 and 350, will always have some new tricks up his sleeve. Maybe Kanye got a little too inspired by those kicks that he decided to Yeezy-fy them.
We still don't know for sure but we'll give 'Ye' the benefit of the doubt, and say that he's a big fan of Raf Simons and Balenciaga. Still, he could've forever experimented with just new colorways of the much-loved Yeezy Boost 350 v2 and spared himself the scandal.
And now that the Yeezy Desert Rat 500 released, Adidas decided to drop its own (more affordable) version of the bulky shoe:
#XmasCalendar Day 8
YUNG~1 a new chunky Runner taking cues from the archive, made in airy mesh with soft nubuck overlays ($130)
June 2018 pic.twitter.com/xRGp4h1thj

— YEEZY MAFIA (@theyeezymafia) December 8, 2017