Yeezy Day 2021 Apparently Has a Lot in Store for Us!
Yeezy Day is imminent! And with Kanye West living in the Mercedes Benz stadium until Donda drops, we can barely wait. But let's focus on the important things first. If you're new to the game you gotta be wondering what's Yeezy Day. And what do we know about the 2021 edition? Let's find out together what to expect this year!
What's Yeezy Day?
So back in 2019, YeezySupply surprised everyone and restocked Yeezys that were otherwise unattainable. They dropped small quantities of lots of popular kicks. So it was a serious battle of speed because they sold out really fast. That event happened on August 2, 2019, and since then, that date became Yeezy Day! Although we had high expectations for 2020, it kinda disappointed us, so will 2021 be better?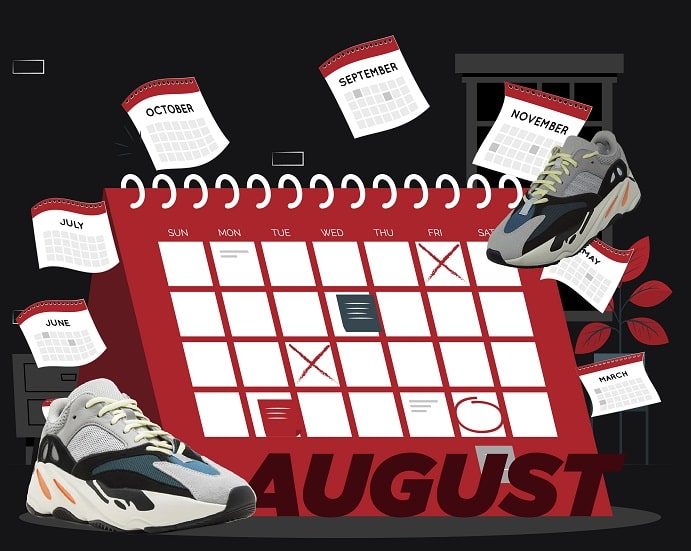 Yeezy Day 2021 – What to Expect
So YeezySupply got out pants in a twist with their Yeezy Day countdown! Although it'll happen in the US on August 2, it'll apparently roll out on August 3 in Europe and Asia. 
The Waverunner Ahoy!
So YeezySupply is pretty shady about it so far, but that doesn't mean that there are no leaks! What we know for sure though, is that the iconic Yeezy 700 Waverunner is making a comeback once again! The colorway was the first colorway of the Yeezy 700 silhouettes, and the best if you ask me. 
This colorway restocked twice since its initial 2017 release, which made its aftermarket value drop dramatically. If you wanna check out the history of other Yeezy restocks, check this out. However, the kicks are still worth owning for another reason than the clearly awesome look. The kicks are worth around $700 on average today on the resale market!
New Yeezy 700 V3, Who Dat?
Along with the restocks, we're gonna get an all-new Yeezy 700 V3 colorway, the "Dark Glow"! The kicks allegedly feature a glowing blue cage, and we're all for it. We just have to wait for more info on the colorway and so on. Although the silhouette isn't one of the most popular, having one is never a bad idea right?
A Rollout of Yeezy 350s Too…
According to rumors, there will be a pretty sick lineup of Yeezy 350s this year. From the Zebras to the Tail Lights, snagging any of the pairs is definitely a win. So if you're looking for a new pair of 350 beaters, better hang on that money till August 2nd!
How to Get Ready for Yeezy Day!
So the drops will happen on YeezySupply naturally, along with the Confirmed app. So if you wanna have a shot at copping on Yeezy Day, you're gonna need a great sneaker bot. Luckily, we rounded up the best sneaker bots of 2021 for you here! But that won't be enough, because success requires the best setup possible. So in addition to your bot, make sure you get the best proxies for YeezySupply. Also, a sneaker server never hurts, does it? So if you've got them all, you'll only need luck on your side now. Good luck!
Tags: Adidas, Kanye West, Yeezy, Yeezy 700, Yeezy Boost, Yeezy boost 350, Yeezy Boost 350 V2, Yeezy Day
Posted in Sneakers, Yeezy 0 comments