A Supreme Camera and TNF Apparel Make Dreams Come True!
A pretty cool Supreme week is all we need to change our mood, and this week is it! Craving some outdoorsy time? Week 5 got all you need for some backpacking and camping in the open air. Although it's hard to top the Supreme Dunks collab of this season, there's no shame in trying! So, here are all the items you'll want to run your bot for on week 5 of SS21. We lowkey think the Supreme Camera is the highlight, but you do you fam.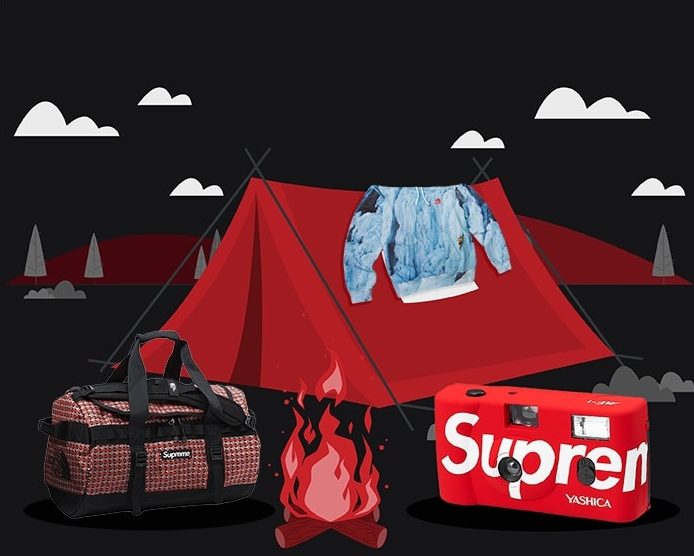 Back to the 90s With Old School Supreme Camera
Supreme is always one step ahead in the game of cool accessories. Who can forget the voodoo doll, arcade, and more? And now we'll be getting the new Supreme camera to bring the 90s memories back to life. The camera is a collaboration with the brand Yashica that makes cameras. The brand stopped production in 2005 but came back in 2008 under new ownership apparently. And now we got the Supreme logo slapped on the camera, no complaints there!

Supreme The North Face Strikes Again!
A kind reminder that we can consider this an internal collaboration in 2021. Both brands are now subsidiaries of VF Corporation. So really, it's like a family reunion now, one that we actually look forward to. This season's collection is all but boring with all the studs, literally. The "studded collection" will include everything you can need on a camping trip. From the jackets to the duffle bag, to the cool slippers, TNF Supreme got it all. All of these items will be available in black, blue, and red. It's also worth mentioning that the retail price of the collab A Supreme Camera and TNF Apparel Make Dreams Come True!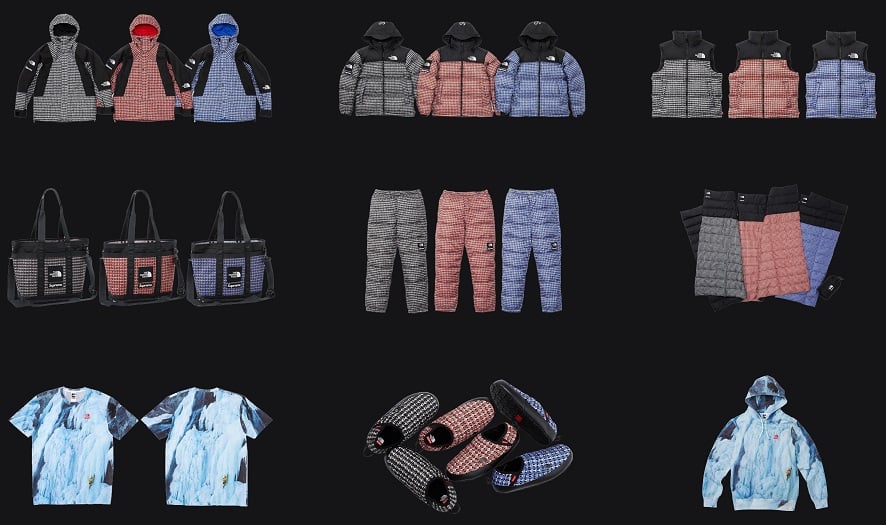 The highlight of this capsule though? That would definitely be the ice climber hoodie and tee. They'll probably sell out really, really fast. So better have NSB next to you when the time comes. And when you do go camping, you can take a picture of your TNF apparel with your Supreme Camera! Now, here's a list of all the Supreme TNF items we'll be getting on week 5: Nuptse Jacket, Mountain Light Jacket, Nuptse Vest, Nuptse Pant, Base Camp Duffel Bag, Tote Bag, Nuptse Blanket, Traction Mule, and TNF Climb Hoodie & Tee.
Don't Miss Out on the Supreme Camera and TNF!
This week is totally worth taking part in. With the Jordan 1 Light Army dropping that same day,  Supreme might not be the most hype catch of the week, but it's definitely worth a RUN. So better get those bot gears running because it's gonna be pretty competitive. Maybe take a break from building your sneaker collection and start the streetwear gig. After all, if you flip Supreme items, you'll have the cash to cop some exclusive kicks! And speaking of kicks, have you ever wondered where Nike kicks are made? Well, you can check out the answer right here! Finally, make sure you stay up-to-date with all sneaker releases on our blog! Godspeed 🔥
Tags: SS21, supreme, Supreme Accessories, supreme droplist
Posted in Supreme 0 comments