On November 28, 2021, the fashion industry lost one of its creatives: Virgil Abloh. If you're familiar with his work, then you probably know how he helped by connecting high-end fashion and streetwear! And since his passing, LV was left without a creative director for menswear while dropping items Virgil was working on. But with 2023 rolling around, we got the news: the Pharrell Williams Louis Vuitton partnership is blooming more than ever! Why? Because he's the new creative director of LV's Menswear!
Pharrell Williams Is the Fashion Icon We Deserve
Before we dive into the Pharrell Williams Louis Vuitton relationship, we're gonna take a look at his independent fashion Journey! You see, despite his lack of official fashion education, Pharrell certainly became a trendsetter. First off, along with BAPE's Nigo, he is the co-founder of the streetwear brands Billionaire Boys Club and Ice Cream. The brands became a staple in the streetwear scene, and being the different skateboard nerd became the new cool thing.
Moreover, beyond his own brand and music, Pharrell Williams is a very important collaborator. Why? Because whatever he rocks becomes a trend! It's pretty similar to Kanye's influence on fashion but less controversial. From Chanel all the way to BAPE, and Tiffany & Co. soon, we got a lot of fashion pop culture moments. And let's not forget about his longstanding Adidas partnership. Their kicks were once the coolest thing you could get your hands on! But well, the three stripes brand sadly seems to be ruining its partnerships.
The Pharrell Williams Louis Vuitton Relationship Goes Way Back!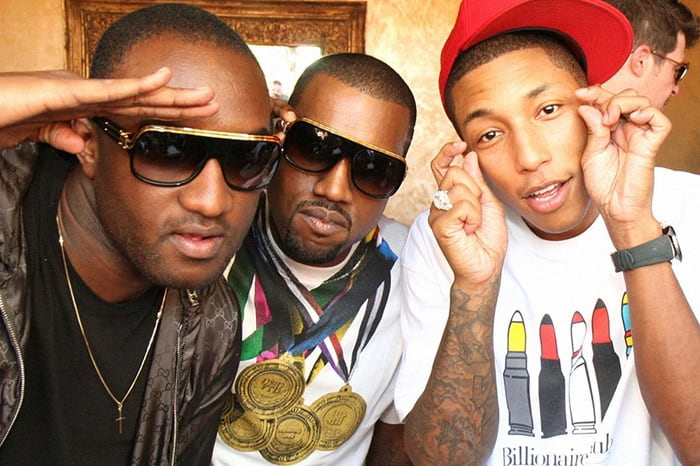 Although Williams is the first rapper and producer to take on that title, it's not really a shocker. Pharrell and LV have their own history together that dates all the way back to 2004! You see, his collab was a line of Millionaire sunglasses that were a total hit that even Kanye and Virgil rocked them at some point! In fact, they were so successful that LV brought them back in new colorways in 2007. Not only that, but Virgil Abloh brought them back in 2018 for his first LV collection!
Fast forward to 2008, the Pharrell Williams Louis Vuitton partnership grows with a jewelry line! The Blason line was a collaborative effort between Pharrell and Camille Miceli. So looking at all of this history, it makes sense that the torch passed to him!
Pharrell Williams Louis Vuitton – Are You Ready?
So, LV officially announced this appointment on its website and social media accounts on February 14, 2023. The brand called Williams an icon and a visionary, which he totally is! You can read the full statement here. However, the first collection under his direction will be unveiled in June 2023 during Men's Fashion Week in Paris! So make sure you got your fashion goggles ready because we are. In the meantime, you can keep tabs on the latest sneaker news on our blog! Godspeed