The holidays are always a reason for more sneaker shopping. As if we needed any more reasons. But it's different every year with brands going all out with their hot holiday releases. This season though is extra saucy with colorful kicks that feel like summer! So let's check out the upcoming Pharrell Adidas NMD Hu heading our way this year.
Pink and Blue Lead the List!
The first two pairs we'll talk about are dropping today. These two look like polar opposites, but just the same. The aqua pair features the word "Uluntu" which roughly translates to "Humanity" from the Ndebele language. The upper, midsole, outsole, and laces all come in aqua! The only exception the sockliner and insoles that will come in black. The kicks will drop on November 20, 2020, for $220. And you can find them on the resale market for around $1,100!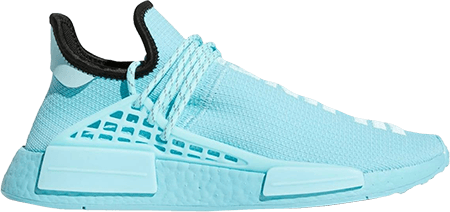 The second pair is an interesting pink iteration with the same details. However, the kicks feature the "Human Race" stitching in Chinese this time. The pink Adidas NMD Hu will drop on November 20, 2020, for $220 in the US. However, Asian and European resident sneakerheads will have to wait till early 2021 for them! But if you can't wait that long, they're available on the aftermarket for an average of $300.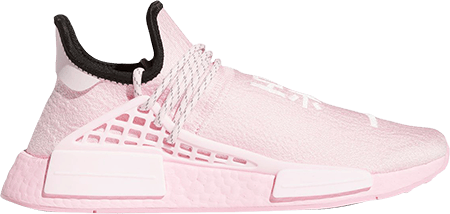 Adidas NMD Hu in Spicy Orange
Well, there's no denying it, we truly are getting some flashy colors this month! The new orange colorway is following its blue brother's steps. All the monochromatic deets, along with the "Uluntu" stitching are there! However, this pair will drop on November 21, 2020, for $220. And you can also find it on the secondary market for $220 too!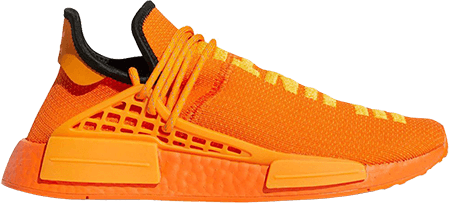 I'm Dreaming of a White… Pair of NMDs!
This is another extension of the one color palette Adidas and Pharrell opted for. Nonetheless, they look pretty amazing. That's a pair of sneakers everyone needs in their sneaker rotation, even if they're beaters! Because let's be honest, there's lowkey satisfaction when seeing our favorite beaters used up but comfy as heck. The white Adidas NMD Hu will drop on November 25, 2020, for $220. And if you wanna flip them, these will do well at an average of $350!
Pharrell x Adidas NMD Hu Goes to Vietnam
So we see how Adidas and the Happy artist are trying to represent everyone through kicks. And apparently, it's Vietnam's turn! The new pair features a greenish colorway with lighter colored laces and side cage. The Boost midsole will also come in the same green color as the upper. Finally, the stitching on the upper says "Human Race" in Vietnamese! A possible release for this pair was November 21, however, it seems like it's gonna drop on December 23, 2020. Either way, keep an eye (or NSB's monitor) out for it, especially if you're copping the previous colorways!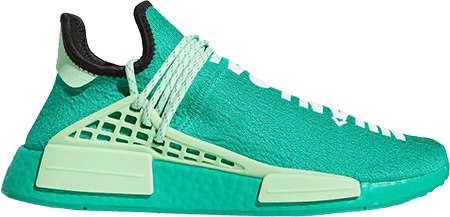 A Potential Drop for the End of 2020?
Or early 2021, the news is still rumors so far! But images of a new colorway emerged, and this time from Korea, thanks to the stitching. The new Adidas NMD Hu features a cream primeknit upper with a quilt-like texture! The laces will come in classic black along with the outsole and stitching. Finally, a dash of pink and blue give the pair a whole new vibe! For news about this release, keep checking our blog. And if you need a sneaker bot once you decide to cop, NSB will do that for you!