Nike KAWS Comes Back with the Perfect Touch of Sacai?
Whenever we hear KAWS and sneakers, we know it's gonna be good! But when you go three-way, it kinda makes you wonder. Will the Nike KAWS Sacai mashup be up to our expectations? Although we're feeling like sneaker collabs are getting a bit suffocating, some naturally stand out from the crowd. And the new Nike KAWS Sacai Blazers is definitely the pair that's worth standing out! Let's check out what we know about this collaboration.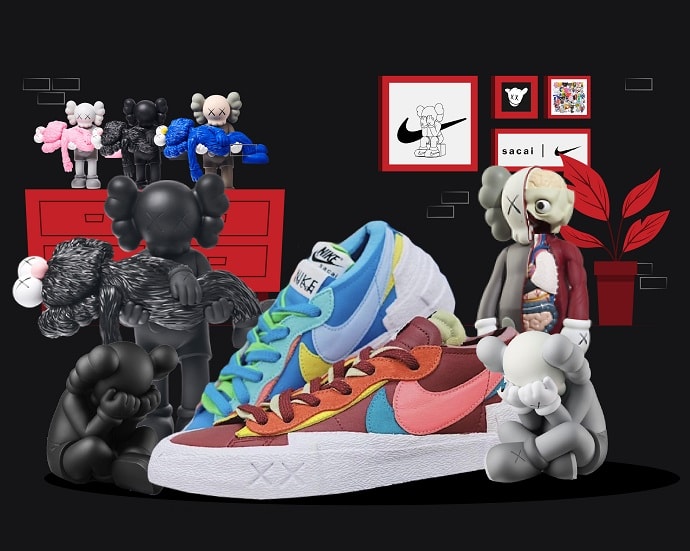 But First, A Little Bit of Nike KAWS History
If we're gonna discuss new kicks, we gotta remember our golden oldies. First up, we have the 2008 Nike KAWS Air Max 90 pack. The kicks came in black and white colorways that feature the same neon green deets. From KAWS' trademark XX to the laces, and outsole, the neon green added a dash of life! The white pair resells for $1,511 on average, while the black one goes for about $2,184.
Next up, we have the super rare, almost myth-like, Nike KAWS Air Force 1. The pair features a pretty plain black upper, with neon green laces and the signature XX. However, the coolest bit about the kicks is that the outsole comes in translucent neon green. This awesome pair is as elusive as ever, but if you find it, you can pay up to $4,000 for it!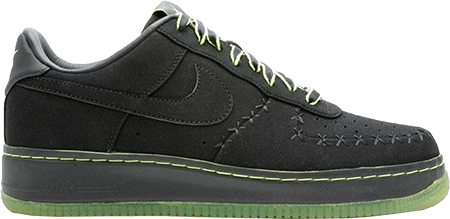 And Our Favorite Nike Sacais…
So the Sacai Nike partnership is still going pretty strong. So it's really hard to choose a favorite. However, we like clean-looking kicks, so our favorite is definitely the black LDWaffle. The black and white pair dropped in September 2019, for $160. Today, they're worth around $700 on the resale market.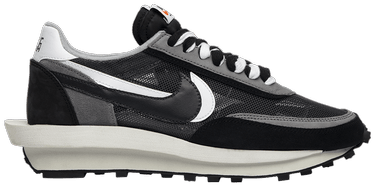 The runner-up on our list of Nike Sacai favorites is the sail-white Vaporwaffle. The kicks are pretty clean and slick with a gum outsole. This one retails for $180, but is worth a pretty nice average of $600 on the aftermarket!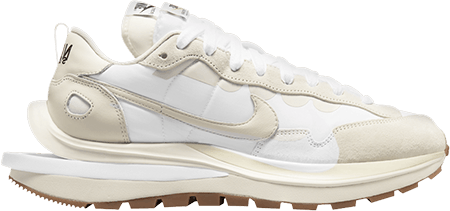 Now We Mash Them and Get the Nike KAWS Sacai!
Although we have absolutely no release info, we got some saucy pictures. The new Nike KAWS Sacai threesome will give us two wonderful colorways. And if we know anything about the industry, it's that they're gonna be head-turners. The first colorway features a mashup of blue, green, yellow, and pink. The double everything, aka Sacai's specialty, is making an appearance along with KAWS' famous XX on the midsole. Now if you're looking for an early pair, you're gonna have to buy it off the aftermarket for $1,000!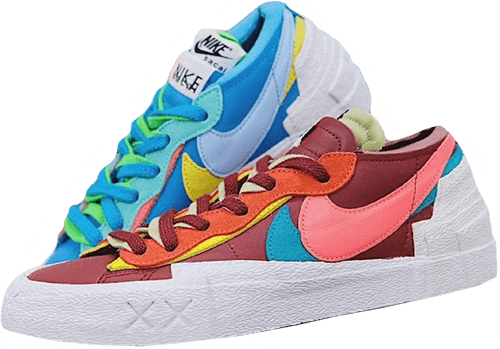 The second pair features all the same deets in a mashup of red, orange, yellow, pink, and blue! Although it's pretty different than the first pair, they'd look awesome if you mix and match them together. This pair is worth about $1,100 on the resale market!
Why Do You Need These Pairs?
First of all, the resale is enough to get you going in the reselling world. But if you're in it for the right of flex, then they're definitely worth it too! You can also keep them in the colorful section of your sneaker collection. But all that won't be possible unless you have a great sneaker bot. But make sure you've got the right recipe for the best cook of your life! You can check the ingredients here. So keep checking our blog for the latest sneaker news to put your new knowledge to good use! Godspeed 🔥
Tags: KAWS, Nike, Nike blazer, Nike KAWS, Nike Sacai, Sacai
Posted in Nike, Sneakers 0 comments