Jordan 7 Flint: The First Retro Release Is Always the Best!
If there's anything as close to the OG hype, it's the first retro that follows. That's especially awesome if the sneakers are good-looking and worth their money. Luckily, the upcoming Jordan 7 Flint is just that! We sometimes underrate the 7s and focus on other Air Jordans like the 1s, 3s, and so on. Today, we're gonna show you why Jordan 7 Flint is worth as much attention as the coolest Jordan 1 colorways! Let's check the kicks out, and you'll know for yourself!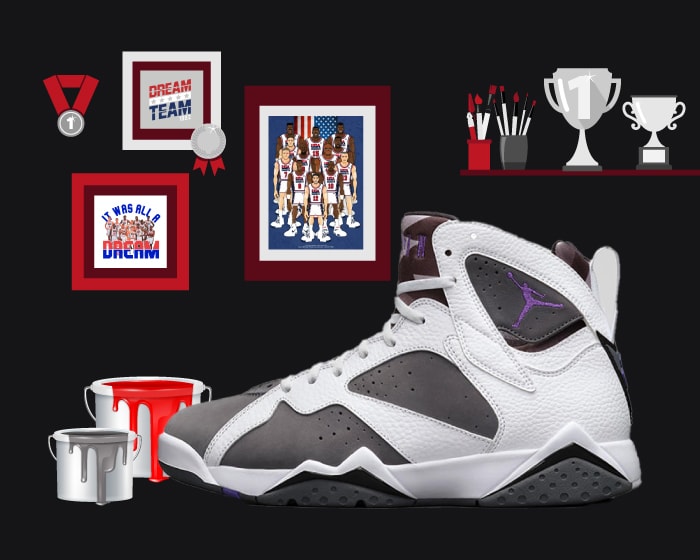 A Fast Jordan 7 Recap
Air Jordan 7 is a pretty amazing pair of sneakers. It doesn't only look good, it also holds a huge sentimental value to all basketball fans! Back in 1992, aka the AJ7 release year, the Barcelona Olympics were also taking place. The USA up until then didn't really have professional players on the Olympic teams. After losing for a couple of years, the Olympic team needed a pretty awesome team to get back up!
The solution? Bring the best of the best of NBA players to kick-a$$ and bring home the gold medal. And they did just that! Well, the team had Michael Jordan, Magic Johnson, Karl Malone, Charles Barkley, and more stars on board. When a team of superstars comes together, winning is the only option!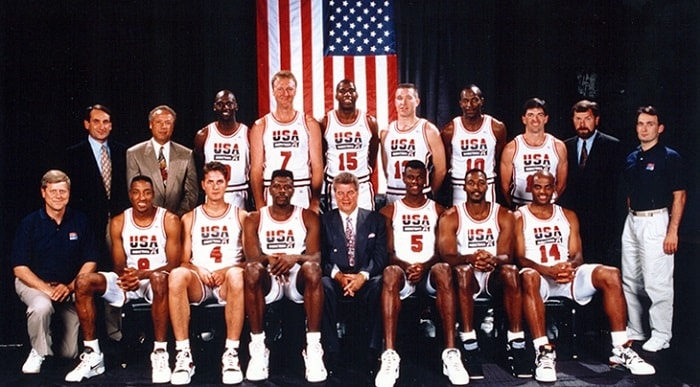 That's not the point though! Michael Jordan donned the Air Jordan 7 when he was in Barcelona, and won his third NBA title wearing them. So all in all, the kicks are as legendary as the person wearing them! We're not even bluffing when we say that the kicks came in different colorways, and they're all lit.
Jordan 7 Flint: A 2006 Classic
Although the colorway dropped three years after the GOAT's last bow on the court, it's still considered a classic. The colors are pretty nice and make the kicks easy to style. Jordan 7 Flint featured a very nice grey suede upper with white leather overlays. It would be a really boring pair if these were the only colors on it. Instead, we get a bit of a very cool shade of purple on the tongue, collar, and heel! Another thing that makes the pair interesting is the geometrical design of the kicks. Seriously, with that look, the kicks can look any color!
In 2021, We Get the First Jordan 7 Flint Retro!
If you have your doubts about the Flint colorway, better remember last year's Jordan 13 Flint! We all wanted in on that. And now we get the chance to expand our sneaker collection with the new Jordan 7 Flint! The pair is dropping for the first time after 15 years on May 8, 2021, for $190. The pair will drop in adult, GS, PS, ad toddler sizes, so you can match and mix with the fam!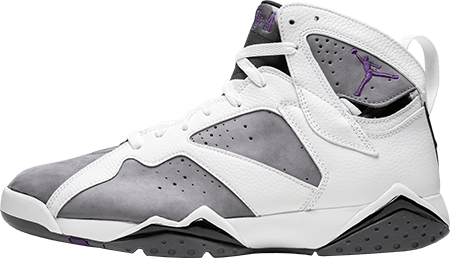 Don't Miss the Drop, It's Worth It
If you're looking for a nice pair for the summer, Jordan 7 Flint is your go-to! You could flex it, and you can flip it for some good cash. The pair is worth an average of $500 on the resale market! Jordan 7 Flint will drop on Footsites and select retailers, and you'll need a good bot on drop day. Luckily, NSB is the best all-in-one bot for all your sneakers and Supreme shenanigans! Make sure you get your NSB copy today, maybe you'll catch other releases like Jordan 11 Legend Blue! Godspeed 🔥
Tags: Air Jordan 7, Air Jordans, Jordan, Michael Jordan
Posted in Jordans, Sneakers 0 comments