Georgetown Dunks Are Bringing College Spirit to the Table!
Nike's back at it with the college kicks! Well, in their defense, we know it's gonna be really good, and it totally is. So Dunks came back to the spotlight a couple of years ago and stayed there. Well, they're probably not going anywhere any time soon. And now, we're getting the awesome Georgetown Dunks to complete the list! If you're an OG in the game, you'll know that these babies should be in your rotation. However, if you're still debating whether you should cop or not, then this is for you fam!
College Kicks Are Love. Period.
Why though? What's so special about Dunks that come in college colorways? Well, to answer that, we need to go back to 1985. The year Nike launched the Dunk line, they didn't do it without some seasoning naturally. And what better way is there to launch basketball kicks than dropping them in basketball team colors? None. So, they dropped seven different colorways as a nod to seven different college basketball teams. And guess who was among them? Georgetown of course!
Georgetown Dunks with a 2021 Feel!
Back then, we got the Georgetown Dunks in high top. In 2021 though, we're getting these babies in low top, aka the more popular version. Well, there's always the sneakerheads who have a knack for Highs. But lately, the low Dunks are all the rage, and people prefer them for several reasons! And let's be real now, if you're getting a high top, why not go for an Air Jordan 1 high? You can read more about this debate here and make up your mind!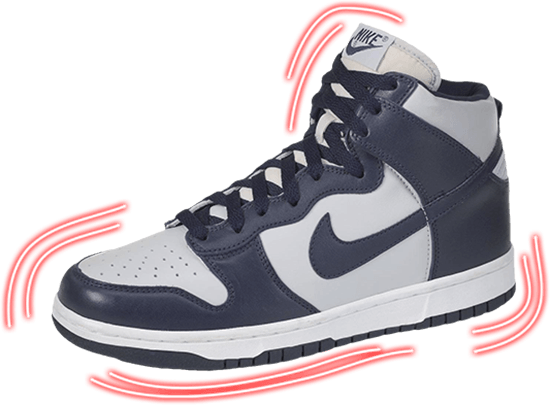 So as we said, the Georgetown Dunks feature the OG colorway. A grey leather upper comes with awesome dark navy overlays for a simple yet hot result! The white midsole will sit on top of outsoles in the same shade of navy blue. So it's a total looker if you ask us fam.
Release Info
The upcoming Georgetown Dunks will drop on October 8, 2021. They'll be available in men's, GS, PS, and toddler sizes. They'll respectively retail for $100, $85, $65, and $50! So if you're looking for a matchy-match pair for the holidays, we highly recommend these. But if you want a pair of kicks that you can flip, well, we also recommend them! The Georgetown Dunks are worth around $214 on the resale market. That means $100 of profit straight to your pocket!
Get One, or Several Georgetown Dunks Because Why Not?
Imagine this, it's drop day, and you copped multiple pairs of Nike Dunk Low Georgetown. So what do you do? Naturally, you keep one and flip the others for some cash! Anyway, that sounds too good to be true. And it is, unless you get yourself a good sneaker bot. So go ahead and check out the best sneaker bots here! But you should also check out these proxy and sneaker server guides. That's the only way to make your odds of success higher. Well, unless you work at Nike, and we know that is too good to be true! Godspeed 🔥