Casablanca New Balance to Kick Off the New Silhouette!
Well hello there. We meet once again to discuss a release by New Balance! Although their sneakers went under the radar for a long time, they're not anymore. The New Balance collabs are giving us the best of both worlds. From the latest New Balance Stone Island partnership to a new silhouette, we got it all! And in August 2021, the brand will unveil the newest silhouette with a special twist. So, ladies and gents, let's welcome the Casablanca New Balance XC-72!
Casablanca New Balance – A Match Made in Heaven
Before we get into the upcoming kicks, we'd like to discuss the previous Casablanca New Balance releases. First off, Casablanca is a brand that celebrates the dual heritage of its founder. The French-Moroccan Charaf Tajer adds that luxurious feel to everyday leisurewear! And that's exactly what's happening to the Casablanca New Balance kicks. It's not your average running shoe, is it?
So the partnership kicked off back in April 2020, with the initial release of two sneakers. The green and orange colorways of New Balance 327. These pairs resell respectively for $373 and $355 on average. That's easily a $200 profit for people who copped for retail! Several colorways followed, but none were as successful as the orange and green colorways.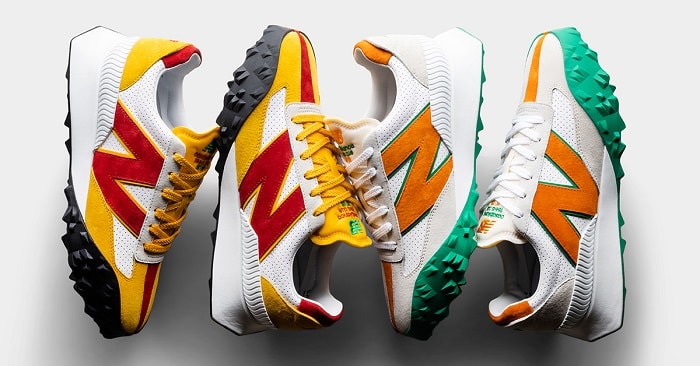 XC-72 – A Sports Car for Your Feet!
A new New Balance silhouette is exactly what we need in August 2021. Before we get into all the upperwork, we gotta highlight the really interesting midsoles we're getting! The sole seems like it's cut into two different parts. The back is just plain white, while the front has some really interesting tread patterns! So it's basically a step into the future while keeping the OG feels of New Balance silhouettes.
The upper Keeps a Classic Feel with Awesome Colors!
The upper's material is a mix of leather with perforations and light grey suede. Now, the first colorway comes in the "signature" orange and green Casablanca New Balance mix. The second features a Ferrari-like mix of yellow and red, and honestly, we're digging it! Both colorways are a pretty refreshing addition to your sneaker collection to end summer 2021 with.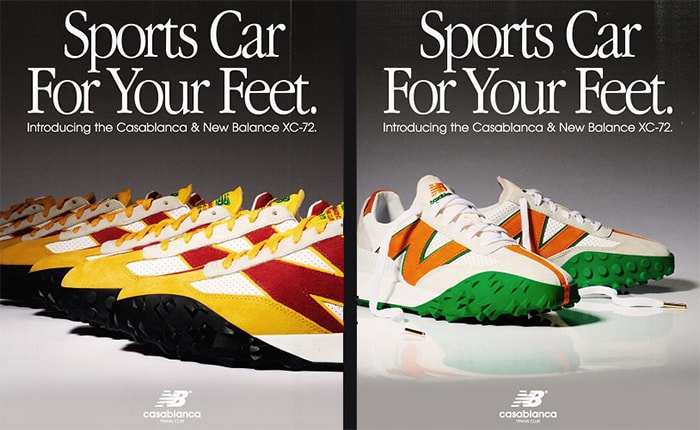 When and How to Catch the Casablanca New Balance XC-72
Let's get to the saucy release deets! If you wanna cop the new Casablanca New Balance collab, you'll have to shots at it. The first drop will be a Casablanca exclusive on August 27, 2021. The second will be a global release on August 28, 2021. The kicks will retail for $150, and if the stock is low, the resale will definitely be worth your while. And if not, the kicks seriously look good, so you'll be bringing some heat to the table!
Tags: new balance
Posted in Sneakers 0 comments