So, is anybody gonna say this? Adidas has been struggling on the hype front for a while now. Besides Yeezys, nothing is close to competing with Nike's hype, which is a shame. We can still remember how hot the Adidas Pharrell collab was. However, Adidas didn't really keep up the good work and kinda lost some of its spark along the way. Today though, the Bad Bunny Adidas collab seems to be on its way to spice it up! So here's everything you need to know about the collab with the Puerto Rican artist.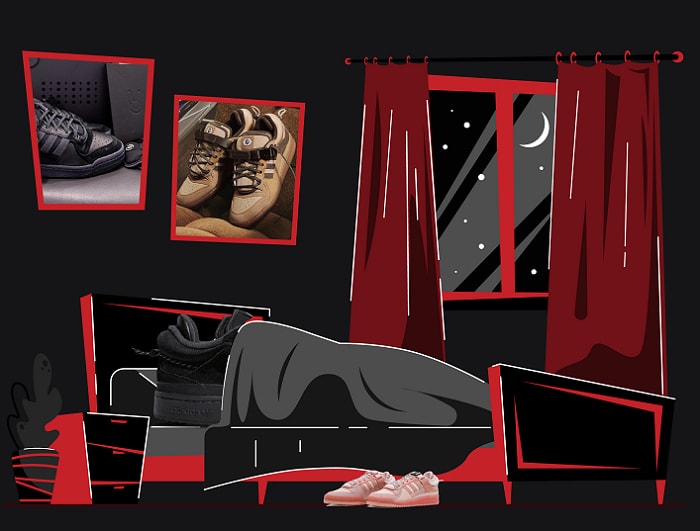 What's the Adidas Forum?
It's storytime! Believe it or not, the Adidas Forum is a 1983 basketball classic. So it kinda goes head to head with Nike's classic Air Force 1 and Dunks. The French designer Jacques Chassaign did a lot of research to come up with this silhouette. He interviewed coaches and basketball players and found out that the ankle is the weakest point. That's why he came up with the "criss-cross ankle system" that protects the ankle area.
The kicks were and still are pretty cool. What makes it even better is that none other than Michael Jordan rocked the pair! He did that during the USA Olympic trials. But then he went on to launch the iconic Air Jordan line, so hard luck Adidas. Anyway, the kicks had a resurgence in 2009 and dipped out of sight once again.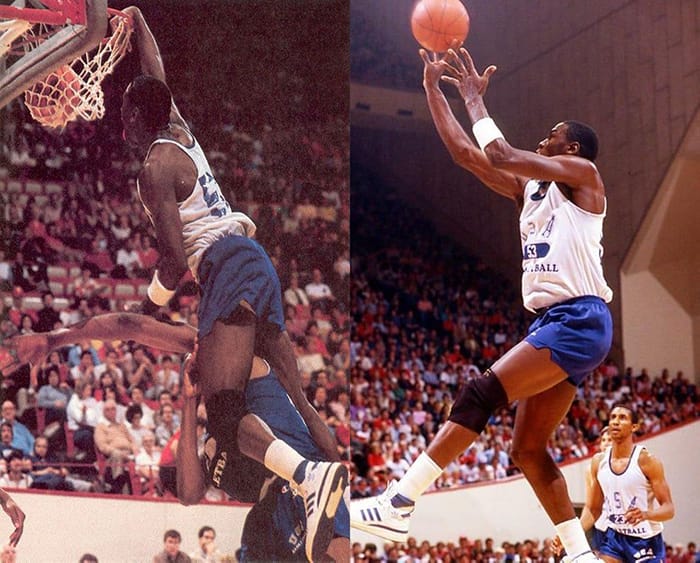 Finally, 2021 introduced us to the Adidas Forum in a new way. This time, it's not only your average basketball pair but also an awesome lifestyle choice. Hence, the new Bad Bunny Adidas Forum collab! Let's check it out, shall we?
Bad Bunny Adidas Forum – Potential Three Stripes Comeback?
So when we talk hot and hype sneakers, we rarely mention Adidas. Sure, Yeezys are there, but normal silhouettes rarely make the list. Happily, the new Bad bunny Adidas collab could change that! I mean, the resale is pretty good, but we'll get to that later. The upcoming Bad Bunny Adidas Forum Triple Black features an -obviously- all-black upper. Moreover, it comes with plenty of Bad Bunny's motifs including "El Ojo" (the eye) on the tongue. The release will also include extra laces and a dust bag with co-branding.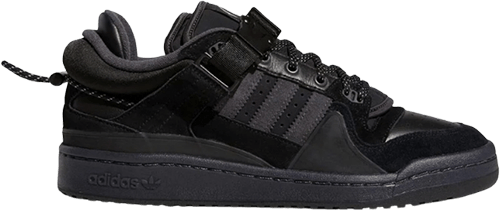 Release Deets
The upcoming Bad Bunny Adidas Forum will drop on August 17, 2021, for $160. It's gonna be available on the Confirmed app and select retailers. However, what really matters to us is the resale! If you manage to cop the kicks, you can actually flip them for $1,300 on average. That's a sh*tload of money if it stays that way! But then again, that depends on the stock level, and apparently, Adidas is trying to play the game. So let's wait and see!
Some More Bad Bunny Adidas Forums to Flex
The upcoming black pair is definitely neither the first nor the last of the Bad Bunny Adidas collaboration. The first pair was actually "The First Cafe", a nod to the artist's morning coffee to get his day going. The kicks dropped in March 2021, and are worth around $1,000 on the aftermarket. A pretty good number if you managed to cop on retail!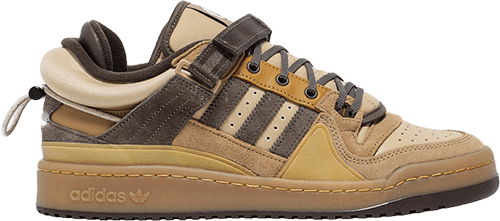 Fast forward to Easter, and Bad Bunny dropped his very pink pair of Adidas Forum lows. That pair dropped just in time for the holidays! But if you want your own pair, you can get it for $550 on average on the resale market. So if we learned anything from these two pairs, it's that you should definitely invest in the Bad Bunny Adidas kicks!