Maybe Christmas, the Grinch thought, doesn't come from a store. Well, every sneakerhead would beg to disagree this holiday season! From holiday Jordans to Grinch themes, our holiday does come from stores. So, today's Adidas Forum Grinch is one of many takes on the cynical grump, but what makes it unique? And why will you need to add it to your sneaker collection? Let's find out together and check out some more Grinch kicks worth owning!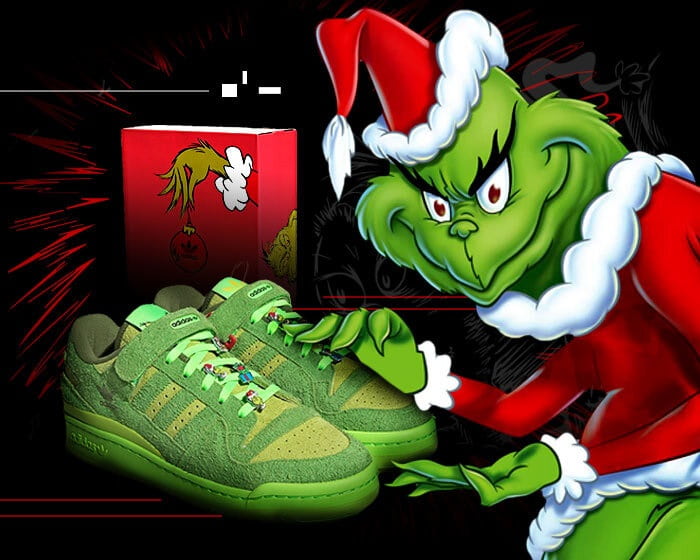 Adidas Forum Grinch Lows – HELP ME…I'M FEELING!
Well, so are we! We're totally feeling the upcoming Adidas Forum Grinch lows. Although they could be too green for some people's taste, they will totally grow on you. So, these babies will come with some extras that we like, but let's take it bit by bit! First off, the upper will come in a hairy grinchy green suede which is pretty accurate if you ask us. Then we have the Grinch's eyes on the tongue for some heebie-jeebies.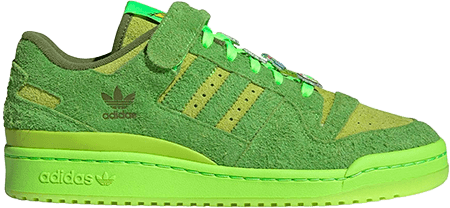 But the coolest bit about these kicks is that Adidas provides a bit of customization using lace decorations! These include the Grinch himself, a gift stack, and Max the dog. Finally, the sneakers will come with an awesome hang tag and special packaging. So all in all, the Adidas Forum Grinch low is a must-have for die-hard collectors.
Wanna Add the Adidas Forum Grinch to Your Collection?
The upcoming Adidas Forum Grinch lows will drop on December 1, 2022, on Adidas US. It'll retail for $120 and it'll definitely be worth it! In addition to it being collection-worthy, you can flip it for $240 on average. That means 2x the original retail and profit! But to cop these babies, you're gonna need a sneaker bot. You don't have to look further though, because here's a list of the best sneaker bots around today! And if you want an extra bit of knowledge, this guide will come in handy.
More Grinch Kicks for the Grumpy!
Nike Kobe 6 Grinch
One of Kobe's sensational collabs with Nike. Although most of the Nike Kobe colorways are hits, this one just hit different in 2010. It was such a success that we got them back in 2020, and they sold out again! In fact, 2020 was awesome for Nike Kobe kicks, but a bad year for everyone who loved Kobe Bryant. But well, the legacy lives on through all the fans in the world!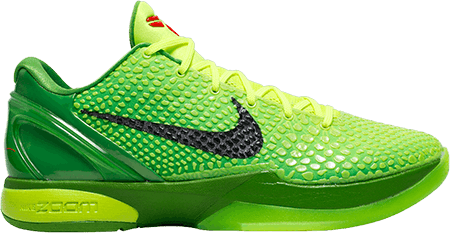 Release Date: 12/24/2020 (OG Release: 2010)
Retail: $190
Avg. Resale: $690
Reebok Instapump Fury Grinch
Not the prettiest flower in the garden, but it's definitely a collectible! The Reebok Instapump Fury with its hairy green upper under red overlays is everything you need for a Christmas collection. It may not be wearable, but it's definitely a cool addition to your funky kicks.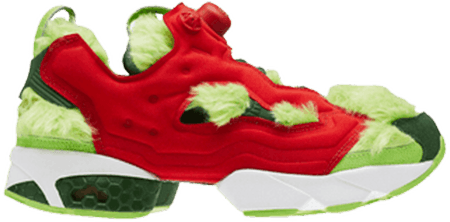 Release Date: 12/4/2016
Retail: $200
Avg. Resale: $180
Converse One Star x Golf Le Fleur Grinch
The collaborative effort between Converse and Tyler, the Creator's brand is certainly one for the books! But naturally, eccentric colorways always take the cake. So if you're looking for a pair to make your life a bit cuter, this is exactly what you need!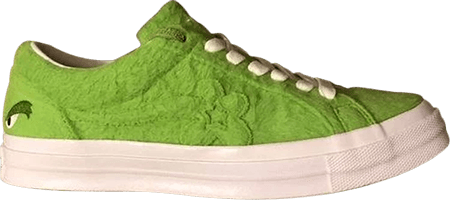 Release Date: 12/4/2016
Retail: $200
Avg. Resale: $180