Say Hello to the Newest Travis Scott Sneakers: The Nike SB Dunk!
Ever since the beginning of his collaborations, the Travis Scott sneakers made the crowds go crazy over them. This hype is caused by two factors. Firstly, Travis Scott has a huge fanbase. Secondly, Nike always delivers and manages to hype the masses! So let's take a look at the upcoming Travis Scott Nike SB Dunk.
How Cool Are the Nike SB Dunk x Travis Scott?
The upcoming Travis Scott sneakers have been hyping people ever since they appeared in Travis' music video "JACKBOYS". So it was safe to assume that they're no longer a rumor.
Then, in early January 2020, Cactus Jack posted on Instagram a picture that left people going crazy for more clear pictures of the kicks!
The Nike SB Dunk sneakers' upper is a mixture of patterns like the plaid and paisley. In addition to that, the toe box is a plain camel color and the laces are rope-like! But the most striking aspect of the kicks is the tearable fabric that reveals the elephant print underneath it. We previously saw this technique used by Nike and CLOT on their sneaker collabs! We can also see two buttons at the ankle collar! All in all, the kicks are a feast to the eye (maybe even a bit too much for some).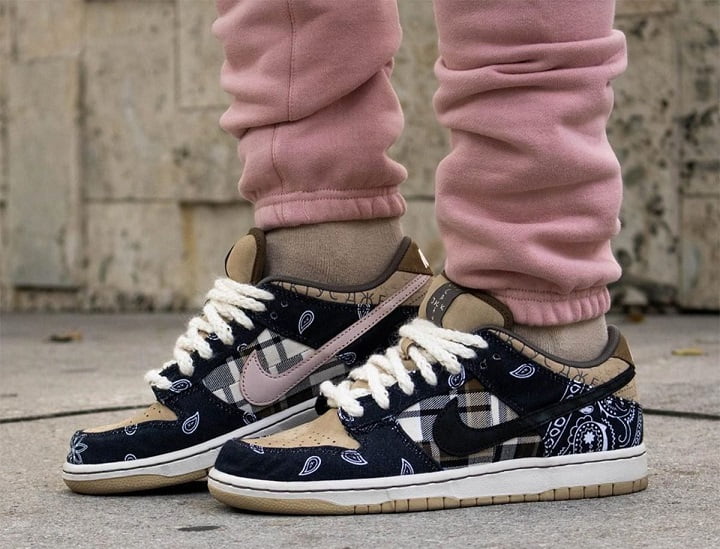 Finally, we have clear pictures of the Travis Scott sneakers. And even better, we've got the release details! The Travis Nike SB Dunk will be dropping on February 29, 2020. That's convenient since Travis is always edgy, so it's only natural for him to drop them on the leap day. The sneakers will retail for $150. However, their average resale value is currently a whopping $1,512!
How to Get These Precious Travis Scott Sneakers?
Easy! NSB is here to save the day. With all of the growing competition in the sneaker industry, it's really important to have reliable bots that will not disappoint you and do their best to increase your chance at a successful cop! And let's admit it, getting this Nike SB Dunk will be definitely a plus if you wanna flip for that sweet sweet resale value.
Tags: Nike SB Dunk, Travis Scott
Posted in Nike, Sneakers 0 comments