Cactus Jack is always taking the lead and releasing the most eye-catching sneakers out there. The Nike Travis Scott shoes collaboration has only one competition. It's Virgil Abloh and the Off-White x Nike collabs. But it's not really a competition when it's the same company, is it? Anyway, now that the special edition of the Travis SB Dunk dropped, we've got the upcoming Nike Air Max 270 to look forward to!
ICYMI: The kicks ended up dropping on May 29, 2020. That's 2 months later than the original release date. But we're not really in shock. After all, that only built up the hype even more than usual!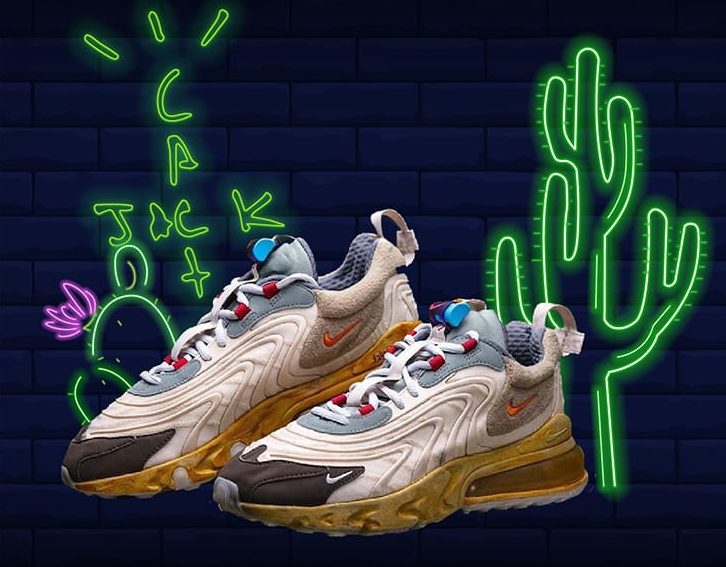 Cactus Jack and the New Nike Air Max 270
The upcoming Travis Scott Air Max 270 just scream earth and desert with all the beige and golden tones of the upper and the midsole. So I guess he got his point across to us all, didn't he? Moreover, the golden color -that looks way too much like watercolor paint- also covers the air unit on the back of the soles.
However, knowing the Travis's kicks, his take on the Nike Air Max 270 React isn't free of vivid colors! Red eyelets and purple/blue lace lock are just a subtle hint to Travis Scott's colorful and eccentric style. And finally, let's not forget the bold "Cactus Jack" branding on the heel tabs and on the insoles.
All the Release Details!
As of now, there is no exact release date! But what we know for sure is that the upcoming Nike Air Max 270 will drop in full family sizes. Stormi made sure we remember that when she rocked them better than any adult!
https://www.instagram.com/p/B8uJ6HgnO67/
The kicks will retail for $190 and will release sometime in March 2020. No other specific release details are available to date, not even potential resale value. But judging by the history of Scott's sneakers, we can figure it out! All of the Travis Scott shoes resell for at least 2x their retail price, and the upcoming Nike Air Max 270 is no different!
Will You Be Copping the Travis Scott Air Max 270?

The kicks look too cool to miss! And even if they're not your style, you can easily flip them! But, you better remember that it's a bot war out there! And if you really want to increase your chance at copping the Travis Scott Nike Air Max 270 React, you better boost your bot game. 2019 was a great year for NSB, and 2020 is no exception! So if you're new to the industry (or even one of the OGs), worry no more: NSB's got your back!