Fake Supreme Apparel: A Simple Guide to Dodge Scams
So, you missed on that Supreme Bogo on release day, and swore you'd get it from the aftermarket? Well, it's not this easy. Fake Supreme apparel and accessories infiltrated the industry, and it's getting harder to spot them by the minute! So here we are sharing with you the red flags along with some tips and tricks. If you're new to the Supreme game, this is what you need before rushing off to the resale market!
If you're wondering how to get Supreme items, here's a guide that can help!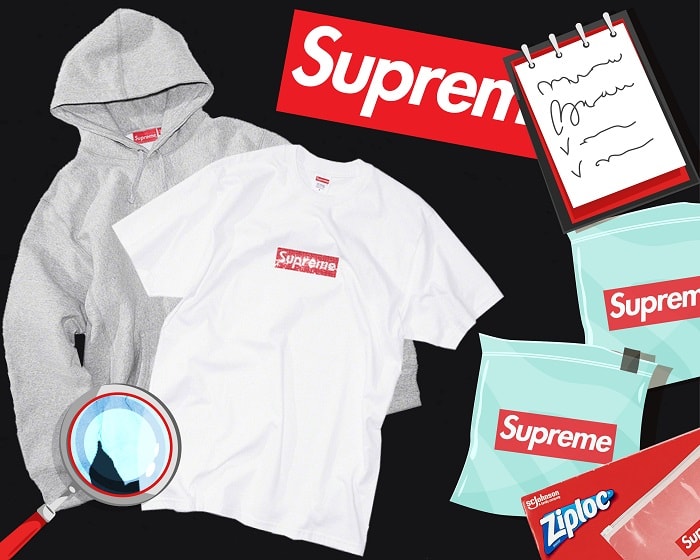 How to Spot Fake Supreme apparel
First of all, we're gonna share some tips on how to legit check the items. And then, we'll give you some pointers on how to not get scammed online!
The Stitching
Now the fakes are getting better and better, but we also got some tricks up our sleeve. The first giveaway is usually the box logo itself on a hoodie. Make sure the stitching is diamond-shaped. Moreover, the lettering's stitching should have a certain look to it.
The Lettering
Another red flag on any bogo would be the letters. The letters of the word Supreme should perfectly align, if they don't, it's probably fake. So make sure this doesn't slip from your attention. Moreover, there should be clear spacing between each letter.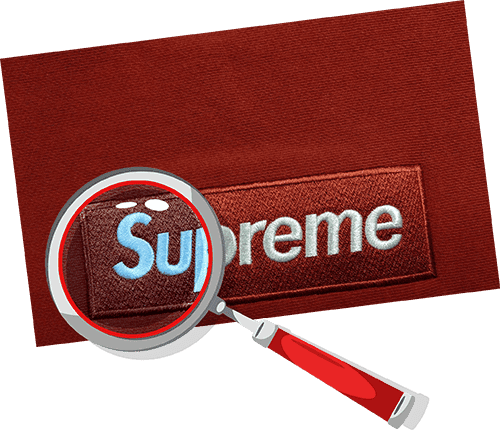 Tags
Neck Tags
If the item passes all the bogo checks, you can go on and check other details. The inside tag can be a dead giveaway of a fake Supreme item! First of all, the spacing between the letters should be clear just like on the box logo. Right next to it, the Made In tag shouldn't overlap with the Supreme tag, so there's that!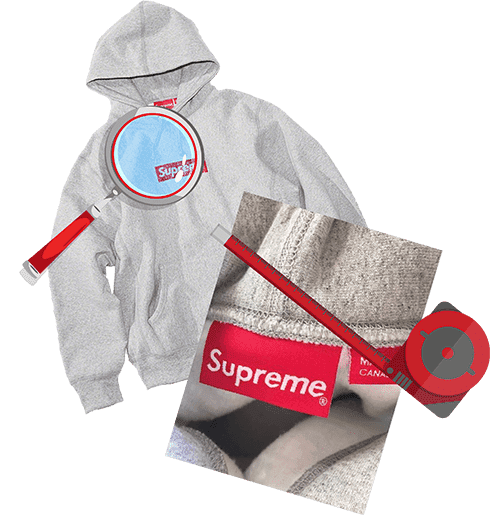 Wash Tags
This one's pretty easy to catch. First, you should check that you can find it on the lower back of the inside of the hoodie. It should be stitched with one black line, and if it's anything different, you should doubt it. If the stitching is sloppy, that's all the proof you need to pass on buying the item!
Drawstrings (Hoodie)
If you're checking out a hoodie, you should probably check the drawstrings. Supreme's signature is a flat shoelace-like drawstring. If it's round or anything different than flat, it's a hard no!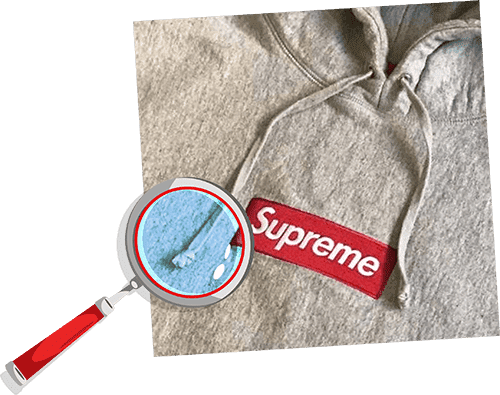 Just in Case You're Still Not Sure!
If the item passed all the legit checks from your end but still worried it's a fake Supreme, we gotchu. Recruiting outside help seems like a pretty good idea, especially if you're new to the industry.
Reddit Is Your Friend
We already discussed the sneaker Reddit community and why you should get into it. But what we didn't discuss is the fact that Supreme-heads have their own den there! The den that YOU can benefit from. The subreddit holds a weekly legit-check where you can share pictures and make sure you ain't getting scammed. Moreover, the support doesn't stop at Reddit. There's a discord channel for this purpose. Moreover, reselling groups on different social media platforms can be of help!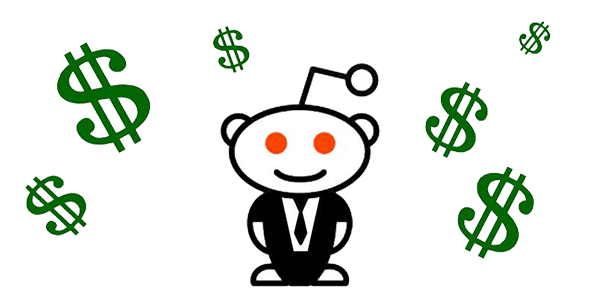 If the Price Is Too Good to Be True…
Then it probably is fake. Trust your gut instinct when you see a pretty cheap price for a box logo hoodie or tee. These resell for several times their retail price so keep an eye on them. So moral of the story: If it's too cheap, it's probably fake Supreme!
Trusty Sellers Are Hard to Come By!
Whether you're buying off Stockx, Grailed, eBay, or any place else. Make sure you legit check the seller himself. If they're trustworthy and have done many deals before, you're safe to go. That doesn't mean that new sellers ain't trustworthy. This year turned many people around the world to side hustling! Just be careful where you're putting your money or else you'll end up with a fake Supreme hoodie/tee.
Why Go Into the Resale Shopping at All?
Really, why risk paying for a fake and suffer the shaming that could come along? When you can buy real authentic Supreme items online at retail? All you gotta do is invest in a really good bot and cop your heart's desire of Supreme. NSB proved time and time again that it's not playing when it comes to Supreme! Although there are many good Supreme bots out there, NSB will give you the best of both worlds. Not only is it a powerful all-in-one bot, but it also ensures it takes its share of weekly Supreme successes!
So make sure you check out our cooking guide and get ready for Cypher Monday. Who knows? You might be the lucky giveaway winner!
RT = Win 1xNSB + $1000 CASH💵

🔥HUGE LIMITED DISCOUNT🔥

MONDAY NOV 30TH 📅
11 AM EST⏰

HOSTING OUR BIGGEST EVENT OF THE YEAR, CYPHER MONDAY!

400,000+ CHECKOUTS SO FAR IN 2020🤯

CONSISTENT SUCCESS on Adidas/YS, Footsites, Supreme & Shopify💯 pic.twitter.com/DxbQyTaSjz

— NSB Bot (@NSB_Bot) November 25, 2020
Tags: supreme, supreme resale, Supreme tees
Posted in Supreme 0 comments