We love it when we get a new release with awesome colors! And though we do love any color when it's well executed, some colors have a soft spot in our hearts. For example, the white-black-red color combo on a Jordan will never fail, but that's not what we're here for! Today, we're talking about colors that won't immediately pop into your head when we say Jordan. However, they still work wonderfully when it comes to colorways! So let's check out what the coolest purple Jordans are. And if you like this type of color coordination, then you might like the following:
Coolest Purple Jordans to Add to Your Collection!
Jordan 1 Court Purple (2018 – 2020)
Starting off, when we think of purple Jordans, we can't help but think about 2018's Jordan 1 Court Purple. The kicks featured a really nice mix of purple, black, and white. Moreover, they came in the same color blocking as the Jordan 1 Bred Toe. These babies are currently worth $484 in resale.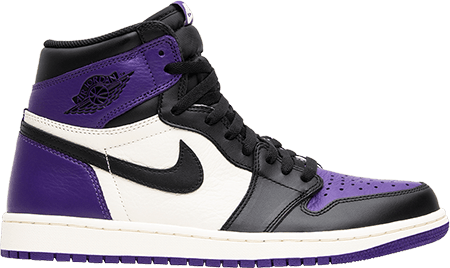 But if you're looking for a cheaper (not by much though) alternative, we got you. 2020's Jordan 1 Court Purple features the same color blocking as the OG Jordan 1 Chicago. However, instead of all the red leather, we got purple. And if you want this pair, you'll have to pay about $308 in resale for it.
Metallic Purple Jordans Hit Differently!
Metallic colors always sound so edgy, especially when they're paired with Jordans. You see, back in 1985, Nike dropped the Jordan 1 in a variety of colors. And a couple of them featured a white leather upper with metallic details. However, we didn't actually get the metallic purple Jordans until 2009 which are worth $441 today.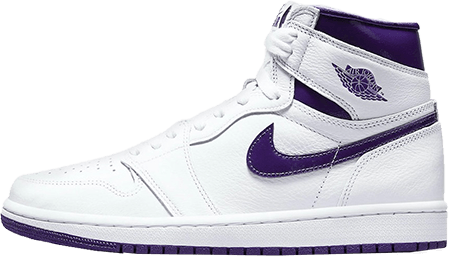 Fast forward to 2020, and Jordan Brand decided to reintroduce the metallic concept on a different silhouette. Thus, the Jordan 4 Metallic pack came to life, which included purple. Today, you can buy the kicks for $619 on average.
The Could've Been of the Industry
*Sigh* You know this is coming. The painful friends and family pair that we all wanted at some point. Jordan 4 Travis Scott in its purple colorway is an exclusive that still stings to this day! The pair was seen multiple times on the rapper's feet and close entourage. Unfortunately, it never publicly came out, rendering it one of the most sought-after pairs in the industry today.Fret not though, because Jordan Brand would never leave you dry (or too dry at least). And in October 2022, we got the Jordan 4 Canyon Purple in women's sizing. It looked like the consolation prize after Travis's disappointment. You can get that pair today for $237 on average!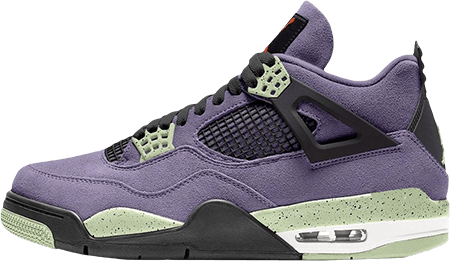 But before 2022 ended, A Ma Maniere and Jordan Brand gave us some dapper purple Jordans. The collaborative pair was just like their other collabs: simple and straight to the point. And if you want your pair, you'll have to pay around $415 in resale. That's almost 2x the initial retail, which says a lot about how cool it is!
Purple Jordans & the Prince of Bel-Air!
Whenever we think about the Jordan 5, we gotta remember the Fresh Prince of Bel-Air! After all, it was Will's favorite shoe, and one of the chosen colorways was the Grape AJ5. So, as a nod to the Prince, Jordan Brand dropped the Jordan 5 Bel-Air in 2013! The pair is worth $586 in resale today. But if that's too steep for you, don't worry. The 2020 Alternate Bel-Air Jordan 5 is worth $350, and it has all the same cool details. However, the only difference is that the upper came in white leather instead of grey.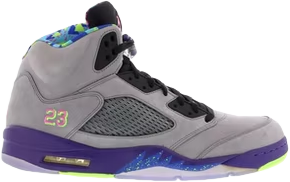 Want More copping Opportunities?
Although all of these purple Jordans are dope, you might not want to pay resale, and that's understandable. That's why we recommend that you get yourself a sneaker bot like NSB to give you a helping hand! Not only will it give your luck a push, but it will make your experience easier with all the latest updates. And make sure you get your copy today, especially if you wanna be there when NSB3 drops. If you wanna know more about everything going down, check this out. Godspeed