The New Orange Jordan 13 Kicks Off the Year with a Pop of Color!
Did you ever think about how some colors become a part of the culture? Well, that's certainly true with Jordan sneakers. The new Orange Jordan 13 is totally proof of that. It reminds us of an awesome colorway while keeping the silhouette's essence going. So let's check out Jordan 13 Starfish and why you should run NSB on drop day!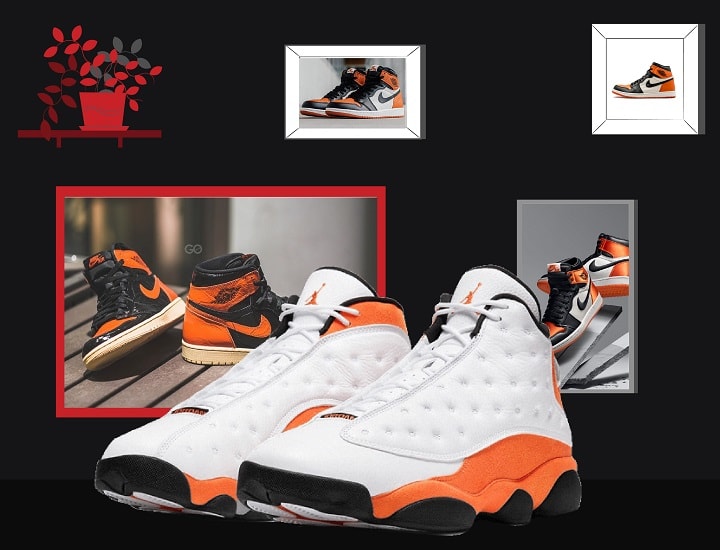 The Orange Jordan 13 Is the Pair You Didn't Know You Needed
So let's get something straight: Colorful kicks are always a no-brainer! They add a dash of life to our otherwise black/grey outfits and give the wearer some extra style. So what if you can get that color on a classic silhouette? Yup, that's the spirit. Jordan 13 is an underdog in our opinion. It really deserves more recognition as a silhouette because everyone prefers the 1s, 3s, etc… And we're not complaining, we love them as much as the next sneakerhead! But an orange Jordan 13 certainly sets the bar high for us!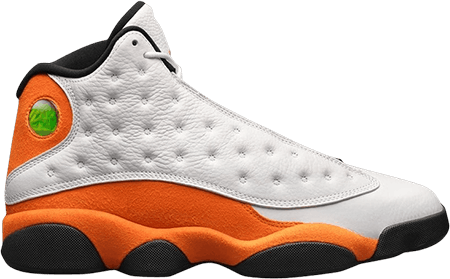 Jordan 13 Starfish features a white leather and orange suede upper. The black outsole adds some contrast to the pop of colors. However, we never thought we'd be saying that the green holo detailing looks perfect on orange! We can also find a dash of green on the outsole. This release reminds us of the classic Jordan 1 shattered backboard colorway. This is one of the colorways that made it to our hearts thanks to the story behind it. Who could ever forget Jordan shattering a backboard in Italy in 1986? Definitely not any hardcore basketball fan.
Release Info
The upcoming orange Jordan 13 will drop on January 16, 2021, for the usual $190. So better get NSB up and running before then. If you miss out on that release, you'll be paying $300+ in resale later! It's always a good idea to flip the orange Jordan 13 for the easy cash too, my friend.
Orange is the New Bred?
Although we love the orange Jordan 13, the starfish theme will come on another amazing silhouette, with style! The ladies will get an awesome Jordan 4 with some pretty fashionable colors. The new Starfish Jordan 4 doesn't come in any leather, but a whole mesh upper instead! It will come in a dark brown color with a hint of orange on the edges making it lowkey colorful. So if you're looking to match with the missus without looking too tacky, the Starfish pack would be IT. The kicks will drop on January 21, 2020, for $190, and it currently resells for around $450.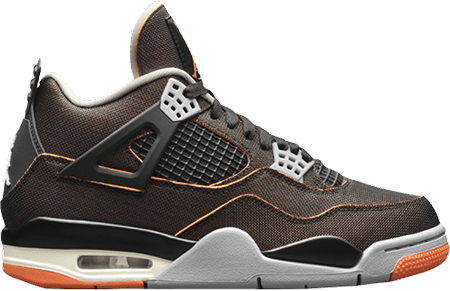 And just for the heck of it, Jordan seems to be going for a colorful 2021. And we sure aren't sad about that. God knows we need us some color in our lives. But mixing neon yellow with university yellow? That's next level colorways. Luckily, we won't have to wait for Jordan 1 Volt for a long time. The kicks will drop on January 9, 2021, for $170. It resells for an average of $350 today!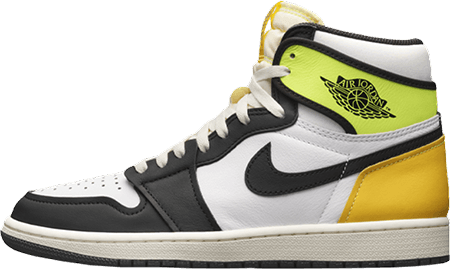 Who Cooks You Sneakers from Under the Sea?
That would be NSB for y'all! After a year of success and wins for our users, NSB should be a staple among the bots you run. So if you wanna start 2021 strong, NSB's the way to go! So make sure you keep checking our Twitter for the chance to win a key and get cooking! Here's a guide to help you through too.
Plenty of action today & multiple items copped by NSB across Footsites, Shopify & Supreme😄

– The Air Max 95 'Neon' 👟
– KAWS Companion & BFF Figures
– Supreme Week 17 items including Cross Bogo Tees, Mariah Carey Tees & that creepy Chucky Doll🗡️ pic.twitter.com/pBwGDZwPA1

— NSB Bot (@NSB_Bot) December 17, 2020
Tags: Air Jordan 1, Air Jordan 13, air jordan 4, Jordan, Michael Jordan
Posted in Jordans, Sneakers 0 comments