Off White Dunks Come Back in 50 New Different Shades! [2021]
Are you ready for a whole new batch of collabs? We certainly hope you are, because we're not getting one, two, or three, but fifty different Off White Dunks! And not only that but two Air Jordans will join the whole hassle! So if the sneakers are of interest to you, read on for the juicy release details we have so far. And trust us, when we say juicy, it means some really interesting news!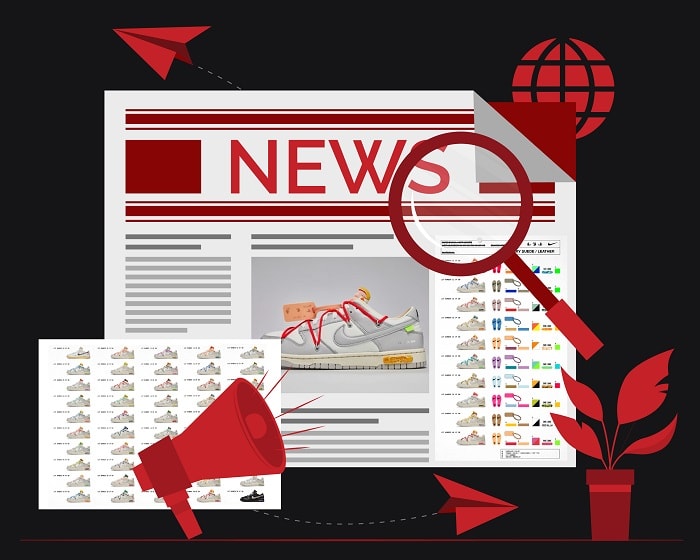 50 Look-alike Off White Dunks?
Alright so, back when we said Virgil is losing his touch due to overwork, we certainly didn't see this coming. And 2021 is certainly a year with so many potential releases! Although we knew about the 50 Off White Dunks collection, we weren't really ready, but now we are. So, what does it have in store for us?
The 50 Off White Dunks are honestly pretty similar #2 through #49. They're all grey and white with colorful laces, numbers, and zip ties. However, #1 is all-white while #50 is all-black! What's different about everything in between 2 and 49 are the colors (obviously) and the material. So the materials play out like this:
#1 – #10: Mix of leather and canvas

#11 – #20: Mix of suede and leather

#21 – #30: Mix of leather and canvas

#31 – #40: Mix of suede and leather

#41 – #50: Mix of leather and canvas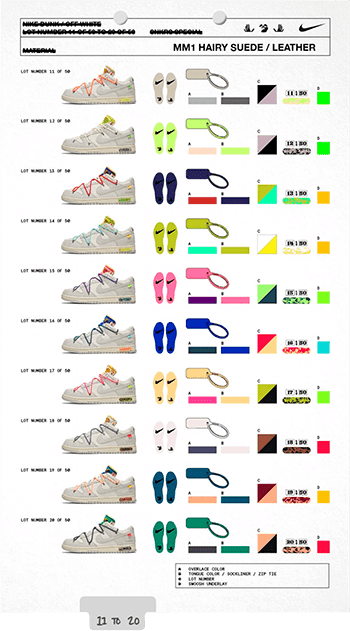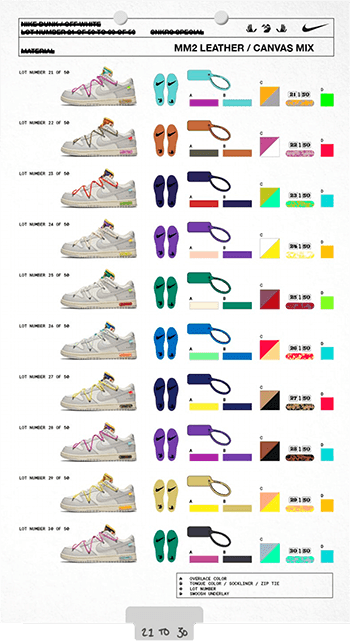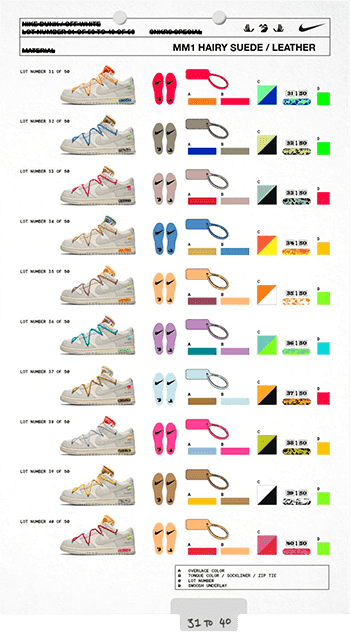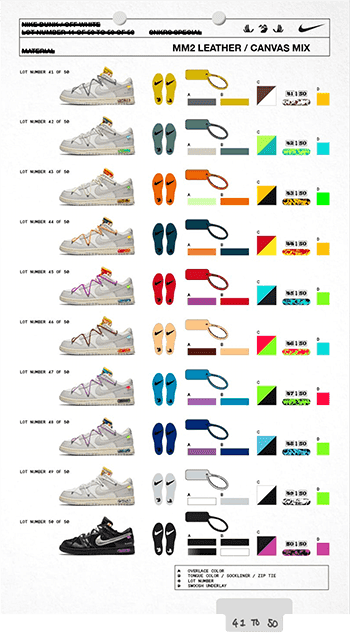 Release Deets
So there you go, the Off White Dunks will come in alternating accessory colors and materials! Exciting, isn't it? You can catch the upcoming collab starting August 9, 2021. Apparently, Nike will roll out the kicks gradually through their SNKRS Exclusive Access. If you're wondering how the exclusive access works, well Nike did a pretty great job explaining it themselves here! So you better have been pretty active on the SNKRS app because it might finally come in handy.
Now off to the money talk peeps! A pair of the Off White Dunks will retail for $150, which is a bit more expensive than your Dunk Lows. But the extra bucks will be totally worth it since you'll be making about 10x that value in resale. The pair currently resells for $1,500 on average, pretty worth it huh? So if you're thinking about getting into the reselling business, Off White kicks are always a good idea!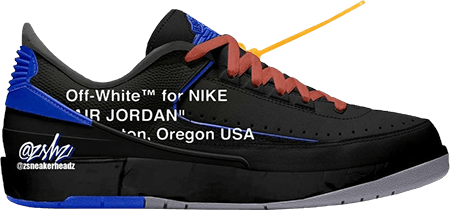 But It's Not Only Off White Dunks!
Just as we get ready to welcome the new Dunk collab, rumors of another collaboration just surfaced! It features a low-top version of the iconic Air Jordan 2. Apparently, Virgil has been keeping busy lately! The kicks will come in two colorways, black and white, and will feature all the usual Off White-ish details. However, an added bonus is Michael Jordan's signature on the upper! Finally, a controversial detail comes in the form of a weathered midsole when in fact it's pretty new.
These pairs don't have any release details so far, and when we do, you'll be the first to know! Make sure you stay up to date on anything in the sneaker industry through our blog. And if you're looking for a way to cop sneakers, make sure you check out our cooking guide. Good luck!
Tags: Nike Dunk, off white dunk, Off-White, Off-White Jordans, Off-White Nike, Virgil Abloh
Posted in Nike, Off-White 0 comments