Nike Dunk Low Lemon Wash Gives Us Major Patchwork Vibes!
The fall season arrived, but that doesn't mean that we should stop rocking colorful outfits! Even better? The new Nike Dunk Low Lemon Wash combined everything we love about sneakers. They're multicolor sneakers, they're sustainable, and they're pretty! So naturally, this is a must-have that NSB will help you cop. But if you need more info about this release, then you came to the right place!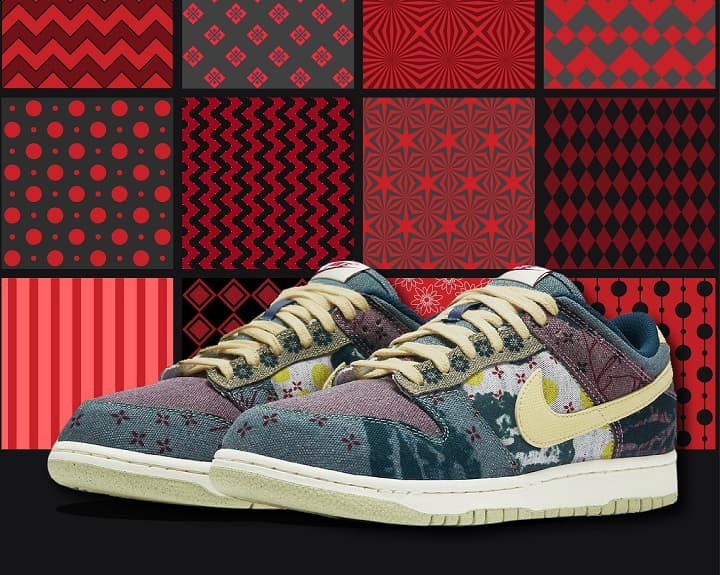 Nike Dunk Low Lemon Wash
The new Nike Dunk Low Lemon Wash is one more check on the continuous hype Dunk streak! They're fun and pretty. Not the I-wouldn't-wear-it pretty, but the total drip type. The kicks feature a multicolor canvas upper that mixes reds, blues, and naturally, lemon wash.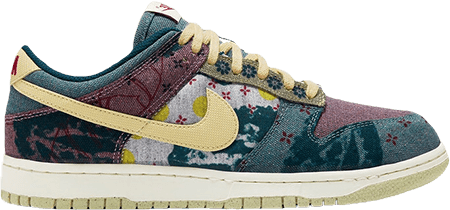 Moreover, the outsole features the eco-friendly Grind Rubber that we can find on Space Hippies and Jordan Crater. So all in all, Nike Dunk Low Lemon Wash is a sustainable pair with the canvas upper and rubber outsole.

Another interesting bit is the fact that Nike Dunk Low Lemon Wash kinda looks like our beloved Travis Scott Dunks! Both colorways feature that patched up custom feel. Especially that the new Lemon Wash will feature a different print for each pair. The meaning is that each Dunk will be a 1-of-1 just like the Cactus Jacks.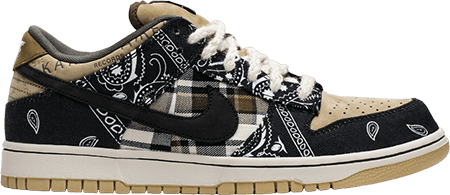 Community Garden Dunks?
Sometimes, sneaker names can get a bit confusing. And the Nike Dunk Low Lemon Wash is known as Community Garden in other places. A community garden is a semi-public green space that different people from a community take care of. They harvest fruits and vegetables and sometimes keep animals. So if we look at the upper design of the kicks, we can see that the name is pretty symbolic! A community garden can bring together different types of people and plants. The upper, with its mix of colors, reflects this diversity.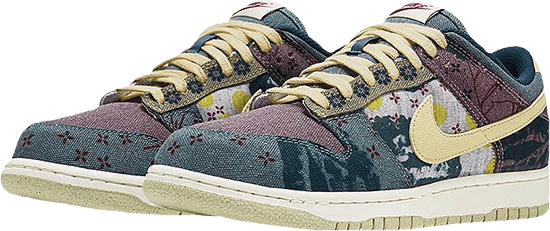 Release Info
The new Nike Dunk Low Lemon Wash will drop on September 10, 2020, and will retail for $100. If you missed Travis Scott's Dunk Lows – it wasn't that easy to get honestly – this is your chance to cop the next best thing! And if you think the flex itself won't be enough to persuade you, just take a look at the resale. Nike Dunk Low Lemon Wash resells for a starting price of $489. However, it can go for as much as $1,706!
The Where and the How!
The kicks will naturally drop on Nike SNKRS. On the other hand, the kicks will be available in raffles on different sites worldwide that you can find here. So if you signed up for the raffles, but don't wanna leave it to chance, it's Nike SNKRS for you! But to make sure you get a fair chance in this release, you'll need a strong bot to help. And what better alternative is there than the best all-in-one bot NSB! So hurry up and get it ready, and if you don't have it, don't worry, it's in stock. Happy copping!
Tags: Nike, nike sb, Nike SB Dunk, nike sb dunks
Posted in Nike, Sneakers 0 comments