A History of Nike Drake Collabs – Is Something New Cooking?
Started from the bottom now we're here. Started from the bottom now my whole team's f****** here. We'd love to say that at some point, but well, let's have some certified lover boy talk for now. The Nike Drake partnership went through its ups and downs, but it's certainly still going strong! So today, we're gonna take a look at all the kicks that OVO gave us (or didn't). We'll also check out two new potential hot drops! So let's take a look at the last name Ever, first name Greatest kicks so far.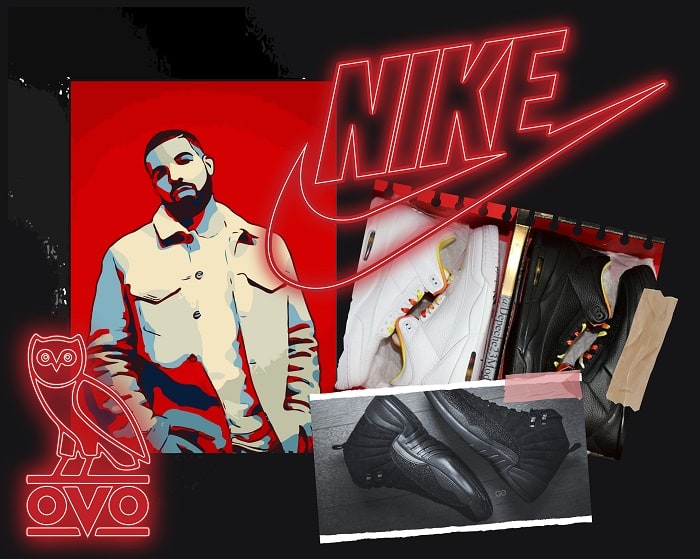 Nike Drake Partnership – It All Started with a J!
Now that it's close to its 10-year mark, the Nike Drake long collab was certainly full of epic milestones. But the most interesting thing about it is that it has unreleased kicks almost as much are the released ones. But don't worry, we're gonna take a look at them all right now. After all, when you're a celebrity sneakerhead with a major deal, you would totally rock PEs and samples!
Unreleased Kicks
It's a really long list, but we're gonna make some pit stops at some of the most impressive kicks! First, we have the Jordan 6 Hot 100s Low. This 1-of-1 pair came as a celebratory pair when Drake's album "Views" topped the Billboard Top 200 chart. And we just wish we got to see that view… *sigh*.
Next, we have the two epic OVO Jordan 11 Snakeskin colorways. They're definitely the most unique designs throughout the whole Nike Drake collab history. If you were already in the game back in 2001, you'd recall similar colorways on the Jordan 11 Low. We bet that's where the inspo came from!
Finally, a pair that makes heads turn whenever anyone mentions it. OVO Jordan 4 Splatter is one of the most elusive pairs. And this colorway is based on a 1989 OG sample that never saw the light of day. The Splatter 4s also sold for $30K in a Sotheby's auction! If you wanna read more about these babies, check this out.
Kicks That Dropped
So all the collaborations that actually went out to the public since 2015 were faithful to a certain color palette. It's always either black or white with gold details. Although they're similar, it's hard to call them boring because they're very cool. Oh, and naturally, they're definitely not easy to come by!
But if you want us to choose a favorite, the answer will definitely be very obvious. The OVO Jordan 12 White is arguably the coolest pair to come out of the Drake Jordan collaboration. These babies dropped back in 2016 for $225. But if you wanna but off the resale market, well you'll be paying over $1,000 on average!
Nike Drake No More?
Brace yourself for some drama you may or may not have forgotten about! So back in 2018, rumors were flying that Drake was going to leave Nike/Jordan Brand for Adidas. But at the same time, Drake and Pusha T were beefing. And that's when Pusha T dropped a diss track called "The Story of Adidon". On that diss track he mentioned Drake's (unrevealed back then) child Adonis. He also said that "he didn't deserve an Adidas press run".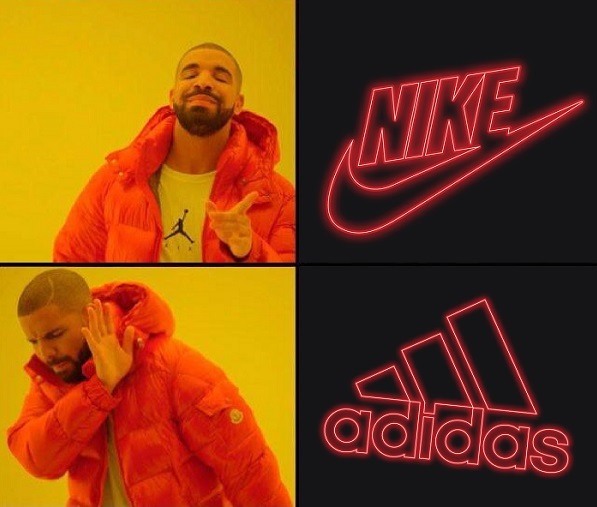 But then again all that was "just" rumors. But Drake rocked some Adidas kicks, and then Pharrell confirmed the rumors in 2020! Anyway, the diss track may or may not have been the reason that the Adidas transition failed. Drizzy went on and rekindled his relationship with Nike and kinda got the creative freedom he was apparently lacking before!
The Dawn of Nocta
2020 was a good year for Champagne Papi because NOCTA saw the light. NOCTA is Drake's signature line with Nike. The name refers to hist "nocturnal creative process". And in his own words, "NOCTA is about creating something for people on the move". If you wanna know more about the NOCTA backstory, check this out. And in terms of Nike Drake kicks, we got the cool Hot Step Air Terra under the NOCTA brand.
The Future of the Nike Drake Partnership
Apparently, we've got big things coming in this collab! First, we have the Nike Air force 1 "CLB" that's allegedly dropping in 2022. If you wanna read more about the kicks, you gotta check this out. But that's apparently not the only trick up the brand's sleeve! There's an unknown silhouette that we saw on Drizzy's feet lately. It kinda looks like the Nike Air Zoom Flight 95 with a spin. And whenever we get a release date for these babies, we know we're gonna gear up with our sneaker botting game! If you wanna read more about that, make sure you read this botting guide. Godspeed 🔥